D3Playbook
OCTOBER 19, 2020 | written by STEVE ULRICH
your must-read briefing on what's driving the day in NCAA Division III

Our goal is to keep you - the influencers in DIII athletics - apprised of what's happening around Division III - the games, polls, news, happenings, awards, calendar of events, and much more. We hope you enjoy d3Playbook and that you'll share this with your friends, colleagues and co-workers.

>> Good Monday Morning!

>> Today's Word Count: 1,256

>> Today's Subscriber Count: 1,499

>> Today's Twitter follower count: 1,626

>> Thanks for reading D3Playbook. Please recommend us to a friend or co-worker. Or share with your staff and bring them up-to-speed on what's happening in DIII. Remember to follow us on Twitter @D3Playbook


1. It's a Mad, Mad World

by Ruth S. Barrett, The Atlantic

"A story published last fall by The Daily Princetonian found that the Gold Coast of Connecticut pumps more athletic recruits into Ivy League schools than any other region in the nation. Kids' sports look a little different here—as they do in upscale neighborhoods across America. Backyards feature batting cages, pitching tunnels, fencing pistes, Olympic-size hockey rinks complete with floodlights and generators. Hotly debated zoning-board topics include building codes for at-home squash courts and storm-drainage plans to mitigate runoff from private ice rinks. Whereas the Hoop Dreamers of the Chicago projects pursued sports as a path out of poverty and hardship, the kids of Fairfield County aren't gunning for the scholarship money. It's more about status maintenance, by any means necessary.

Or, as the Darien parent told me, they're using athletics to escape "the penalty that comes from being from an advantaged zip code." She continued: "Being who you are is not enough. It might be enough in Kansas. But not here."

The special boost for recruited athletes, known as preferential admission, can be equivalent to hundreds of SAT points. According to The Washington Post, Harvard, which typically admits approximately 5 percent of its applicants, reports acceptance rates as high as 88 percent for athletes endorsed by its coaches. "Parents see the numbers," says Luke Walton, an Olympic rower and the founder of Rower Academy, a San Diego–based recruiting consultancy for high-school crew athletes. "They see that if their child can get the backing of a coach, they are likely to get in. That's a shiny object—a fishing lure for parents. They look at that and say: 'That's the answer. Sports is the answer.' "

Except now it isn't, and maybe it never quite was."

>> Situational Awareness: "More and more entrants are chasing an unchanging number of prizes. The Varsity Blues scandal exposed how hedge-funders and Hollywood B-listers were turning their progeny into football kickers and coxswains through the magic of Photoshop. But more commonly, alpha sports parents followed the rules—at least those of the meritocracy—only to discover that they'd built the 80th- or 90th-best lacrosse midfielder in the country. Which, it turns out, barely qualifies you for a spot at the bottom of the roster at Bates."

>> Why it Matters: "The (Class of 2021) will always wonder what would've happened—and who they could have wowed," Inside Lacrosse CEO Terry Foy told me, referring to the high-school seniors. "To have that opportunity lost …" His voice trailed off, before he picked up again, mournfully: "The kid who would have gone to Yale now goes to Georgetown. The kid who would have gone to Georgetown now goes to Loyola. On and on. And then eventually you get down to Wentworth. And then you just don't play college sports."

>> The Big Picture: "Will the swanky water-polo families, who may be holding out hope for Harvard, Stanford, USC, go along with any of this? "Parents need to open their minds," Sharadin said. "They're not likely to be as excited about Millersville University or Bloomsburg as Penn or Columbia. I get that. But that's something that these families will have to come to grips with."

>> Yes, But: "Sorry, but there's no way in hell," said the water-polo mom from Stamford. "What parent wants to have a child who's going to be playing for a bottom-tier school with bottom-tier academics in the armpit of the United States? I want to be polite. But there's no way in hell."

>> An Important Monday Read



2. NCAC Says No

The North Coast Athletic Conference Presidents' Council has decided to cancel conference play, including conference championships, for the winter season. Institutions may make individual decisions regarding outside competition during the winter season.

The NCAC joins the NESCAC as the two Division III conferences to pull the plug on winter conference play. Swarthmore College has also announced plans to not participate in winter nor spring sports.

Additionally, all NCAC institutions will not return student-athletes to campus for practices or other athletically related activity between Thanksgiving and New Year's Day.

>> Yes, But: According to the Dispatch-Argus, the CCIW will be addressing schedules for winter sports today during a regularly-scheduled conference call.

>> Of Note: The Southern Athletic Association's Council of Presidents has announced its plans to approve a modified schedule for all 21 conference sponsored sports which would begin play in early 2021.


3. Fleming, Rays Headed to World Series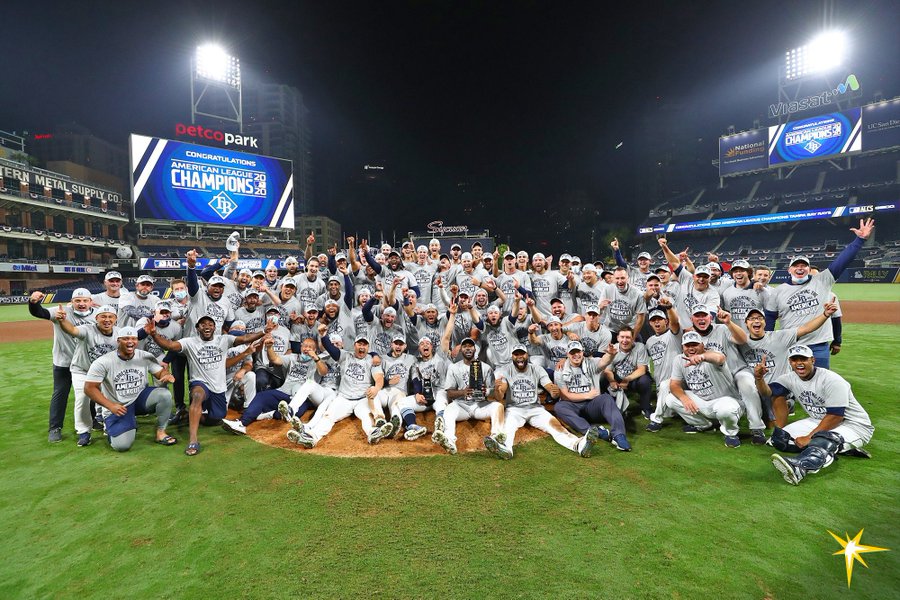 Former Webster University standout Josh Fleming and his Tampa Bays Rays teammates are headed to the World Series after a thrilling seventh-game triumph over the Houston Astros in the AL Championship Series.

It got us to wondering ... how many former Division III baseball players have ever participated in a World Series? We'll pose that to our intrepid audience ...


4. From UNE and the CCC to the NFL
The Commonwealth Coast Conference (CCC) is pleased to announce the second installment of its Student-Athlete Development Series, Andrea Gosper: The Journey from the CCC to the NFL.

The program, which will take place on Tuesday, Oct. 27 at 7 p.m., will feature a discussion with former CCC softball student-athlete Andrea Gosper who is currently working with the Buffalo Bills of the National Football League (NFL) as a scouting intern.

During the 90-minute discussion, which will be moderated by CCC Commissioner Gregg M. Kaye, the 2019 University of New England alumna will take us on the journey through her life that led her to a position with the Bills. Additionally, Gosper will give insight into her role working with the team and the growing opportunities for women in football.

The panel is open to everyone, but space is limited. If necessary, CCC student-athletes will be give priority to attend. However, the panel will be recorded and available to everyone following the event.

>> Be Smart: If she knows how to slow down Patrick Mahomes and the Chiefs today ... I would be most appreciative.
5. Weekend Stars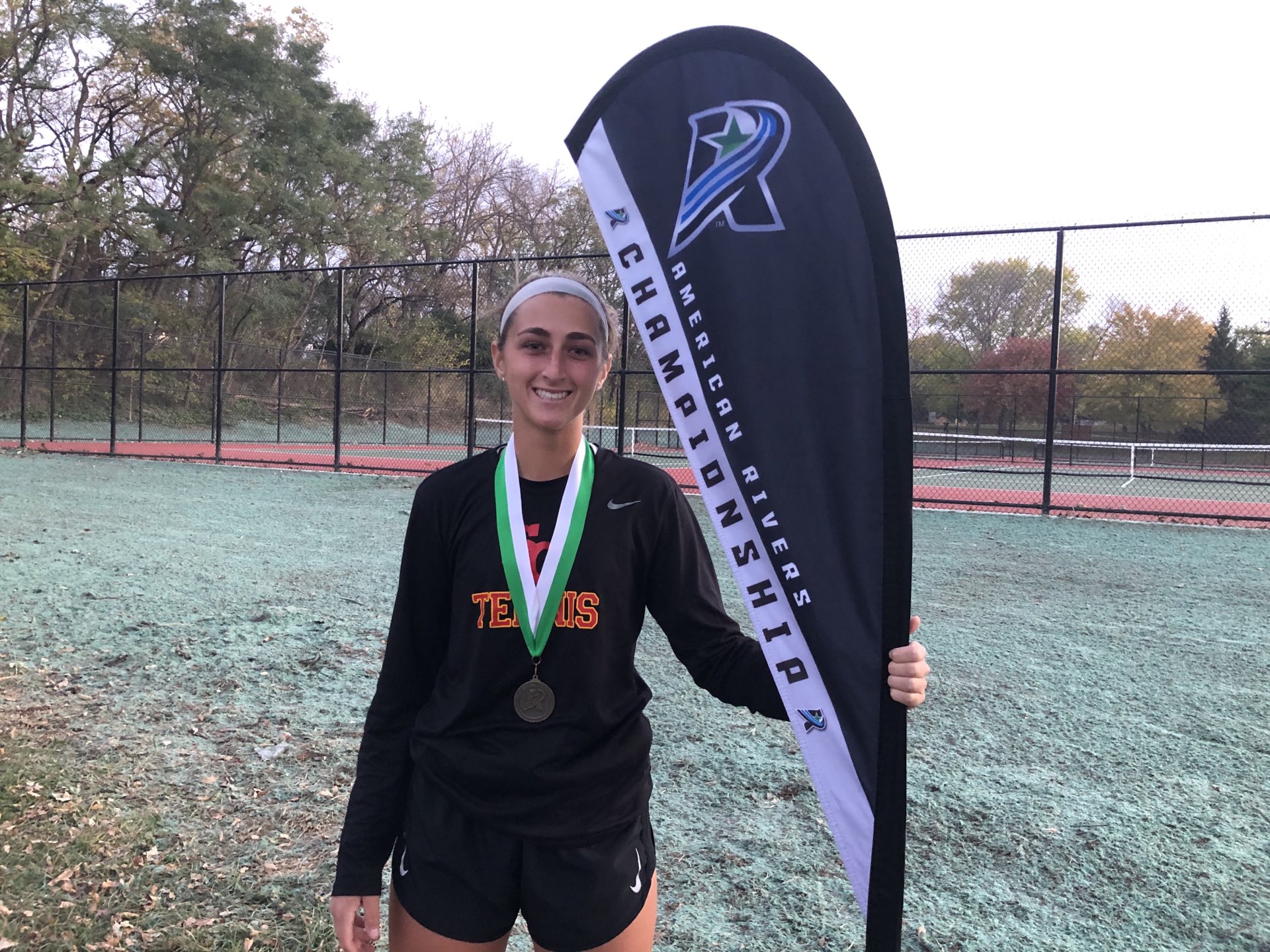 Simpson's Anna Wanek (pictured) won the A singles title at the American Rivers Conference women's tennis individual championship in Des Moines on Saturday. She downed Luther's Devon Bourget, 2-6, 6-2 and 10-3.
Alyssa Lewton and Karleigh Schilling of Central won the A doubles title with an 8-4 triumph over Wartburg's Sydney Powers and Sydney Rottinhaus.
Jimmie Clark ran for 110 yards and a touchdown while Steven Moses added 88 yards and another score as Adrian defeated Manchester, 41-10.
6. Conference Call



This week ... we wrap up our look at Division III conferences with the four oldest in the country.
Conference: Wisconsin Intercollegiate Athletic Conference
Commissioner: Danielle Harris
Headquarters: Madison, Wis.
Website: WIACsports.com
Founded: July 1913. formed as Inter-Normal Athletic Conference of Wisconsin. Changed name to Wisconsin State Teachers College Conference (1926), Wisconsin State College Conference (1951) and Wisconsin State University Conference (1964). Became WIAC in 1997.
Remaining Charter Members (6): La Crosse, Oshkosh, Platteville, River Falls, Stevens Point, Whitewater
Core Members (2): Stout (1914), Eau Claire (1917)
Affiliates (6): Finlandia (BSB), Gustavus Adolphus (GYM), Hamline (GYM), Northland (IH), Superior (IH), Winona State (GYM)

Oldest: Platteville (1866)
Largest: Oshkosh (10,059)
Smallest: River Falls (5,171)
Championship Sports: 22
Longest Trip: 279 miles (River Falls to Whitewater)

>> Tuesday: Middle Atlantic Conference


sources: Google Maps, EADA



Know someone that would enjoy receiving d3Playbook?
Send an email to d3Playbook@gmail.com with "subscribe" in the subject line