D3Playbook
OCTOBER 5, 2020 | written by STEVE ULRICH
your must-read briefing on what's driving the day in NCAA Division III

Our goal is to keep you - the influencers in DIII athletics - apprised of what's happening around Division III - the games, polls, news, happenings, awards, calendar of events, and much more. We hope you enjoy d3Playbook and that you'll share this with your friends, colleagues and co-workers.

>> Good Monday Morning


>> Today's Word Count: 1,350. An easy way to start your work week.

>> Today's Subscriber Count: 1,462. Thank you for your support.

>> Thanks for reading D3Playbook. Please recommend us to a friend or co-worker.


1. Catch a Rising D3 Star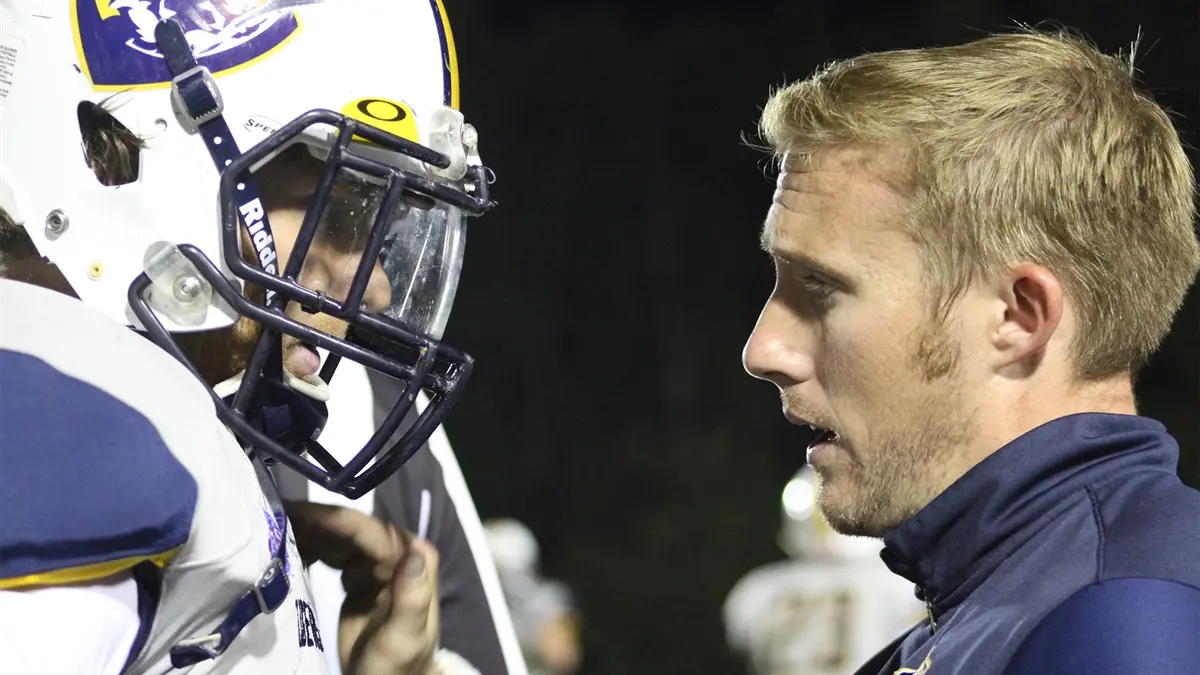 by Shehan Jeyarajah, Texas Football

"When Scotty Walden was still a young coordinator at East Texas Baptist, he held a passing camp for high school quarterbacks.

Many young signal-callers from around the area wanted to learn the tools that suddenly made ETBU into an offensive juggernaut. More wanted to learn the secrets of the boisterous, blonde-haired 25-year-old wunderkind zooming through the ranks of Division III football.

One of those quarterbacks came with his head coach from Paris. Tim Billings had a long history in college football, but was at Paris North Lamar to have a chance to be closer to family. At most, he hoped to help his QB get some instruction. He didn't realize that a chance encounter with Walden was about to change both of their lives.

"It's kind of like when I see a quarterback – there's some quarterbacks that can spin it, but some of them just have 'It,'" Billings said. "If we could can it and sell it, that would be great. Sometimes you just know. He's just got that 'It.'"

When Billings joined Jay Hopson's staff at Southern Miss, he couldn't help but remember that dynamic young coach who seemed ready to take on college football. After one year, receivers coach John Wozniak left USM for Oklahoma State. Immediately, the table was laid.

Three years later, that 30-year-old Texan is now the youngest head coach in the FBS. Officially, he's an interim coach tasked with holding a program together after Hopson's resignation. Ask those who know him best and the message is clear: Walden is ready."

>> Situational Awareness: "Walden's path to ETBU was an astronomical rise. The Cleburne product spent time at NAIA Dordt University and D-III Hardin-Simmons. In search of playing time, he landed in Alpine, Texas at Sul Ross, deep in Big Bend. After his playing career ended, Walden joined SRU's staff as a graduate assistant. Just months in, he was handed the reins of the offense – at the ripe, young age of 23, younger than a number of the players on the team. Plenty on the Division III roster were three years older than him."

>> Between The Lines: In year one, the ragtag bunch of Lobos led the whole NCAA – FBS, FCS, Division II and Division III – in total offense at an absurd 581.9 yards per game. He joined the ETBU staff and three years later, the Tigers won a share of the American Southwest Conference title, posting a winning record for the first time in a decade.

>> Keep Reading
2. Financially Surviving the Pandemic
by Kavita Daiya, InsideHigherEd.com

"Higher education in the United States, more than in most other countries in the world today, finds itself in the midst of fiscal challenges that threaten to permanently alter or destroy many institutions. As colleges and universities battle budget deficits, it has become increasingly obvious that administrators will need to think outside the box to successfully steer their institutions through this storm.

Institutions have inflicted 10 percent salary cuts across the board. Such moves are unwise and ineffective. Cuts to faculty compensation and staff layoffs are simple, knee-jerk reactions and conventional go-to measures more typical in the business world: reorganize units and departments, cut salaries or fire workers, claim that the "consolidation" is more "efficient," and count the money raised from such cuts as "profits." While such slash-and-burn approaches have decimated companies and made consultants along with shareholders rich, they cannot, and do not, work in higher ed.

Although many college boards of trustees and senior administrators have increasingly been treating their institutions like businesses, many critics have challenged such corporatization efforts. And in this particular moment, it should be more evident than ever that colleges and universities are not businesses and that higher education leaders in the United States will have to exemplify ethics and courage in the face of a pandemic that is predicted to kill more than 300,000 by December."

>> Five Key Steps: 1) Temporary pay cuts for high-earning administrators; 2) greater financial contributions from board members; 3) draw down larger sums from endowment; 4) renegotiate external contracts with vendors; 5) cuts to staffing should be done in a staggered mode rather than unilaterally.

>> Worth Noting: "We all recognize that presidential leadership styles are different. But as an American Council on Education study showed, successful and effective presidents are those who embrace shared governance and "see shared governance as an opportunity rather than a challenge."
3. Conquering Distance
by Ben Cohen and Joshua Robinson, Wall Street Journal

"For a couple of hours between the NBA and WNBA Finals, the Major League Baseball playoffs, French Open matches and NFL action this weekend, the fastest human in history will walk into a park and run circles for 26.2 miles.

Eliud Kipchoge is the Kenyan legend who set the world record with a 2:01:39 marathon in 2018—and then became the first man to break the 2-hour barrier by clocking an iconic 1:59:40 in specially tailored conditions last fall. The planet's best long-distance runner is the star of Sunday's London Marathon and was supposed to cover the sprawl of the British capital at hard-to-fathom speeds in front of thousands of spectators. He will tear around an empty St. James's Park instead.

But few people better personify this moment in sports. What he is doing is the clearest distillation yet of a phenomenon that is changing the way games are played. Distance has never been less daunting.

Pushed by technological innovations, smarter training methods and a reimagination of what's possible, humans are discovering new heights because they're capable of going longer. Basketball players are shooting from deeper. Baseball pitchers are throwing faster. Golfers are driving the ball farther."

>> Of Note: Looking at the DIII men's outdoor 10K as an example, no one won the event in a time under 30 minutes from 1997-2010. In 2019, Dhruvil Patel of North Central captured the gold in 28:50.87.

>> Keep Reading

4. Weekend Stars
Xaine Kirby rushed for 141 yards and three touchdowns as Trine defeated Adrian, 44-27, in the first Division III football game of the season. The Thunder scored 16 points over the final 18 minutes after the Bulldogs had closed within one point.
Shomo Kishimoto became the winningest player in Cornell College men's tennis history, leading the Rams to a 5-4 victory over Wartburg. The senior won both his singles and doubles matches to raise his career win total to 142 - one better than former teammate and doubles partner Hayden Dzurisin.
5. Conference Call



Today we continue our look at Division III conferences with those formed in the 1960s.

Conference: Southern Collegiate Athletic Conference
Commissioner: Dwayne Hanberry
Headquarters: Lawrenceville, Ga.
Website: SCACsports.com
Founded: September 1, 1962
Originally called College Athletic Conference; changed name in 1991
Remaining Charter Members (0): none
Core Members (10): Trinity, Texas (1989), Southwestern (1994), Austin (2006), Colorado College (2006), U. of Dallas (2011), Centenary, La. (2012), Schreiner (2013), Texas Lutheran (2013), Johnson and Wales Denver (2017), St. Thomas, Texas (2019)
Affiliates (2): McMurry (SWIM), U. of the Ozarks (SWIM)

Oldest: Centenary (1825)
Largest: Trinity, Texas (2,431)
Smallest: Centenary (538)
Championship Sports: 19
Longest Trip: 962 miles (Colorado College to St. Thomas). JWU Denver not considered

>> Tuesday: State University of New York Athletic Conference


sources: Google Maps, EADA



7. Pausing for Perspective
Photo: Gary Hershorn/Getty Images

The moon rises behind the Statue of Liberty, as seen Saturday night from Jersey City.

Know someone that would enjoy receiving d3Playbook?
Send an email to d3Playbook@gmail.com with "subscribe" in the subject line