PRESENTED BY CHI ALPHA SIGMA
"recognizing college student-athletes who excel both on and off the field of competition."
D3Playbook
SEPTEMBER 9, 2020 | written by STEVE ULRICH
your must-read briefing on what's driving the day in NCAA Division III
Our goal is to keep you - the influencers in DIII athletics - apprised of what's happening around Division III - the games, polls, news, happenings, awards, calendar of events, and much more. We hope you enjoy d3Playbook and that you'll share this with your friends, colleagues and co-workers.
>> Good Wednesday morning!

>> Today's Word Count: 1,304. An easy morning 5-minute read.

>> Thanks for reading D3Playbook. Please recommend us to a friend or co-worker. Or share with your staff and bring them up-to-speed on what's happening in DIII.


1. To The Summit
by Pat Borzi, MinnPost

"Now that it's done, now that the NCAA has granted the University of St. Thomas unprecedented approval to go directly from Division III to Division I, a rumor persists that St. Thomas officials somehow orchestrated all 15 months of drama themselves.

No one will speak of this on the record, naturally, but here's the gist of it: Some folks who follow Minnesota college athletics claim UST planned to go D1 long before the Minnesota Intercollegiate Athletic Conference (MIAC) sought to kick them out. The Tommies cleverly manipulated their exit, the theory goes, to gain sympathy and remain in the NCAA's good graces.

But the biggest piece of evidence countering the rumor: Going straight to D1 wasn't even UST's idea. It came from a guy known for big ideas, like buying a town in Texas and opening a pizzeria.

Meet Tom Douple, commissioner of the Summit League, the one who made St. Thomas' improbable move happen.

"Tom was the one to first step up and say, 'We want St. Thomas to be part of our future,'" Tommies Athletics Director Phil Esten said. "We would not be here without Tom's support and his guidance throughout the way."

>> Situational Awareness: Douple didn't know much about St. Thomas, but what he heard at (a) reception made him curious. So he fired up his laptop. Three big numbers about the school jumped out to him: 10,000-plus students, 110,000-plus alumni, and an endowment exceeding $500 million. Division I numbers, without a doubt.

>> Why It Matters: St. Thomas would give the league a presence in the largest metro market in the Upper Midwest, where 40,000 league alumni reside. Every league school except Denver and Oral Roberts could bus to UST's St. Paul campus, with a major airport just five miles away. It made so much sense."

>> Between The Lines: "From the NCAA, Douple learned UST needed one of two things: An extenuating circumstances waiver or special legislation streamlining the traditional 12-year path through Division II. The latter, Douple said, would be "a tremendous heavy lift." But he took it as a positive that the NCAA didn't reject the notion of UST's jump outright. What he didn't know was just how heavy a lift it would be — or that competing legislation almost derailed the whole thing."

>> What They're Saying: "If you know much about St. Thomas, you would recognize they had outgrown a Division III shoe. I think Tom was exploring what they were ready for and interested in. That's how things got started." - Dean Bresciani, president, North Dakota State

>> Continue Reading

2. Be Careful What You Wish For

by Scott Jaschik, InsideHigherEd.com

"Some experts suggest that top colleges would admit more minority and low-income students if they stressed nontraditional factors in admissions, such as essays, interviews or extracurricular activities. The theory is that minority and low-income students have more chances with these criteria to show their worthiness to be accepted. Scores on standardized tests have been controversial for years, in large part because Black and Latinx students, on average, do not do as well as white and Asian students on the SAT or the ACT.

A new research paper suggests that that there is some -- but only some -- truth to these widely held beliefs. Increasing the emphasis on criteria other than grades in college preparatory courses and test scores on standardized tests "may do little to ameliorate -- and in some cases, may exacerbate -- existing enrollment inequities," the study found. But placing less emphasis on standardized tests worked and resulted in a more diverse pool of students being admitted.

The findings: "Most institutions across all groupings ranked applicants' background characteristics -- racial minority, first-generation, and legacy status, and geography -- as either 'not considered' or 'considered,' with few ranking them as important. Again, private and the most selective institutions in our sample ranked background characteristics as more important on average than other institutional types."

>> The Big Picture: "Wealthy applicants, who are generally white, have private counselors to help with the essays and the interviews, and they are more likely than other applicants to have parents and teachers who can help them."

>> Quotable: "While this study shows that adding other factors in the process means schools don't get more diverse, I wouldn't throw the baby out with the bath water," he said. "In my experience, when admissions officers were told to specifically look for other qualities and characteristics that predict success, and not focus as much on test scores, they paused, and were much more intentional in giving students credit for other things." - Angel B. Pérez, CEO of the National Association for College Admission Counseling

>> The Final Word: "Do we throw away the entire system because of it? No. We constantly build on it and try to improve it."

>> Go Deeper


3.
A Sports Major?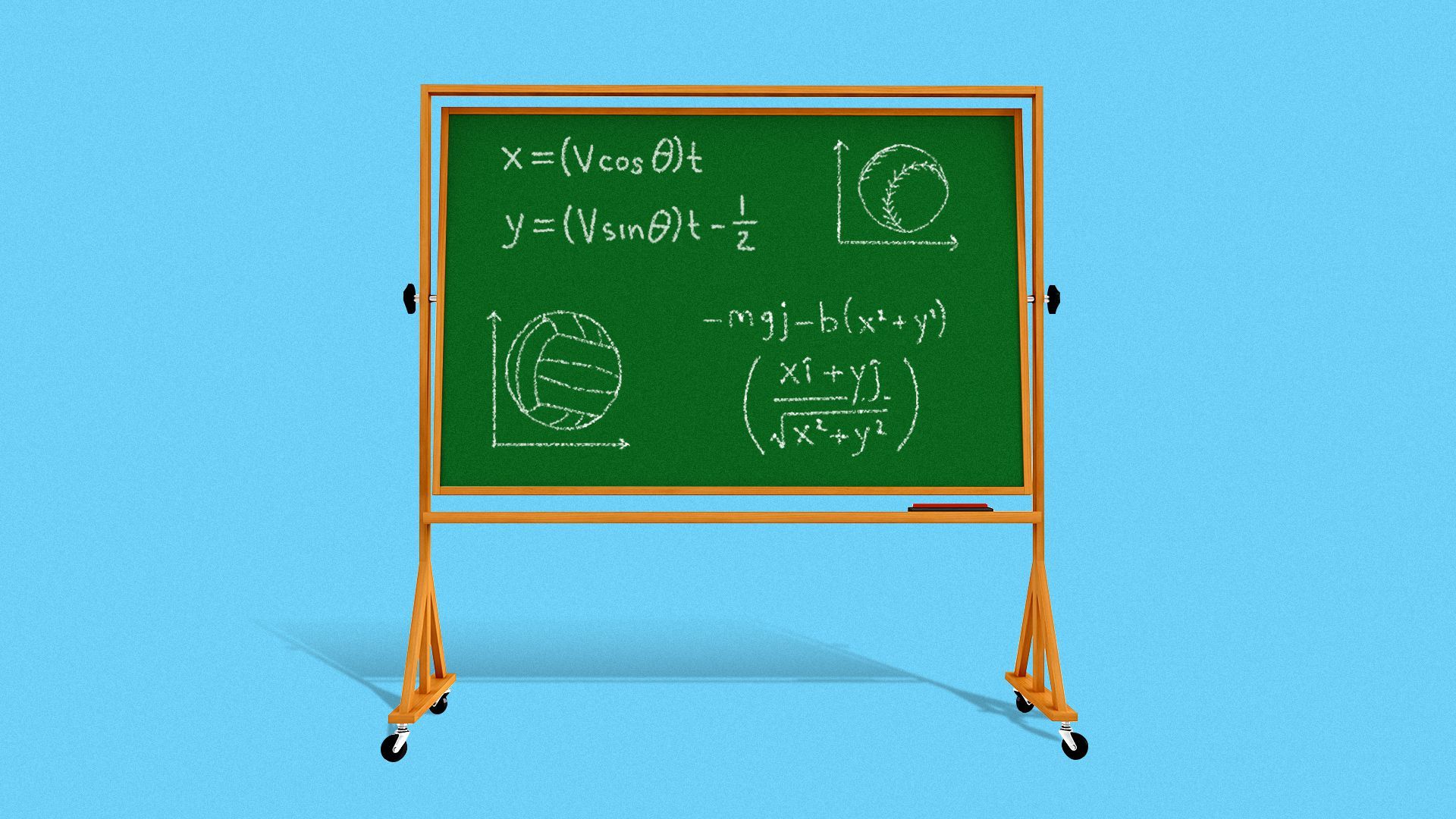 by Kendall Baker, Axios | Illustration: Aïda Amer/Axios

"Creating a sports performance major wouldn't solve every problem in athletics," writes WashPost's Sally Jenkins, "but it would at least be a profoundly clarifying reordering."
"Players would be required to write and reflect and make more direct connections in their real, chosen course of study ... which would equip them to be more than just ephemeral competitors."
"Coaches would be faculty members required to teach to broader classrooms, which would sort out the cheaters and poseurs from those who truly know how to impart principles of organization, leadership and collaboration."
"Athletic departments would become answerable to an academic dean. ... Our commitment to nonrevenue sports and women's sports would be much clearer."
The big picture: This is the basis of renowned academic Drew Hyland's lecture titled, "The Sweatiest of the Liberal Arts: Athletics and Education."
Hyland says this reordered system would look similar to ancient Greece at its peak, "when holistic education, the development of a whole person, meant something," writes Jenkins.
"Athleticism, Hyland points out, is a Socratic exploration: Know thyself."
>>
Continue Reading
Chi Alpha Sigma is the first national scholar-athlete society to honor those collegiate student-athletes who have excelled in both the classroom and in athletic competition. Chi Alpha Sigma recognizes college student-athletes who receive a varsity letter in their sport, achieve junior academic standing or higher after their fifth full-time semester, and earn a 3.4 cumulative grade point average. Student-athletes who compete for a collegiate club team are also eligible if the club team is overseen by the athletics department at the local chapter.
Find out more at
ChiAlphaSigma.com
4. Calendar



Sep 13-15 - Championships Committee with Sport Chairs
Sep 14-15 - Committee on Women's Athletics
Sep 14-15 - Minority Opportunities Interest Committee
Sep 17 - Membership Committee
Sep 21-22 - Competitive Safeguards and Medical Aspects of Sport
Sep 22-23 - Interpretations and Legislation Committee



5. Conference Call




Today we continue our look at Division III conferences, going back to the 1990s.


Conference: Liberty League
Commissioner: Tracy King
Headquarters: Troy, N.Y.
Website: LibertyLeagueAthletics.com
Founded: 1995
Founded as Upstate Collegiate Athletic Association
Charter Members (7): Clarkson, Hobart and William Smith, Rensselaer, Rochester, St. Lawrence, Skidmore, Union
Other Members (4): Vassar (2000), Bard (2011), RIT (2011), Ithaca (2017)
Rochester holds dual membership with UAA
Associates (5): Buffalo State (FB), Mount Holyoke (WGOLF), NYU (WGOLF), St. John Fisher (ROW), Wellesley (WGOLF)

Oldest: Union (1795)
Largest: RIT (12,473)
Smallest: Bard (1,766)
Longest Trip: 273 miles (Bard to Rochester)
Championship Sports: 27
Top Team Moment: William Smith defeated SUNY Cortland to capture the 1997 NCAA Division III Field Hockey Championship, the first of seven national championships for Liberty League teams in the conference's 25-year history.

>> Tomorrow: Colonial States Athletic Conference

>> Previously: Atlantic East | SAA | NECC | NACC | Landmark | NEAC | NEWMAC | AMCC | NAC | ASC | GNAC

sources: Google Maps, EADA


7. 1 Design Thing
Know someone that would enjoy receiving d3Playbook?
Send an email to d3Playbook@gmail.com with "subscribe" in the subject line