PRESENTED BY CHI ALPHA SIGMA
"recognizing college student-athletes who excel both on and off the field of competition."
D3Playbook
SEPTEMBER 3, 2020 | written by STEVE ULRICH
your must-read briefing on what's driving the day in NCAA Division III
Our goal is to keep you - the influencers in DIII athletics - apprised of what's happening around Division III - the games, polls, news, happenings, awards, calendar of events, and much more. We hope you enjoy d3Playbook and that you'll share this with your friends, colleagues and co-workers.



>> Good Thursday Morning!

>> Today's Word Count: 1,030. Easy to read. Easy to digest. Get ready for the weekend.

>> Thanks for reading D3Playbook. Please recommend us to a friend or co-worker. Or share with your staff and bring them up-to-speed on what's happening in DIII.


1. Idle in Indy
by the Associated Press

"The NCAA will furlough its entire Indianapolis-based staff of about 600 employees for three to eight weeks in a cost-saving move, according to memo obtained Wednesday by The Associated Press.

The memo from NCAA president Mark Emmert went out to the association's more than 1,200 member schools Wednesday. The furloughs will not affect senior executives.

Starting Sept. 21 through the end of January 2021, all national office staff will be subjected to a mandatory three-week furlough, Emmert wrote. Some staff will be furloughed up to eight weeks, depending on position and "seasonal timing of their duties.

The latest belt-tightening measures include voluntary separation and early retirement packages being offered to many NCAA employees.

>> Quotable: "There decisions are unfortunate but necessary as we continue to identify ways to cut costs across the national office," Emmert wrote. He said all the measures represent "top of budget cuts in every national office group totaling nearly half our operating budget."

>> Be Smart: "The NCAA took a massive financial hit when it canceled the men's college basketball tournament in March because of the COVID-19 pandemic. The tournament accounts for almost all of the NCAA's annual revenue, which reached $1.1 billion last year."

>> The Final Word: We are committed to supporting our member schools and conferences and student-athletes in every way possible, and yet I expect that some of our services to membership may be limited or delayed during this period furloughs," Emmert wrote.

>> Continue Reading


2. Battle of Gettysburg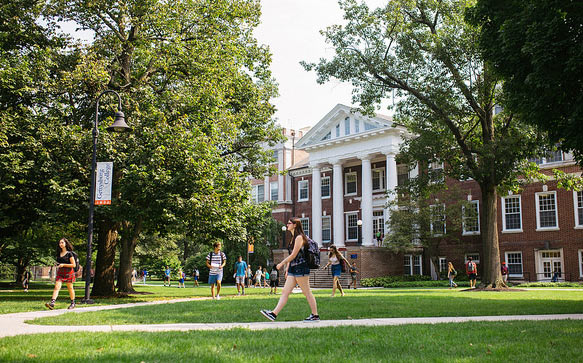 by Teresa Boeckel, Hanover Evening Sun

"Gettysburg College is requiring all of its students to quarantine for the rest of the week because of dozens of coronavirus cases.

The all-student quarantine was issued on Tuesday, according to the college's website.

As of Sunday evening, 33 students had tested positive for COVID-19 since Aug. 23, according to the website.

Classes will be taught remotely. Students will not be able to leave their rooms except to use the restroom, pick up food and take it back to their room, or to go for a scheduled COVID-19 test.

Anyone who does not comply with the rules will be sent home, the college said."

>> What They're Saying: "I'd much rather be cooped up for about a week instead of having to be sent home and be cooped up in my house for the next couple months like we have been," student Lily Morrell told the local ABC affiliate. "So I think it's good that the school is really cracking down on making sure these cases don't grow more."

>> Keep Reading

>> Watch (WHTM 27)

3. Pulling the Plug
by Zach James, Sioux City Journal

"Chuck Yrigoyen doesn't consider postponing the majority of the American Rivers Conference fall sports season a failure.

The commissioner of the local NCAA Division III conference — which includes Buena Vista University in Storm Lake — did call the decision a disappointment.

The American Rivers Conference announced on Aug. 11 that it would move the football, volleyball, men's soccer and women's soccer seasons to the spring due to safety concerns around COVID-19.

The straw that broke the camel's back was the lack of testing schools would have been able to do at the institutions. The NCAA released a recommendation earlier in the month stating "that testing will be performed in accordance with local/federal mandates and school policy in the same way it is for the broader student population."

>> Thought Bubble: "I do feel that it's disappointing that we were not able to at least give it a try, but you know the reality is that we really were not given an option," Yrigoyen said.

>> The Bottom Line: "There really just wasn't any option for us because of the cost and the logistics of testing. Cost, meaning if a school decided to try and bring all of that testing obligation in-house, that's a huge cost," Yrigoyen said.

>> What's Next: "Yrigoyen's main focus now shifts to keeping the golf, tennis and cross country athletes healthy throughout the fall."

>> Read More


4. Data Download

Noninstructional Pay for Employees by Sector 2018-19

4-Year Public Institutions
Management ($109,320)
Public Service ($72,105)
Research ($68,214)
Computer, engineering and science ($67,171)
Business and financial operations ($63,956)
Community, social service, legal, arts, design, entertainment, sports and media ($62,823)
4-Year Private Institutions
Management ($113,452)
Public Service ($89,366)
Research ($76,166)
Computer, engineering and science ($73,523)
Business and financial operations ($69,974)
Health-care practitioners and technical ($63,223)
Community, social service, legal, arts, design, entertainment, sports and media ($60,052)
source: Chronicle of Higher Education, U.S. Department of Education

Chi Alpha Sigma is the first national scholar-athlete society to honor those collegiate student-athletes who have excelled in both the classroom and in athletic competition. Chi Alpha Sigma recognizes college student-athletes who receive a varsity letter in their sport, achieve junior academic standing or higher after their fifth full-time semester, and earn a 3.4 cumulative grade point average. Student-athletes who compete for a collegiate club team are also eligible if the club team is overseen by the athletics department at the local chapter.

Find out more at ChiAlphaSigma.com



5. Conference Call




Today we continue our look at Division III conferences with a glance at those formed in the 1990s.




Conference: North Atlantic Conference
Commissioner: Marcella Zalot
Headquarters: Waterville, Maine
Website: NACathletics.com
Founded: 1997
Charter Members (1): Maine Maritime
Other Members (11): Northern Vermont-Johnson (2001), Husson (2003), Thomas (2003), Maine Farmington (2003), Northern Vermont-Lyndon (2008), Maine Presque Isle (2018), SUNY Canton (2018), SUNY Delhi (2019), Cazenovia (2020), SUNY Cobleskill (2020), SUNY Poly (2020).
Associates (2): MCLA (MGOLF, TEN), Salem State (MGOLF)
Founded as the North Atlantic Women's Conference; Renamed in 1999
Oldest: Maine-Farmington (1863)
Largest: SUNY Canton (2,743)
Smallest: Maine-Presque Isle (621)
Longest Trip: 686 miles (Maine Presque Isle to Cazenovia)
Championship Sports: 17

>> Tomorrow: American Southwest Conference

>> Previously: Atlantic East | SAA | NECC | NACC | Landmark | NEAC | NEWMAC | AMCC

sources: Google Maps, EADA




sources: Google Maps, EADA




7. 1 Terrificly Sad Thing
Know someone that would enjoy receiving d3Playbook?
Send an email to d3Playbook@gmail.com with "subscribe" in the subject line