D3Playbook
AUGUST 17, 2020 | written by STEVE ULRICH
your must-read briefing on what's driving the day in NCAA Division III

Our goal is to keep you - the influencers in DIII athletics - apprised of what's happening around Division III - the games, polls, news, happenings, awards, calendar of events, and much more. We hope you enjoy d3Playbook and that you'll share this with your friends, colleagues and co-workers.

>> Good Monday Morning
And welcome to the new week.

>> Today's Word Count: 1,311... Top off your coffee and settle in for a news-packed edition.

>> Thanks for reading D3Playbook. Please recommend us to a friend or co-worker. Or share with your staff and bring them up-to-speed on what's happening in DIII.


1. We Have to Play The Tournament
by Dan Wolken, USA TODAY
"Very rarely has the NCAA been accused of being a forward-thinking, risk-taking organization that gets out ahead of problems. But give NCAA president Mark Emmert some credit this week for saying out loud what has been abundantly clear over the last few months through the slow collapse of the college football season.

If college sports are going to happen next spring — and particularly the NCAA basketball tournament — we need to start planning for bubbles.

"My staff has been working hard on it and talking to all 32 commissioners and there are ways to do this," Emmert said during a 30-minute interview posted to the NCAA's media platforms Thursday. "I'm completely confident we can figure this out."

>> Situational Awareness: "Through the last several weeks, though, coaches and administrators across college basketball have been watching the dysfunction around football and saying the same thing to each other: We cannot let this happen to us."

>> Between The Lines: "imagine a scenario where, for example, the ACC brings all of its teams to Greensboro for the month of January with the same type of stringent testing and standard quarantining you'd need to ensure everyone involved is negative. Over three weeks, every team would play nine or 10 games. Then perhaps they'd go back to campus for a bit and come back or go to another site to finish the schedule. The same kind of thing could be replicated in smaller increments for non-conference, round robin type tournaments with five or six teams."

>> Of Note: "And then in the NCAA tournament, not just for basketball but for other leagues, Emmert said you could end up with everything being played at a single site rather than having players travel all over the country as they typically would for three straight weeks during March Madness."

>> What They're Saying: "As ESPN analyst and NCAA critic Jay Bilas tweeted: "We need to drop the amateur distinction. It's pro. Bubbles are not only okay, they're necessary."

>> Be Smart: If the NCAA cannot pull off the 2021 Division I men's basketball tournament, what does that mean for the rest of the association? Will the NCAA continue to exist?

>> A Good Read
2. Everyone is Miserable
by Pat Forde, Sports Illustrated
"At the end of a seven-day span of unprecedented tumult in college athletic history, I circled back with a prominent industry source who offered (unsolicited) this whopper quote to me last Saturday: "I think by the end of the week the fall sports will be postponed in all conferences."

He was right, with one nine-figure exception. All NCAA fall sports championships have been postponed except for FBS football, which lost four conferences but still has six others inhabiting an eroding Football Island.

A shortened fall season with almost no fans and no true national championship, in the midst of a pandemic with no vaccine? Yuck. An ersatz spring season that may or may not happen with a vaccine that may or may not happen and could negatively impact next season? Yuck.

"We don't have good options," that source said.

And thus, everyone in college sports is miserable right now."

>> Why It Matters: "Coaches are frustrated, bewildered, angry, concerned and caught in the middle. The players below them want answers and are getting few good ones—and more than a few of them are going public with their unhappiness."

>> Zoom Fatigue: "Campus and conference administrators are fried from the endless Zoom calls and other meetings to discuss every difficult aspect of college sports during a pandemic."

>> Reality Check: "Many people without an interest in college sports cannot believe anyone is trying to play right now—but many people on the inside very much want to play. There are a lot more important issues in the world—but if you're watching revenues tank while trying to lead a $100 million operation, that's a pretty big issue in your own world."

>> The Final Word: ""I mean, I feel like the Titanic. We have hit the iceberg and we are trying to make decisions on what time should we have the band play?" - Dr. Carlos del Rio, an associate dean at Emory University

>> Keep Reading

3. Titans of Division III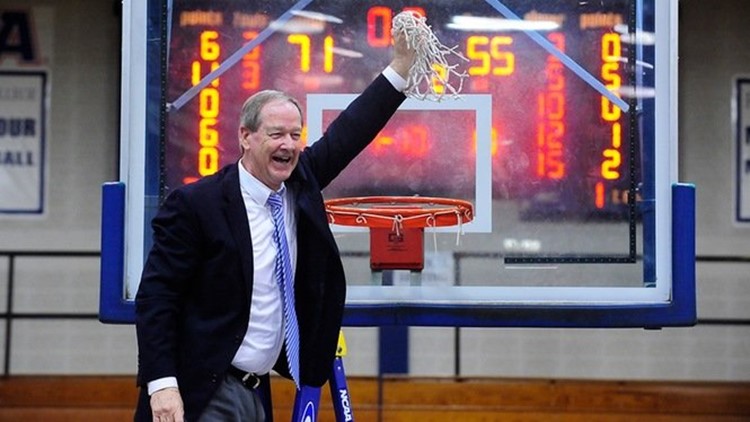 by Benjamin Zacher, BustingBrackets.com
"If – and when – NCAA Basketball returns, there will be a changing of the guard among the coaching ranks.

That much is not true in Division I men's basketball, where the typical blue blood programs and coaches still lead the way. Mike Krzyzewski is still bringing in one-and-dones at Duke, John Calipari is on his "lifetime" contract with Kentucky, and Bill Self continues to battle NCAA accusations and investigations at Kansas. The same cannot be said, however, for Division III.

It is easy and expected for most to toss Division II and III aside. Neither are headlined by the well-known blue bloods, nor do either receive much attention from mainstream sports outlets, whether it be in written form or on television. Legends have been made at the Division III level, however – former Wisconsin head coach Bo Ryan won four national championships in the 90s with Wisconsin-Platteville, and San Antonio Spurs head coach Gregg Popovich made his head coaching debut at Pomona-Pitzer, leading them to their first conference championship in 68 years back in 1986.

So, why bring up Division III at all when arguably two of its most famous alumni moved on decades ago? Here is why: since November of 2019, 10 coaches – all of whom have spent 20 or more years at their respective institutions – have retired. These are coaches who have built and cemented their legacies solely at the Div. III level, amassing a whopping 5,538 career victories and numerous national championships between them.

>> What's Next: "While this decidedly marks the end of an era in Div. III hoops, it also begins an exciting new era. Wooster and Carthage, for example, are two of the programs that have seemingly made obvious and great hires from within. Wooster promoted Doug Cline, an assistant for Moore for 24 years, and a 1,000-point scorer for the Fighting Scots. Carthage's Steve Djurickovic takes over for his father after serving on the bench for the previous six seasons, which was preceded by a stellar playing career at Carthage."

>> Yes, But: So why does any of this matter? Again, it is stereotypical for people to ignore, and oftentimes ridicule, Division III athletics. But if these 10 coaches have proven anything in their 20-plus year service to college basketball, it is that legacies can be made and cemented at any level.

>> Continue Reading
4. Track and Field Rules Review



by Greg Johnson, NCAA



"The use of technology to view video during track and field competitions was approved by the NCAA Playing Rules Oversight Panel on Wednesday.

Under the new rule, which is effective for the 2020-21 academic year, coaches can use hand-held technology devices for reviewing video in field events and for timing in running events.

Competitors can view the video with their coaches provided they do so in a specific area designated by meet management. The area will have to be in a location that does not interfere with other ongoing competition.

If video is viewed outside the designated area, it will result in a warning, and a second violation will result in a disqualification for the coach and competitor."

Other Rule Changes:
Time schedule changes preventing student-athletes from fulfilling their obligation to compete in an event will not be considered a failure to participate.
The maximum size of 3,000-meter heats will increase to 20 competitors, up from 16.
Cross country teams that start at least five runners and have fewer than five runners finish the race will be assigned a team place. Teams that start with at least five runners declare their intent to finish as a team. Incomplete teams would be listed alphabetically in the last position of the official team results as "Did Not Finish." Tiebreaking procedures for incomplete team finishes will not be applied.
Officials are required to be present for all indoor and outdoor field event warmups. Meet management will establish the warmup time. Previously, it was recommended that officials be present for all field event warmups.

>> The Complete News Release
D3Playbook is looking for sponsors. NCAA Division III has a desirable demographic that can help your company thrive. Reach more than 1,400 influencers in NCAA Division III today. Contact d3playbook@gmail.com to get your company in front of decision-makers in small-college athletics.


5. Tweet of the Day
Know someone that would enjoy receiving d3Playbook?
Send an email to d3Playbook@gmail.com with "subscribe" in the subject line