D3Playbook
AUGUST 11, 2020 | written by STEVE ULRICH
your must-read briefing on what's driving the day in NCAA Division III

Our goal is to keep you - the influencers in DIII athletics - apprised of what's happening around Division III - the games, polls, news, happenings, awards, calendar of events, and much more. We hope you enjoy d3Playbook and that you'll share this with your friends, colleagues and co-workers.

>> Good Tuesday Morning.


>> Today's Word Count: 1,116. Brief, concise, smart. An easy read to start your day.

>> Thanks for reading D3Playbook. Please recommend us to a friend or co-worker. Or share with your staff and bring them up-to-speed on what's happening in DIII.


1. The Decision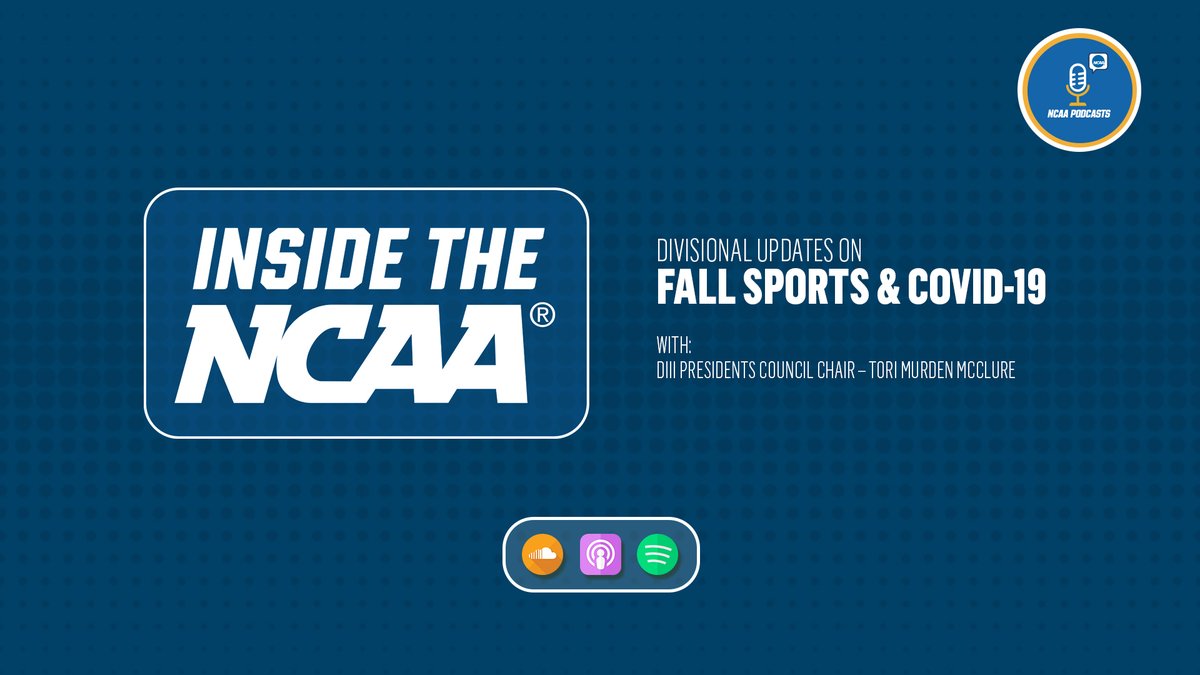 Jeremy Villanueva talks with Tori Murden McClure, chair of the Division III Presidents Council and president of Spalding University, about the Council's decision to cancel the NCAA championships for the fall of 2020 in Division III.

>> Listen (9:00)


2. Sports' Toughest Opponent: Insurance

by Michael McCann, Sportico

"As the COVID-19 pandemic ravages on, an inevitable legal battle awaits the sports industry. Pitting leagues, event organizers and venues against insurance companies, the fight would revolve around the central question: Who should absorb the financial losses from the cancellation of games due to the pandemic?

The answer could dramatically affect the financing, marketing and hosting of games going forward.

While much has been written about "force majeure" in the context of cancelled games, the term, a league executive tells Sportico, is generally not applicable to the COVID-19 pandemic. The reason: Force majeure normally concerns an "Act of God" that makes it virtually impossible to hold an event. Think of a Category 5 hurricane or a terrorist attack. With COVID-19, games could be played, particularly if precautions were taken to mitigate the risk of infection. Insurance companies are thus poised to reject claims that invoke force majeure language.

For most businesses, including sports teams and leagues, the main vehicle used to recoup COVID-19 losses will be business interruption insurance, which ordinarily addresses the broader financial harm of a "covered peril"—such as a fire or tornado—on a company's balance sheet. It is normally part of an underlying property policy."

>> Why It Matters: "So how to interpret a virus and its presence at a sports facility? While the virus can attach to surfaces of seats or railings and survive for several days, it doesn't do real "damage" beyond presenting a temporary risk of infection. Yet policyholders can insist that if their facility is declared unusable, on account of a government order, there is a physical loss."

>> Reality Check: "Even if an insurance company honors a policy, the policyholder must credibly substantiate lost profits and other costs to the satisfaction of the insurer. This often requires extensive documentation that could take several months to review."

>> Be Smart: "The ultimate fallout could mean much higher costs for policies and far more restrictive terms for collection; in essence, it would cost more and offer less."

>> Worth Your Time


3. #WeWillBeBack
An important message from the Division III Student-Athlete Advisory Committee Chair Braly Keller.

>> Watch (1:11)


4. Champions for Diversity and Inclusion
by Gail Dent, NCAA
"Athletics departments and conference offices now have a primary point of contact to receive and distribute information around diversity and inclusion topics. The athletics diversity and inclusion designee, known as the ADID, will be that point of communication between the NCAA national office, athletics department, conference office and campus when information around inclusive programs, emerging diversity issues and other related equity initiatives needs to be shared.

The Minority Opportunities and Interests Committee (MOIC) began discussions around the designation two years ago. The role, which was approved by Divisions I, II and III at the NCAA Convention in January, will serve as a gatekeeper of information who will engage with various audiences such as national office staff, student-athletes, athletics department and conference administrators, and campus officials who are involved with athletics or university inclusion. Athletics administrators have stated that sometimes information gets bottlenecked now and doesn't arrive to key recipients.

Information likely will originate from NCAA diversity-focused committees or offices, such as the Minority Opportunities and Interests Committee, the Committee on Women's Athletics, the Board of Governors Committee To Promote Cultural Diversity and Equity, the Gender Equity Task Force and the NCAA office of inclusion."

>> What They're Saying: "We, MOIC, are very happy to see the support of the membership around the ADID. We look forward to seeing all of the ADIDs and the athletics departments and conference offices working together and moving forward and creating their diversity, equity and inclusion initiatives," said Jose Rodriguez, chair of MOIC and chief diversity officer at Cabrini.

>> What's Next: "ADIDs may be appointed by the university president, chancellor or athletics commissioner (or a proxy), and many will have direct or strong ties to athletics."

>> Worth Noting: "Unlike the senior woman administrator designation, which is the highest-ranking female in athletics management who provides leadership for men's and women's sports and issues, the ADID will receive information specific to a variety of areas that may touch race, gender, LGBTQ, student-athletes who may have disabilities, international student-athletes and other higher education or athletics matters."

>> Continue Reading

SPONSORED MESSAGE


Would you like to advertise in this newsletter? Would you like to advertise an open position in your department for a head coach or administrator? Contact d3playbook@gmail.com to get your job opening in front of over 1,300 decision-makers in small-college athletics.



5. One For The Thumb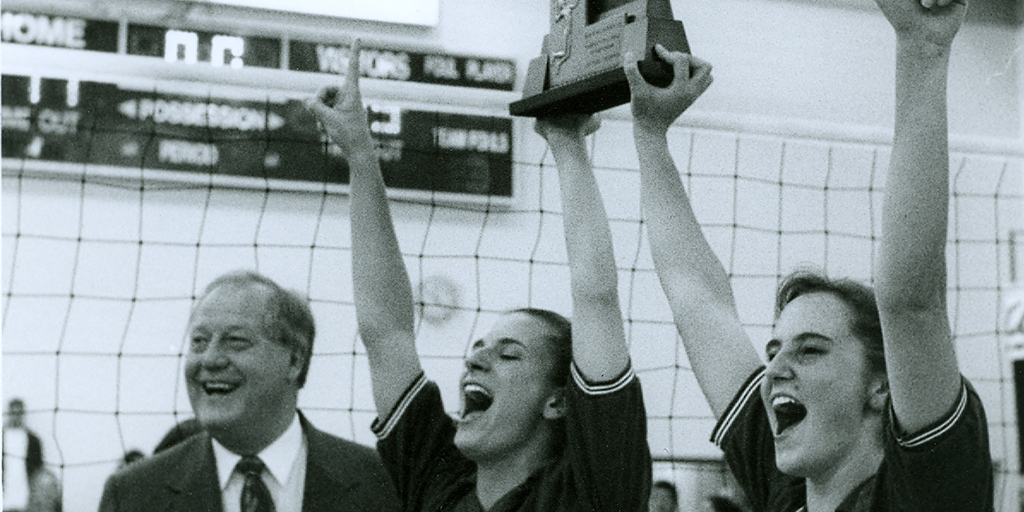 With all the difficult news coming out about the fall 2020 season, we thought it might be time to dust off some anniversary seasons from the past. First, we reviewed the 1995 men's soccer championship. Today, we'll continue with a look back 25 years ago to the 1995 NCAA women's volleyball championship tournament.

Each edition of D3Playbook, we'll bring you the results of a round of play, culminating today with the final. Now, we know you could have looked this up online if you chose ... but thanks for just following along.

National Final
#2 Washington U. d. #5 Cal Lutheran, 15-6, 17-19, 13-15, 15-11, 15-11

>> Headlines: The second-ranked Bears picked up "One For The Thumb," winning their fifth consecutive NCAA title. Wash U. knocked out the Nos. 1, 3 and 5 teams in the country and became the fourth team to overcome a 1-2 deficit in the final.

>> Of Note: Shelley Swan, the DIII Player of the Year, led the Bears with a career-best 31 kills in the title match.



6. Fall Online
Here is a list of Division III institutions that have moved to an all-online fall semester.
Agnes Scott
Catholic
Chapman
Dickinson
Goucher
Johns Hopkins
Johnson & Wales (R.I.)
Lake Forest
Muhlenberg
Randolph
Redlands
Rhodes
Scripps
Simmons
Simpson
Smith
SUNY Old Westbury
Swarthmore
Whitman
Wilson
source: The College Crisis Initiative at Davidson College (C2i dashboard)
Know someone that would enjoy receiving d3Playbook?
Send an email to d3Playbook@gmail.com with "subscribe" in the subject line