PRESENTED BY CHI ALPHA SIGMA
"recognizing college student-athletes who excel both on and off the field of competition."
D3Playbook
AUGUST 24, 2020 | written by STEVE ULRICH
your must-read briefing on what's driving the day in NCAA Division III

Our goal is to keep you - the influencers in DIII athletics - apprised of what's happening around Division III - the games, polls, news, happenings, awards, calendar of events, and much more. We hope you enjoy d3Playbook and that you'll share this with your friends, colleagues and co-workers.

>> Good Monday Morning
And welcome to the new week.

>> We're Baaack: To a five-day a week publishing schedule. Yep, vacation is over and the new academic year is upon us.

>> Welcome: To our new sponsor - Chi Alpha Sigma - the first national scholar-athlete society.

>> Today's Word Count: 1,413... Top off your coffee and settle in for an easy Monday read.

>> Thanks for reading D3Playbook. Please recommend us to a friend or co-worker. Or share with your staff and bring them up-to-speed on what's happening in DIII.


1. Shaming the Students
by Madeline St. Amour, InsideHigherEd.com

"They signed pledges to keep the community safe. They received emails about social distancing and wearing masks.

But some college students are still doing what college students tend to do: socialize and party.

In some cases, the repercussions have been dramatic. The University of North Carolina at Chapel Hill moved its fall semester online after a rash of positive COVID-19 cases and national scrutiny.

At other universities, administrators are wagging fingers at students through letters and tweets. Some are suspending students for attending parties or evicting those who held gatherings in student housing. Some are making veiled threats about taking legal action.

But is it fair to lay the blame solely at the feet of students?"

>> Why It Matters: "They didn't open the campus," said Jessica Gold, assistant professor of psychiatry at Washington University in St. Louis, calling the reopenings a "recipe" for increasing cases. "If you're weighing the decision and you, as an administrator, decide it's safe to open, you decided it was safe to open knowing the population that you serve and the risks that come with that."

>> The Big Picture: Instead of looking for people to blame, Gold wishes higher education communities -- and the nation at large -- would work together to come up with solutions. That strategy would work better than telling students you're disappointed in them, she said.

>> Of Note: "In general, fear isn't a great motivator for anyone or any situation, she said. Antidrug campaigns and campaigns against teen pregnancy that relied on fear didn't work out well. Even for cigarettes, she said, imposing higher taxes was a better deterrent than telling people they would get cancer from smoking."

>> Quotable: "Colleges that reopen without aggressive testing plans are putting not only their students and faculty, but also staff and members of surrounding communities, at risk. Expecting that students will shoulder the entire burden of maintaining campus safety is both unrealistic and irresponsible on the part of college leadership." - Joshua Salomon, a professor of medicine and director of the Prevention Policy Modeling Lab at Stanford University

>> Continue Reading

2. Administrative Committee Recommends No Fall Competition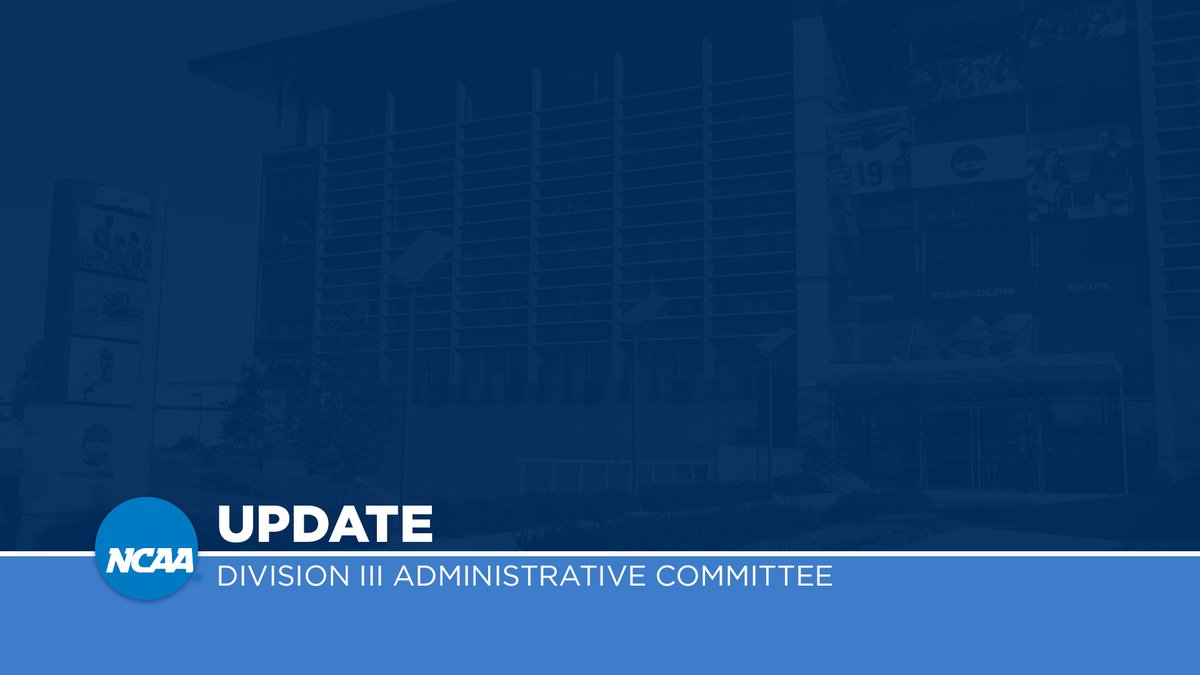 by Jeremy Villanueva, NCAA

"The Division III Administrative Committee recommends member schools not compete in the fall term to avoid potential increased health and safety risks.

The committee took legislative action, effective immediately, that requires schools that decide to engage in outside competition during the fall term to review existing health care cost coverage with student-athletes to help them make an informed decision about participation. Further, schools must inform student-athletes of the risk classification of their sports according to the Resocialization of Collegiate Sport: Action Plan Considerations and provide information about how the school is complying with the NCAA Resocialization of Collegiate Sport: Developing Standards for Practice and Competition.

The Administrative Committee received feedback from members across the division heading into the meeting, including members of the Presidents and Management Councils, the Presidents Advisory Group, and the executive committees of the Division III Commissioners Association and the National Association of Division III Athletic Administrators.

>> What They're Saying: "Any competition this term in the current environment will increase the health and safety risks of not only our student-athletes, but also coaches, staff and campus communities," said Tori Murden McClure, chair of the Presidents Council and president at Spalding. "We also have concerns of the potential health care cost exposure for member institutions if a student-athlete contracts COVID-19 through athletically related activities."

>> Between The Lines: "In addition, the committee encouraged the Association as a whole to address the need for insurance coverage for athletically related illness, similar to current coverage for athletically related injuries."

>> Go Deeper


3. Evacuated
The residential campus
of the University of California Santa Cruz has been evacuated
due to fires that were a mile north of the upper campus
on Saturday night.
As of 7 p.m. on Sunday night, the fire is just eight percent contained. The blaze has scorched over 74,000 acres.
There is no fire activity on campus or in the city of Santa Cruz as of this writing.
4. A B1G Lesson






by Sam McKeown, Omaha World-Herald



The Big Ten Conference reputation has taken a hit over the past week, following the league's decision to postpone the 2020 fall football season.

And its muddled message to its members and the general public is one of the main cuplrits.

"Nebraska athletic director Bill Moos remained in consistent communication with his boss, UNL Chancellor Ronnie Green, who was in full support of the Big Ten playing a fall season but, more importantly, kept Moos informed of the opposite sentiment growing among other Big Ten leaders.

Green did that because the presidents and chancellors weren't in the same Zoom meetings as athletic directors. Athletic directors weren't in the same Zoom meetings as medical personnel, either. Seasoned athletic veterans like Moos, Wisconsin's Barry Alvarez, Penn State's Sandy Barbour and Ohio State's Gene Smith were left out of key discussions that shaped the league's decisions.

Instead, first-year Big Ten Commissioner Kevin Warren was in those meetings as the athletic directors' voice."

>> Between The Lines: "I knew where our people stood, but I would have liked to have been in the room when they expressed it to the commissioner and our presidents and chancellors," Moos said. "The commissioner was operating in silos, and the silos weren't connected. And, in the end, that created varying degrees of communication not being delivered."

>> Worth Noting: "Kevin's still learning — he's never been involved in college athletics," Moos said. "To walk in as a commissioner of one of the most prestigious and storied conferences, and to be faced with this challenge, I think we're all learning. But he has a room full of athletic directors who had, all told, hundreds of years of experience that I think maybe he would have drawn upon more than he did."

>> Of Note: "The Big Ten's Return to Competition Task Force — composed of presidents and chancellors, athletic directors, coaches, medical personnel and senior women's administrators — is precisely the kind of cross-pollinated group of voices that may have changed the trajectory of the league's first decision.

>> The Final Word: The challenges of running a collegiate athletic conference ... even at a deep-pocketed one such as the B1G.

>> An Interesting Read

Chi Alpha Sigma is the first national scholar-athlete society to honor those collegiate student-athletes who have excelled in both the classroom and in athletic competition. Chi Alpha Sigma recognizes college student-athletes who receive a varsity letter in their sport, achieve junior academic standing or higher after their fifth full-time semester, and earn a 3.4 cumulative grade point average. Student-athletes who compete for a collegiate club team are also eligible id the club team is overseen by the athletics department at the local chapter.



5. Conference Call



Today we begin a look at Division III conferences, going from youngest to oldest.


Commissioner: Jessica Huntley
Headquarters: Lancaster, PA
Website: AtlanticEast.com
Founded: 2018
Charter Members (7): Cabrini, Gwynedd Mercy, Immaculata, Marymount, Marywood, Neumann, Wesley
Associates (4): Cedar Crest (SWIM), Gallaudet (SWIM), St. Mary's, Md. (SWIM), William Paterson (MGOLF),
Oldest: Wesley (1837)
Largest: Marymount (2,065)
Smallest: Immaculata (821)
Longest Trip: 241 miles (Marywood to Marymount)

>> Tomorrow: Southern Athletic Association

sources: Google Maps, EADA


7. 1 Foodie Thing
"Long seen as an urban treasure, food trucks are now being saved by the suburbs now that they can't depend on bustling city centers, AP's Sally Ho writes.
They're finding a captive audience thrilled to skip cooking dinner, sample new kinds of cuisines and mingle with neighbors.
Weekday lunchtime business is the bulk of the revenue for an average food truck, which may make $800 to $1,200 a day, said Matt Geller, president of the National Food Truck Association.
In the suburbs, the trucks focus on dinner and add kid-friendly options."

- courtesy of Axios



Know someone that would enjoy receiving d3Playbook?
Send an email to d3Playbook@gmail.com with "subscribe" in the subject line