D3Playbook
AUGUST 20, 2020 | written by STEVE ULRICH
your must-read briefing on what's driving the day in NCAA Division III

Our goal is to keep you - the influencers in DIII athletics - apprised of what's happening around Division III - the games, polls, news, happenings, awards, calendar of events, and much more. We hope you enjoy d3Playbook and that you'll share this with your friends, colleagues and co-workers.

>> Good Thursday Morning!

>> Today's Word Count: 1,657. Easy to read. Easy to digest. Get ready for the weekend.

>> Thanks for reading D3Playbook. Please recommend us to a friend or co-worker. Or share with your staff and bring them up-to-speed on what's happening in DIII.


1. Colossal Challenges Await DIII
by Amanda Christovich, Front Office Sports

"Stevie Baker-Watson, the athletic director for the Division III department at DePauw University, sits at her kitchen island, wrestling with how COVID-19 could permanently alter the landscape of her department and university.

Off in the distance, officials from the lucrative Division I Power 5 conferences struggle with how to keep their billion-dollar football machine running, as some conferences postpone seasons and others forge ahead.

But for different reasons, the impact of COVID-19 on Division III departments like DePauw could be just as colossal — and Division III officials are scrambling to cope with the fallout.

Unlike Power 5 departments, Division III departments don't stand to lose billions in TV, sponsorship or ticket revenue this fall. But they do face several challenges of their own, from revenue losses caused by decreased enrollment to the question of how to afford the sizable costs of COVID-19 precautions if and when athletics resume. They might be forced to significantly alter their entire universities' business models as a result.

>> Just the Facts: "Division III comprises mostly small private schools scattered across the country, and includes 446 institutions, 44 conferences and close to 200,000 college athletes, according to NCAA data. The vast majority of Division III athletic departments spent the summer postponing and canceling their fall sports seasons, citing health concerns over COVID-19, while Division I departments spent June and July wavering."

>> The Big Picture: "In fact, universities as a whole "count on their coaches and the institution to recruit student athletes," because they can drive 25% to 30% of the total enrollment, said Jeff Martinez, the athletic director at the University of Redlands."

>> Reality Check: "Many of the small, private colleges that house Division III athletic departments have faced financial woes before COVID-19 began, said Baker-Watson, because declining enrollment, and thus declining incoming cash flow, has put these higher education institutions in precarious situations."

>> The Key Stat: "Without sports, institutions may have to completely reshape their business models because so much of their enrollment depends on athletes who want to play. "If it's not financially viable, they're gonna pivot," Baker-Watson said. "They may pivot to more graduate programs, or they may pivot to more online programs."

>> Continue Reading

2. Gragg Named NCAA Vice President
"President Mark Emmert has selected Dr. Derrick Gragg, an accomplished leader with more than two decades of experience in college athletics administration, as the NCAA's new senior vice president for inclusion, education and community engagement.

Gragg, currently vice president and director of athletics at Tulsa, will serve as the Association's chief diversity and inclusion officer and report to Emmert. He also will serve on the NCAA senior management team. Gragg will begin his new role with the NCAA on Oct. 5.

As senior vice president, Gragg will have a dual focus on internal and external initiatives and programming. He will lead all internal inclusion operations and supervise national office staff in inclusion, education and community engagement. Externally, he will serve as a national office ambassador to member organizations to promote the NCAA core values of diversity and inclusion.

Gragg will work to strengthen inclusive education and its reach to the membership and national office staff around policies and programming. He also will oversee the NCAA's leadership development office, which has increased online programming for student-athletes in the areas of career instruction and social justice activism."

>> Continue Reading

3. Titus Reflects on Career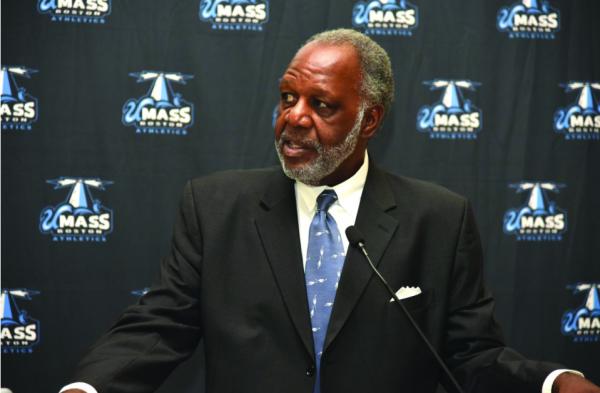 photo courtesy of UMB

by Ed Forry, Dorchester Reporter
"Tuesday, June 30, 2020, was the day that Charlie Titus returned to his post at UMass Boston for the last time. Since 1973, he had served in a variety of roles on the Harbor campus, and on his retirement day he was the vice chancellor for the Division of Athletics, Recreation, Special Projects and Programs.

In a tribute, UMass Boston's acting Chancellor Katherine Newman said,

"Charlie has been the face of UMass Boston athletics for nearly all of those years. Under his tutelage … the Beacons have become a force to be reckoned with in NCAA Division III. He built an athletics program that regularly fields teams that now dominate many of the sports in the Little East Conference, one of the top D-III conferences in the country. In recent years alone, UMass Boston has sent two baseball teams to the World Series, a men's hockey team to the Frozen Four, and the women's volleyball teams have more championship rings than the Patriots. In 2018, the Women's Track team won the indoor and outdoor DIII National Championship. During Charlie's tenure, the Beacons have claimed seven national titles."

>> Situational Awareness: "Charlie Titus's career, indeed, much of his life, was spent here in Dorchester. Born in Roxbury, he lived for ten years with his family in the housing project at Columbia Point before returning to Roxbury. He attended the Dever School on Columbia Point and went to high school at Boston Tech, where he played varsity basketball. His skills on the court led to a scholarship to Saint Michael's College in Winooski, Vermont, where he was a four-year varsity player."

>> Reality Check: Life in Winooski was a bit of a culture shock. "There were three Black students my freshman year. My roommate was one; he was the quarterback of the football team when I was on the basketball team. And then we had this guy who was from Nigeria, a junior when I got there; he was the star of the soccer team. And me. That was it."

>> Gut Check: "My basketball career became very real to me when we played UMass and I played against Dr. J (Julius Erving). Everything came into perspective about how could you get to the next level. He was absolutely amazing. You know, it was one thing to watch him play, it was another thing to be on the court with him. And so I felt like I had a great education and I felt like I was preparing to really take on the world."

>> Favorite Moment as AD: "Going to the Frozen Four with our hockey team about six years ago was an unbelievable experience. We ended up No. 2 in the nation, and we lost the national championship in overtime by a crazy goal. But getting to a first conference championship in basketball when my son was the point guard – and the most outstanding player in that tournament– is a special moment. You get a chance to coach your son, and he's the most outstanding player. It was just unbelievable."

>> What They're Saying: "Part of leadership to me is learning about people and giving them the space to do what they do and facilitating their success. That's what I believe. I didn't want to be anybody's boss."

>> Go Deeper

4. Tennis Announces Changes

The Intercollegiate Tennis Association (ITA) announced on Wednesday updates to its Division II, Division III, NAIA & Junior College fall tournament schedule. Certain ITA Small College Regional Championships will not be held this fall and the 2020 ITA Cup will feature NAIA competition only. Following recent conference & institutional announcements to suspend fall athletics, the ITA Office consulted the following Operating Committees for revisions to the upcoming season.
2020 ITA Regional Championships lacking a host or a sufficient number of participating teams will not be held this fall. All other regionals will proceed as planned.
Canceled Regionals include the Men's and Women's West, Northwest, Midwest, Central, Southeast, Northeast & New England. See the updated ITA Small College Regional Championships page HERE.
ITA All-American status will not be automatically awarded to Regional Champions for Regionals that do compete in fall of 2020. The DIII ITA Operating Committee will continue to evaluate All-American criteria for the 2020-2021 season.
The DIII portion of the 2020 ITA Cup will not be held this fall.
Would you like to sponsor this newsletter? Would you like to advertise an open position in your department for a head coach or administrator? Contact d3playbook@gmail.com to get your job opening in front of decision-makers in small-college athletics.
5. Data Download
Fastest Growing Colleges 2008-18 - Division III
Sage Colleges (699 to 2,633) - 276.7%
Trine (1,451 to 4,320) - 197.7%
Rowan (10,270 to 19,465) - 89.5%
WPI (4,556 to 6,874) - 50.9%
Clarkson (3,045 to 4,274) - 40.4%
Widener (4,861 to 6,621) - 36.2%
Johns Hopkins (19,758 to 26,152) - 32.4%
source: Chronicle of Higher Education
7. 1 Fun Thing
For the couch conventions, twin games courtesy of Heather Podesta, founder and CEO of Invariant, a government relations and public affairs firm.
"See you in 2024!" the firm says.
Know someone that would enjoy receiving d3Playbook?
Send an email to d3Playbook@gmail.com with "subscribe" in the subject line