D3Playbook
AUGUST 6, 2020 | written by STEVE ULRICH
your must-read briefing on what's driving the day in NCAA Division III

Our goal is to keep you - the influencers in DIII athletics - apprised of what's happening around Division III - the games, polls, news, happenings, awards, calendar of events, and much more. We hope you enjoy d3Playbook and that you'll share this with your friends, colleagues and co-workers.

>> Good Thursday Morning! Seventy-five years ago today, the Enola Gay dropped an atomic bomb on Hiroshima, Japan, resulting in 140,000 deaths. Eight days later, Japan surrendered, ending World War II.

>> Today's Word Count: 1,986. A big news day. Easy to read. Easy to digest.

>> Thanks for reading D3Playbook. Please recommend us to a friend or co-worker. Or share with your staff and bring them up-to-speed on what's happening in DIII.


1. Canceled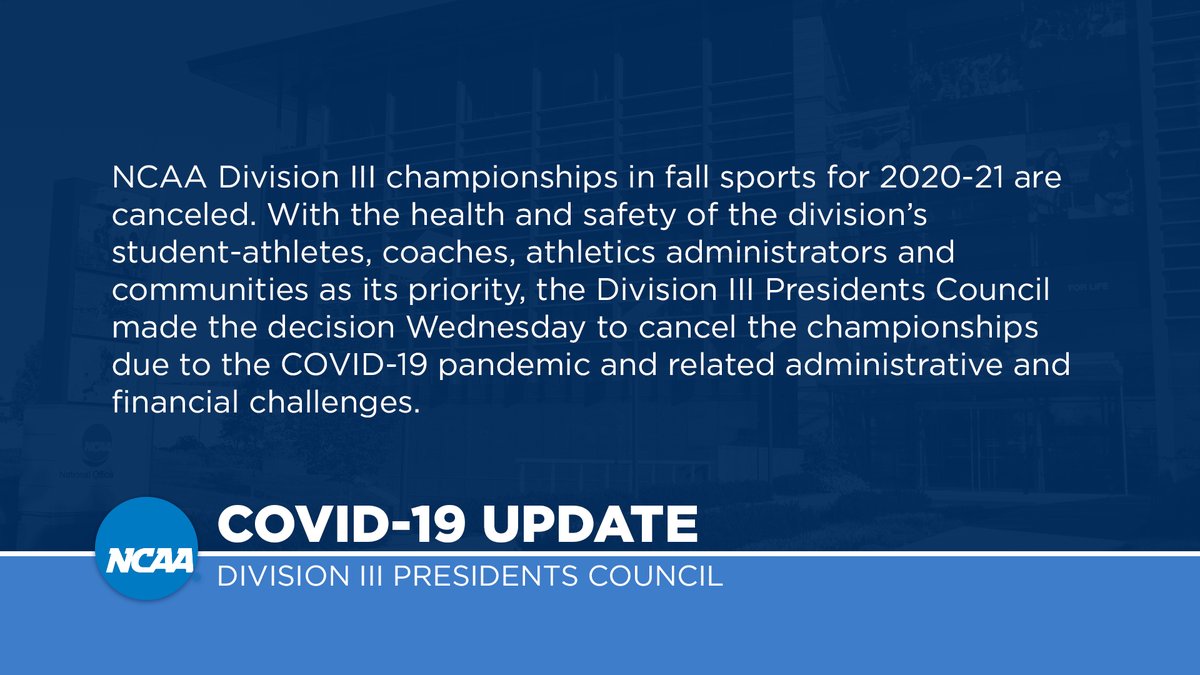 The Board of Governors directed each division to make a decision on its fall sport championships. It also agreed to require all members institutions to apply the resocialization principles to fall sports and set a 50% sponsorship threshold for a fall sport championship to be conducted.

"Looking at the health and safety challenges we face this fall during this unprecedented time, we had to make this tough decision to cancel championships for fall sports this academic year in the best interest of our student-athlete and member institutions," said Tori Murden McClure, chair of the Presidents Council and president at Spalding. "Our Championships Committee reviewed the financial and logistical ramifications if Division III fall sports championships were conducted in the spring and found it was logistically untenable and financially prohibitive. Our Management Council reached the same conclusion."

>> Worth Noting: The DII Presidents Council pulled the plug on fall championships as well.


2. Board of Governors Recap

The NCAA Board of Governors directed schools and conferences to meet specific requirements if they are to conduct NCAA fall sports during the preseason, regular season and postseason.

The board expressed serious concerns about the continuing high levels of COVID-19 infection in many parts of the nation. The board has determined that it will only support moving forward with fall championships and other postseason play if strict conditions are applied and adhered to.

The requirements include:
All fall sports activity (preseason, regular season and postseason) must follow the recently released return-to-sport guidelines from the NCAA Sport Science Institute for all athletic activity. As the guidelines change based on the ever-changing pandemic, schools must follow any future modifications.
The NCAA will establish a phone number and email to allow college athletes, parents or others to report alleged failures. The Association will notify school and conference administrators, who will be expected to take immediate action.
All member schools must adhere to federal, state and local guidelines related to COVID-19. Further, the conduct of NCAA championships must be in line with federal, state and local guidelines.
All student-athletes must be allowed to opt out of participation due to concerns about contracting COVID-19. If a college athlete chooses to opt out, that individual's athletics scholarship commitment must be honored by the college or university.
Each division must determine no later than Aug. 14 the eligibility accommodations that must be made for student-athletes who opt out of participating this fall or for those whose seasons are canceled or cut short due to COVID-19. College athletes and their families must know what their eligibility status will be before beginning the fall season.
Member schools may not require student-athletes to waive their legal rights regarding COVID-19 as a condition of athletics participation.
Member schools, in conjunction with existing insurance standards, must cover COVID-19 related medical expenses for student-athletes to prevent out-of-pocket expenses for college athletes and their families.
Any NCAA fall championship or other postseason contests must be conducted within enhanced safety protocols for student-athletes and essential athletics personnel. These safety enhancements will include regular testing, separation of college athletes and essential personnel from all other nonessential personnel, and physical distancing and masking policies during all aspects of noncompetition.
NCAA championships may use reduced bracketing, a reduced number of competitors, predetermined sites and, where appropriate, single sites to limit exposure to COVID-19.
If 50 percent or more of eligible teams in a particular sport in a division cancel their fall season, there will be no fall NCAA championship in that sport in that division.
If fall sports championships are postponed in any division, a decision to conduct that championship at a later date will be based upon the scientific data available at that time regarding COVID-19, along with other considerations.

>> Quotable: "The first and most important consideration is whether sports can be conducted safely for college athletes," said Michael V. Drake, chair of the board and University of California system president. "Each division must examine whether it has the resources available to take the required precautions given the spread of COVID-19."

>> Quotable II: "Student-athletes should never feel pressured into playing their sport if they do not believe it is safe to do so. These policies ensure they can make thoughtful, informed decisions about playing this fall." - NCAA President Mark Emmert

>> Be Smart: Divisions II and III made things easy for the NCAA, but the Football Bowl Subdivision (i.e. Power Five football) schools called the shots.

3. NCAA Petitions Supreme Court re: Alston

by Dan Murphy, ESPN

"The NCAA filed a petition Wednesday morning that asks the U.S. Supreme Court to press pause on allowing college athletes to receive an expanded number of education-related benefits.

In March 2019, a federal judge ruled that the NCAA's restrictions on what schools can provide to student-athletes violate antitrust laws. As part of that ruling, Judge Claudia Wilken ordered that schools should be allowed to provide an unlimited number of benefits to college athletes as long as those benefits are related to education. The NCAA appealed that decision in circuit court and lost earlier this year. Wednesday's filing indicates that the NCAA intends to appeal to the U.S. Supreme Court as well.

This particular legal battle began in 2014 when former West Virginia running back Shawne Alston filed a lawsuit against the NCAA. Alston and his attorneys argued that NCAA rules that place any limit on compensation that schools could offer to athletes violated antitrust law."

>> What They're Saying: "I think they're trying to put off the inevitable," said Jeffrey Kessler, the lead plaintiffs' attorney in the case. "They keep losing and they keep trying to prevent athletes from getting these benefits. Sooner or later the athletes will get these benefits and the world will move forward. They need to accept that reality."

>> What's Next: "While the NCAA has yet to formally appeal to the Supreme Court in this case, Wednesday's filing is a request that the highest court in the nation stay Wilken's ruling, a move that would keep the current NCAA rules in place at least temporarily. If the Supreme Court denies the motion to stay, NCAA member schools will be allowed to start offering unlimited educational benefits to their athletes immediately."

>> The Bottom Line: "Wilken's decision -- if it is not changed on appeal -- will allow schools to spend an unlimited amount of money to provide their athletes with education-related items such as laptops, science equipment, instruments for music lessons and potentially some monetary rewards for good grades."


>> Continue Reading



4. Tuition Free or Extra Benefit?

by Emma Whitford, InsideHigherEd.com

"Less than a month away from the start of the fall semester, colleges continue to announce tuition deals and discounts to ensure student retention, encourage degree completion and ward off deferrals.

This week, St. Norbert College and Pacific Lutheran University announced tuition-free semesters and yearlong programs for returning and newly admitted students.

St. Norbert, a small liberal arts college in De Pere, Wis., unveiled its Ninth-Semester-Free Promise program on Monday, which would pay tuition for eligible students to finish their degree in their ninth semester. Eligible students must have completed eight semesters of undergraduate education, at St. Norbert or elsewhere, and must be enrolled in and successfully complete at least 12 credits each semester during the 2020-21 academic year.

Pacific Lutheran is offering students an additional tuition-free year on campus through its PLUS Year program, debuted Monday. All returning and incoming students regardless of class year will be eligible to tack on a fifth tuition-free year after their projected graduation date.

The goal of the program, according to Pacific Lutheran president Allan Belton, is to ensure that all students get four years of quality liberal arts, on-campus experiences.

>> Situational Awareness: St. Norbert president Brian Bruess hopes the program will appeal to students who may wish to have more uninterrupted time on campus for theater, athletics or study abroad opportunities. He also thinks it could ease the concerns of students who are unable to take a full course load during the 2020-21 academic year, for health, financial or other reasons.

>> Quotable: "When you think about the vast majority of the students who are going to take advantage of this opportunity, they wouldn't have been here during that fifth year anyway, so it's effectively not really costing the university revenue," Belton said."

>> Between The Lines: Since the tuition benefit is not available to all students ... would this run afoul of NCAA regulations regarding extra benefits?

>> Yes, But: Although we applaud the schools for their thinking, we have a feeling that the Interpretations and Legislation Committee may be called in for its opinion.

>> Read More
Would you like to sponsor this newsletter? Would you like to advertise an open position in your department for a head coach or administrator? Contact d3playbook@gmail.com to get your job opening in front of decision-makers in small-college athletics.
5. A Golden Volleyball Season, Down to Four

With all the difficult news coming out about the fall 2020 season, we thought it might be time to dust off some anniversary seasons from the past. First, we reviewed the 1995 men's soccer championship. Today, we'll continue with a look back 25 years ago to the 1995 NCAA women's volleyball championship tournament.

Each edition of D3Playbook, we'll bring you the results of a round of play, culminating on August 11 with the final. Now, we know you can look this up online if you choose ... but maybe you'll just want to follow along.

National Quarterfinals
#2 Washington U. d. #1 Juniata, 15-8, 7-15, 15-13, 15-2
#3 Ithaca d. #13 Springfield, 12-15, 7-15, 15-7, 15-8, 15-11
#5 Cal Lutheran d. John Carroll, 11-15, 15-8, 15-4, 15-11
#9 UW-Whitewater d. #7 St. Olaf, 15-9, 5-15, 15-3, 15-6

>> Headlines: In a 1 vs. 2 matchup, it was No. 2 who came out on top as #2 Washington U. downed top-ranked Juniata in four sets. The Bears meet #3 Ithaca in the semifinal after the Bombers rallied from an 0-2 deficit to down Springfield. #5 Cal Lutheran ended John Carroll's magical run in four sets, while #9 UW-Whitewater dispatched #7 St. Olaf in four.

>> Monday: The final four from 25 years ago.


7. 1 Burger Thing

"When you think of a food that's all-American, the first thing that comes to mind is likely the burger. The simple sandwich of (typically) ground beef on a bun allows for considerable creativity. To celebrate this classic, we've tracked down the absolute best restaurant for burgers in every state as well as Washington, D.C."

Have a great weekend.

- courtesy of The Daily Meal

Know someone that would enjoy receiving d3Playbook?
Send an email to d3Playbook@gmail.com with "subscribe" in the subject line