D3Playbook
AUGUST 4, 2020 | written by STEVE ULRICH
your must-read briefing on what's driving the day in NCAA Division III

Our goal is to keep you - the influencers in DIII athletics - apprised of what's happening around Division III - the games, polls, news, happenings, awards, calendar of events, and much more. We hope you enjoy d3Playbook and that you'll share this with your friends, colleagues and co-workers.

>> Good Tuesday Morning.


>> Today's Word Count: 1,396. Brief, concise, smart. An easy read to start your day.

>> Thanks for reading D3Playbook. Please recommend us to a friend or co-worker. Or share with your staff and bring them up-to-speed on what's happening in DIII.


1. Can the NCAA Survive?
by Pat Forde, Sports Illustrated

"The NCAA has been vigorously criticized from the outside forever. It's a fat, slow-moving target, easily harpooned by those who find college athletics to be poorly governed at best and immoral at worst. If you have no stake in the NCAA, you probably hate the NCAA.

But now the threats are internal, too. The calls are coming from inside the house.

From the players to the conference power brokers, people who are part of the NCAA structure are assaulting the controlling interests of college athletics like never before. On a dizzying weekend, three major stories broke that illustrate existential threats to the NCAA as we know it.

For decades, people have theorized and even fantasized about the Power 5 (the Atlantic Coast Conference, the Big 12, the Big Ten, the Pacific-12 and the Southeastern) breaking off and leaving the rest of Division I behind. This is a sign of increased intent to consider a secession of sorts.

Taken individually, each story is startling news. Taken collectively, it is a flurry of body blows that signal a critical inflection point for college sports. Is a controversial collegiate system buckling beneath its own weight? Can eternally embattled NCAA president Mark Emmert survive this? Should either Emmert or the institution itself survive?"

>> Notable: Forde writes that Division II and III presidents on the Board of Governors support Emmert more than the Division I powers. Representing DIII are Tori Murden McClure, president of Spalding, Fayneese Miller, president of Hamline, and Heather Benning, commissioner of the Midwest Conference.

>> What 2 Watch 4: Tomorrow's BOG agenda features a discussion of NCAA fall sports championships, a review of the FY 2020-21 budget and an update on the 2021 NCAA Convention slated for January 13-16 in Washington, DC.

>> Prediction: Look for the BOG to cancel fall championships in Divisions II and III. That's low-hanging fruit. Now if it adds DI championships to the list ... watch for fireworks.

2. One is the Loneliest Number
After yesterday's decision by the Allegheny Mountain Collegiate Conference, Division III has just one league going forward with athletic competition in the fall - the American Rivers Conference.

"We're excited," Steve Cook, director of athletics at Coe, told Jeff Johnson of the Cedar Rapids Gazette. "Sure, we're cautiously excited. Things are changing rapidly, but I don't see a lot changing in the communications we have had within our conference. Look, the nation is changing, the state of Iowa is changing, there are a lot of dynamics at play here. But, ultimately, right now our conference has come to a solid foundation and agreement. And it's based on limiting our schedules in a way we felt we could give it a chance, be safe, and with the best interests of our student-athletes in mind."
But the decision-making has also taken a toll.
"My fellow AD colleagues have been my support system, to be honest, with this," Luther College AD Renae Hartl told Johnson. "Because there are not many people who are doing what we're trying to do every day and feeling like we're constantly trying to come up with a plan and changing the plan the next day. I would say one of the hardest things is not necessarily just athletics, but the people we are surrounded by, not just the coaches and the other administrators ... It is very difficult to have very little control about what is going to happen the next day. To satisfy all of the questions from not only our coaches but our student-athletes has been very difficult. They just want to know, and it's so hard to say something and have to take it back. To tell a 17, 18, 19-year-old to be flexible as we navigate through this has been very hard."

>> Continue Reading

3. New Day in the Heartland
"The Heartland Collegiate Athletic Conference (HCAC) unveiled a bold, revitalized visual identity on Monday. The comprehensive redesign includes distinct primary and secondary logos, a complete suite of sport-specific and championship marks, and an exclusive custom font.

The HCAC partnered with Skye Design Studios (SDS - www.sdsbranding.com) – a national leader in sport branding – for the project. The HCAC and SDS engaged partners from all 10 member campuses throughout the rebranding initiative.

>> What They're Saying: "We always viewed this project as much more than just a primary logo redesign," said HCAC Commissioner Jay Jones. "This effort was about developing a full brand overhaul and changing the look and feel of everything we do as a conference."
4. A Golden Volleyball Season

With all the difficult news coming out about the fall 2020 season, we thought it might be time to dust off some anniversary seasons from the past. First, we reviewed the 1995 men's soccer championship. Today, we'll continue with a look back 25 years ago to the 1995 NCAA women's volleyball championship tournament.

Each edition of D3Playbook, we'll bring you the results of a round of play, culminating on August 11 with the final. Now, we know you can look this up online if you choose ... but maybe you'll just want to follow along.

Regional Finals
#1 Juniata d. Gettysburg, 15-11, 15-8, 15-8
#2 Washington U. d. Trinity, Texas, 15-11, 15-10, 15-9

#13 Springfield d. Coast Guard, 15-6, 11-15, 15-10, 15-8
#3 Ithaca d. #15 Rochester, 15-5, 15-9, 15-6

#5 Cal Lutheran d. #6 UC San Diego, 15-9, 15-11, 15-6
John Carroll d. #10 Ohio Northern, 17-15, 13-15, 4-15, 17-15, 15-13

#7 St. Olaf d. #11 Dubuque, 15-7, 15-6, 13-15, 12-15, 18-16
#9 UW-Whitewater d. #8 UW-Oshkosh, 15-11, 11-15, 15-12, 15-11

>> Headlines: Washington U. is the four-time defending national champion. For the second straight day, John Carroll overcame a 2-1 deficit to advance, winning the final two sets, 17-15 and 15-13. Dubuque nearly battled back from 2-0 before succumbing to St. Olaf, 18-16, in the deciding set. Six of top 10 teams in the final AVCA rankings are in the Elite Eight. #1 Juniata and #2 Washington U. meet in the quarterfinals.

>> Thursday: Eight become four.


SPONSORED MESSAGE


Would you like to advertise in this newsletter? Would you like to advertise an open position in your department for a head coach or administrator? Contact d3playbook@gmail.com to get your job opening in front of over 1,300 decision-makers in small-college athletics.



5. Athletes Using Their Power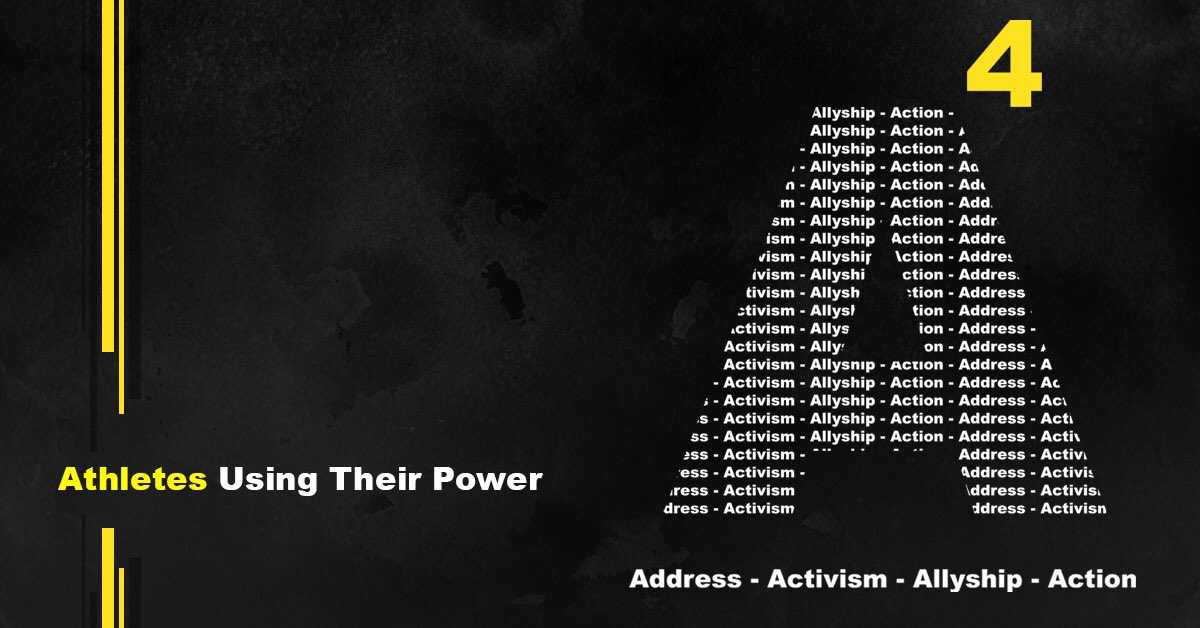 Now more than ever, student-athletes use their platforms to speak out about the injustices in our country. As they strive for a more inclusive world, they are looking to their institutions' athletic departments and communities to evaluate their polices, identify change opportunities and be leaders in fighting against injustices.

The NCAA's mission in leadership development is to educate and empower student-athletes, coaches, and athletics administrators through transformative experiences that develop effective leaders, cultivate an inclusive community and enhance the college sports landscape.

In alignment with this mission, NCAA leadership development has created a four-part virtual series that will educate student-athletes on the power they have and how they can use it to effectively enact meaningful change. Weekly sessions will be engaging and center on action, preparing student-athletes to be effective change leaders on campus and within their communities.

This virtual program is accessible only to student-athletes. Only student-athletes will be eligible to register to attend the program meetings and we ask that no coaches or administrators are present with student-athletes when they tune in to A4. There is a plan to hold a similar program for administrators and coaches in the coming months, but we ask that the August series remains solely student-athlete participants.

>> Learn More


7. 1 Golf Thing
Haven't we all thought about doing this ... at least once?


Know someone that would enjoy receiving d3Playbook?
Send an email to d3Playbook@gmail.com with "subscribe" in the subject line