D3Playbook
JULY 27, 2020 | written by STEVE ULRICH
your must-read briefing on what's driving the day in NCAA Division III

Our goal is to keep you - the influencers in DIII athletics - apprised of what's happening around Division III - the games, polls, news, happenings, awards, calendar of events, and much more. We hope you enjoy d3Playbook and that you'll share this with your friends, colleagues and co-workers.

>> Good Monday Morning


>> Editor's Note: D3Playbook remains on its summer schedule, now publishing three times per week on Monday, Tuesday and Thursday (since you're not in the office on Fridays, wink). We will also bring any breaking news when it happens.

>> Today's Word Count: 1,721 ... a little less than 7 minutes to start your morning. Top off your coffee and settle in.

>> Thanks for reading D3Playbook. Please recommend us to a friend or co-worker. Or share with your staff and bring them up-to-speed on what's happening in DIII.


1. Ticking Down to a Decision


This is one situation where it is not so coveted to be in the "Sweet 16."

Just 16 Division III conferences have not postponed nor cancelled competition for the 2020 fall semester. Eight have made public statements, while the others have remained publicly silent.
American Rivers Conference
College Conference of Illinois and Wisconsin
Landmark Conference
Little East Conference
New Jersey Athletic Conference
Northern Athletics Collegiate Conference
Skyline Conference
Wisconsin Intercollegiate Athletic Conference

As DIII football expert Frank Rossi noted, as of this morning, just 100 of 247 football programs remain active for the fall. A glance at soccer sponsorship indicates that approximately 160 programs remain active.

Here is our list of the schools and conferences that have announced fall decisions at https://www.d3playbook.com/2020/07/tracking-fall-cancellations.html.

>> Between The Lines: Conference decision-makers may have been hoping that the NCAA Board of Governors would cancel 2020 fall championships for Division III, giving additional cover in a cancellation decision. That did not happen and won't until August 5 at the earliest.

>> Of Note: The majority of these conferences are located in the midwest (ARC, CCIW, HCAC, MIAA, Midwest, MIAC, NACC, SLIAC, UMAC, WIAC).

>> Be Smart: Don't be surprised if more dominoes fall by midweek.
2. New Playing Rules
NCAA sport committees have been busy and the Playing Rules Oversight Panel (PROP) has approved rule changes in the following sports.

Baseball
Clarify when pitchers are pitching out of a windup or stretch position. Under the proposal, the pitcher would be in the windup when facing the batter while his pivot foot is in contact with the pitcher's plate and the other foot is free.
A pitcher would be considered in the set/stretch position when he stands facing the batter with his pivot foot in contact with the pitcher's plate and his other foot in front of the pitcher's plate while holding the ball in both hands in front of his body and coming to a complete stop.
The committee proposed allowing any player who is removed for a concussion evaluation to return to the game if cleared by medical personnel.
Any team personnel, besides the coaching staff, who leave the dugout or bullpen and enter the field of play during an altercation or fight would be ejected and have to serve a one-game suspension.
Ice Hockey
All teams tied at the end of regulation will play a five-minute, 3-on-3 sudden-victory overtime period to decide a winner. If neither team scores, a three-person shootout could be used in conference games or in-season tournaments for advancement purposes.
The "spin-o-rama" move, where the player with the puck completes a 360-degree turn while approaching the goal, will not be allowed.
Allowing teams to choose which faceoff circle the puck would be dropped in at the start of a power play or after icing violations.
Lacrosse (M)
The motorcycle grip during faceoffs has been eliminated in men's lacrosse. Both players will start faceoffs with only their feet, gloves and sticks touching the ground.
The goal-mouth area is restricted for offensive players.
In dead-ball, out-of-bounds scenarios, the defensive team can call a timeout, and the possession clock would remain at the time of the stoppage and not reset.
Softball
Allowing any player who is removed for a concussion evaluation to return to the game if cleared by medical personnel.
Allowing conferences to continue to experiment with video review in regular-season conference games and conference tournament games.
3. Brandeis Grad Knocks Down Gender Wall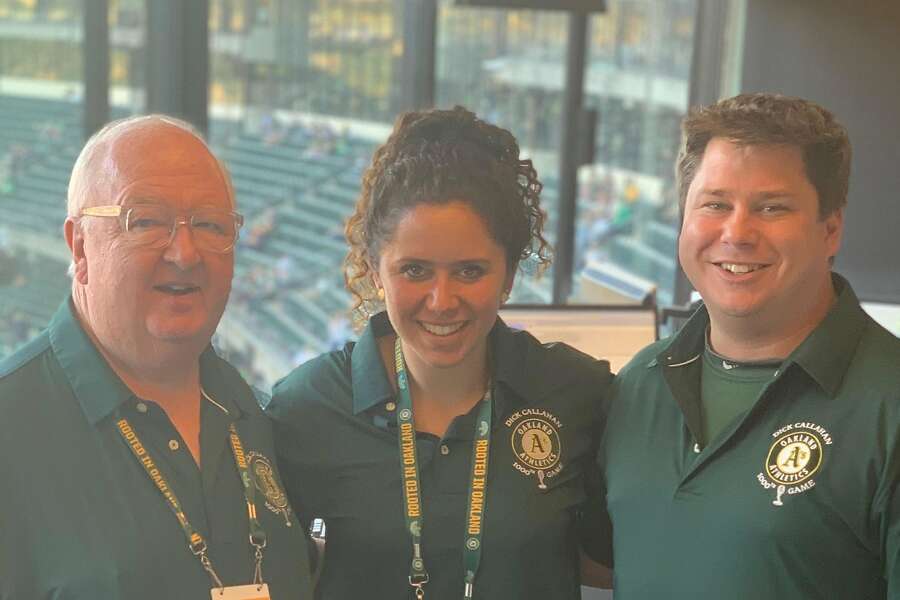 by Susan Slusser, San Francisco Chronicle
"When Amelia Schimmel was growing up in Oakland, she and her sister, Joanna, were regulars at the Coliseum, massive A's fans who got the shivers listening to public-address announcers Roy Steele and, after the "Voice of God" retired, Dick Callahan.

Now, Schimmel, 33, is subbing for Callahan, her friend and mentor, while he sits out the season for health reasons. During Monday's exhibition game against the Giants, the A's executive producer of ballpark entertainment became the first woman to handle the microphone duties at the Coliseum.

"I was practically born at the Coliseum. My parents were huge fans, die-hard," Schimmel said. "I thought this was a dream come true getting the executive producer job but then this happened — I didn't realize how cool this could be. My A's fandom has really given me everything in life. It's my whole world. It revolves around sports."

Schimmel played on the boys' baseball team at College Prep in Oakland for two years before starting the school's softball team. A 2008 graduate of Brandeis, the Judges finished 38-9 in her senior season and won the ECAC championship.

>> Situational Awareness: "The A's received numerous inquiries about the position when Callahan stepped aside for the season, but in order to adhere to MLB's safety protocols, the decision was made to fill the job internally, with someone already designated a "Tier 3" employee. Schimmel realized that she was the only one who wasn't already doing necessary tasks throughout games."

>> Why It Matters: "I heard through the grapevine that she would be on the PA. I was very pleased!" said Giants PA announcer Renel Brooks-Moon. "The only other female PA voice I've ever heard is my dear friend Marysol Castro with the Mets. How cool was it to have two women on the mike in both Bay Area ballparks on back-to-back nights?"

>> Reality Check: "I never thought twice about doing something that a guy was doing," she said. "If people assumed women couldn't do it, it didn't really faze me — but I realize the context for everyone else who isn't used to seeing it and I know how cool it is for girls to see. If I'd grown up hearing a woman on the PA or seeing a woman coaching, I would have been even more inspired."

>> The Final Word: "For three years, I've gotten to see how Dick does what he does and now I have a newfound appreciation for him, because it's not easy," she said. "He says the fans don't buy tickets to listen to him, he doesn't want to stand out — so that's my goal here, too."

>> Continue Reading
4. Calendar
July 28 - Playing and Practice Seasons subcommittee
July 31 - Today's Top 10 Award nomination deadline
August 4 - Presidents Advisory Group
August 4 - COVID-19 and Waiver Update webinar
August 5 - Presidents Council
August 20 - Interpretations and Legislation Committee
D3Playbook is looking for sponsors. NCAA Division III has a desirable demographic that can help your company thrive. Reach more than 1,300 influencers in NCAA Division III today. Contact d3playbook@gmail.com to get your company in front of decision-makers in small-college athletics.


5. A Golden Season, Elite Eight



With all the difficult news coming out about the fall 2020 season, we thought it might be time to dust off some anniversary seasons from the past. Today, we'll continue with the 1995 NCAA men's soccer championship tournament.

Each edition of D3Playbook, we'll bring you the results of a round of play, culminating on July 30 with the final. Now, we know you can look this up online if you choose ... but maybe you'll just want to follow along.

National Quarterfinals
Williams d. TCNJ (host), 3-0
Muhlenberg (host) d. Ithaca, 4-0
Methodist d. Washington U. (host), 2-1 (3 ot)
Chapman (host) tied Ohio Wesleyan, 1-1 (advanced on PKs 4-2)

>> Headlines: Brad Murray notched a hat trick as Williams remained unbeaten and unscored upon in the tournament. TCNJ fell short of a repeat appearance in the final four. Methodist also remained undefeated on the season with its OT victory. Craig Bennett made 14 saves for the Panthers vs. OWU.

>> Of Note: The Williams College keeper - Erin Sullivan '96 - is now the head coach of the Ephs, while the Methodist College keeper - Justin Terranova '96 - is the current head coach of the Monarchs. Muhlenberg's current head coach - Sean Topping '98 - was a sophomore back for the Mules in 1995. H/T Dick Quinn.

>> National Semifinals (Williamstown, Mass.)
Williams (16-0-1) vs. Muhlenberg (16-1-3)
Methodist (20-0) vs. Chapman (17-3-1)

>> Final Four Results coming Tuesday


7. 1 Ice Cream Thing

by Aaliyah Gibson, The Daily Meal

"I scream, you scream, we all scream for ice cream.

Whether you live in a destination where it feels like summer all the time or one of the coldest cities in the world, there's an iconic dessert that transcends temperature: ice cream. It's a classic treat that can be enjoyed in a simple cup, piled in a cone or scooped into extravagant sundaes loaded with toppings."

You may have spent last weekend looking for a way to escape the heat ... and what better way than stopping by your local ice cream shoppe.

The Daily Meal went in search "to find the best ice cream shop in every state, we scoured online reviews, social media posts, local publications and word-of-mouth tips until we found the absolute best place to grab a scoop, sundae, shake and other frozen treats nationwide."

And here's what they found.


Know someone that would enjoy receiving d3Playbook?
Send an email to d3Playbook@gmail.com with "subscribe" in the subject line