D3Playbook
JULY 6, 2020 | written by STEVE ULRICH
your must-read briefing on what's driving the day in NCAA Division III

Our goal is to keep you - the influencers in DIII athletics - apprised of what's happening around Division III - the games, polls, news, happenings, awards, calendar of events, and much more. We hope you enjoy d3Playbook and that you'll share this with your friends, colleagues and co-workers.

>> Good Monday Morning
Did you watch Hamilton this weekend? Wow. Worth the Disney+ subscription for a month.

>> Editor's Note: D3Playbook has added another day to its summer schedule, now publishing three times per week on Monday, Tuesday and Thursday (since you're not in the office on Fridays, wink). We will also bring any breaking news when it happens.

>> Today's Word Count: 1,813 words ... about 7 minutes to start your morning.

>> Thanks for reading D3Playbook. Please recommend us to a friend or co-worker. Or share with your staff and bring them up-to-speed on what's happening in DIII.


1. Finances in a Crisis

by Dean O. Smith, Chronicle of Higher Education

"Covid-19 has destabilized university finances, something particularly stressful for faculty members, who often find themselves left out when budgets are rationalized. Professors seek explanations about the administration's response, and sometimes those administrative explanations lack transparency, spreading mistrust and misconceptions.

Administrative responses to lost income during a financial crisis follow a fairly standard protocol. The first response is to slash discretionary expenditures: stop unnecessary travel, defer routine maintenance, freeze hiring, etc. This modest short-term step slows cash outflow, but for severe crises, such as the one we now face, it seldom solves the problem. Large nondiscretionary expenditures continue unabated: salaries, pension-fund contributions, health insurance, loan repayments, building leases, and so forth. This first response simply buys time.

Inevitably, rumors about large, centrally controlled pools of money will circulate. In fact, the rumors may be true. Many governing boards mandate the creation of a discretionary rainy-day reserve account containing several months of normal operating expenses. Certainly, these rainy-day funds can be used to offset reduced income due to the pandemic, but not all of it; some money must be retained in reserve for other possible emergencies, such as a broken water main or HVAC system.

Universities have more money in restricted reserve accounts. They must maintain sufficient funds in reserve to cover required debt payments (interest and principal), pension-fund liabilities, health-care plans, and other nondiscretionary expenses. Stated simply, this restricted reserve money is unavailable for routine operations.

>> The Big Question: Endowments are a highly visible pool of money. Faculty members inevitably wonder: Why can't the university use its endowment to compensate for lost income during this crisis?"

>> Situational Awareness: This can occur in three ways. First, the university may withdraw any unrestricted funds that it has deposited into the endowment, providing a one-time source of cash. Second, a university can adjust its payout rate from the typical 5-percent target rate to as high as 7 percent without incurring suspicions of imprudent fiscal management. Third, and least desirably, a university can dip into its restricted endowment principal during a demonstrably dire emergency.

>> The Bottom Line: Ultimately, universities must find long-term solutions for restoring financial stability. To stabilize their finances, universities tend to favor the second option: reducing core expenditures (i.e. operational cuts such as employee-retirement accounts, personnel salaries, etc.). As a last resort, universities declare financial exigency, signaling that they no longer have the funds to meet salary obligations to tenured faculty members.

>> Be Smart: "After the pandemic has passed, all will not immediately return to normal. Universities must restart suspended operations, reinstate furloughed employees, and restore on-campus instruction in a changed reality. They must also realign budgets with post-pandemic strategic priorities. Ironically, this may provide opportunities for profound change, as well as for new priorities, business models, and operational strategies. Until those strategies bear fruit — if they do — higher ed will continue to feel the financial pain."

>> Continue Reading ($)
2. Uncertainty Builds for Conferences
by Randy Johnson, Star Tribune
"As NCAA Division I football leaders continue pushing to open on schedule this fall, returning to play isn't a given for Division II and III teams.

Entering Friday, 13 D-III schools, mainly in the East, had announced they're canceling all or some fall sports because of the pandemic.

The most prominent small-college leagues with Minnesota teams are the Division II Northern Sun Intercollegiate Conference (NSIC) and the Division III Minnesota Intercollegiate Athletic Conference (MIAC).

The plan, the leader of each conference says, remains to return to competition this fall. Both conferences are developing protocols to accomplish that, even as increasing COVID-19 cases nationally cloud the situation and fuel skepticism."

>> What's Next: The MIAC athletic directors' council meets Tuesday, and Dan McKane, MIAC commissioner, is hopeful it will make a recommendation to the presidents' council, which meets July 15.

>> Reality Check: "Now the question is, 'Can we play all of the sports that we have safely?' Football stands out as breaking all social distancing norms. How do we do that safely?" - McKane

>> What They're Saying: "By early August, we're going to have to have some pretty significant decisions made," said Corey Borchardt, commissioner of the Upper Midwest Athletic Conference, which includes seven full-time members in Minnesota and two in Wisconsin.

>> Keep Reading

3. Is Spring Football Coming Your Way?
by Megan Ryan and David La Vaque, Minneapolis Star-Tribune
"For many sports fans, autumn weekends revolve around football: Friday night high school, Saturday morning college and Sunday afternoon NFL, until long after the leaves turn.

But the coronavirus pandemic could change that backdrop from fall foliage to spring flowers.

"I'm hoping not. I would prefer that we played in the fall," St. John's coach Gary Fasching said. "But … I think we have to be open-minded."

>> Situational Awareness: The idea of pushing the Division I college season to spring surfaced early in the pandemic but faded as optimism grew about the fall. Recently, though, with COVID-19 cases surging nationally and several NCAA programs reporting positive tests, renewed attention has turned to what a spring football season could look like.

>> Yes, But: Donnie Brooks, athletic director at Macalester, said he'd have to juggle how his four athletic trainers could tend to all the extra athletes at one time. And with limited resources in Division III, he could see his baseball, softball, track, football and soccer teams all having to use the fieldhouse in January. "Every ball field is going at the same time," Brooks said. "That means early practice times and late-night practice times. And it would have a serious impact on the student experience."

>> Quotable: "It might be a one-time thing, and we might have to learn to do that for a year," Fasching said of a spring season. "… You've just got to be flexible. You have to be able to adjust, and I think the schools that are able to do that … are the ones that are going to be able to handle this."

>> Continue Reading
4. Tracking the Fall


The list of colleges and universities that have completely or partially cancelled their varsity athletic programs for the fall 2020 semester.

Capital

Centennial

Liberty

Little East

Midwest

NESCAC

NEWMACNJACSkylineSCIAC
The Ohio Athletic Conference announced that fall competition in all sports will begin September 19 and the league will play Conference-only competition in football, soccer and volleyball, while permitting cross country, golf and tennis to play outside competition.

The Old Dominion Athletic Conference announced a consistent start date for all regular season play, establishing Friday, September 11, 2020 as the first allowable date of competition for all fall sports. Teams are free to schedule non-conference competition on an institutional basis when open dates are available in their respective schedules.

Previously Announced
D3Playbook is looking for sponsors. NCAA Division III has a desirable demographic that can help your company thrive. Reach more than 700 influencers in NCAA Division III today. Contact d3playbook@gmail.com to get your company in front of decision-makers in small-college athletics.


5. Calendar
July 15 - Playing and Practice Seasons subcommittee
July 16 - Interpretations and Legislation committee
July 18-19 - Student-Athlete Advisory committee
July 20-21 - Management Council
July 21-23 - Baseball Rules committee
July 28 - Playing and Practice Seasons subcommittee
July 31 - Today's Top 10 Award nomination deadline
August 3 - Presidents Advisory Group
August 4 - COVID-19 and Waiver Update webinar
August 5 - Presidents Council
6. Comings and Goings


Condolences to family, friends and the Augustana College football community on the passing of long-time coach Bob Reade. He coached 16 seasons, compiling a 146-23-1 record and four straight national championships from 1983-86. Reade was 87 years old.


7. 1 Ballpark View Thing

If there is baseball in 2020 - and we really, really hope so - these are some of the few places that you can watch live.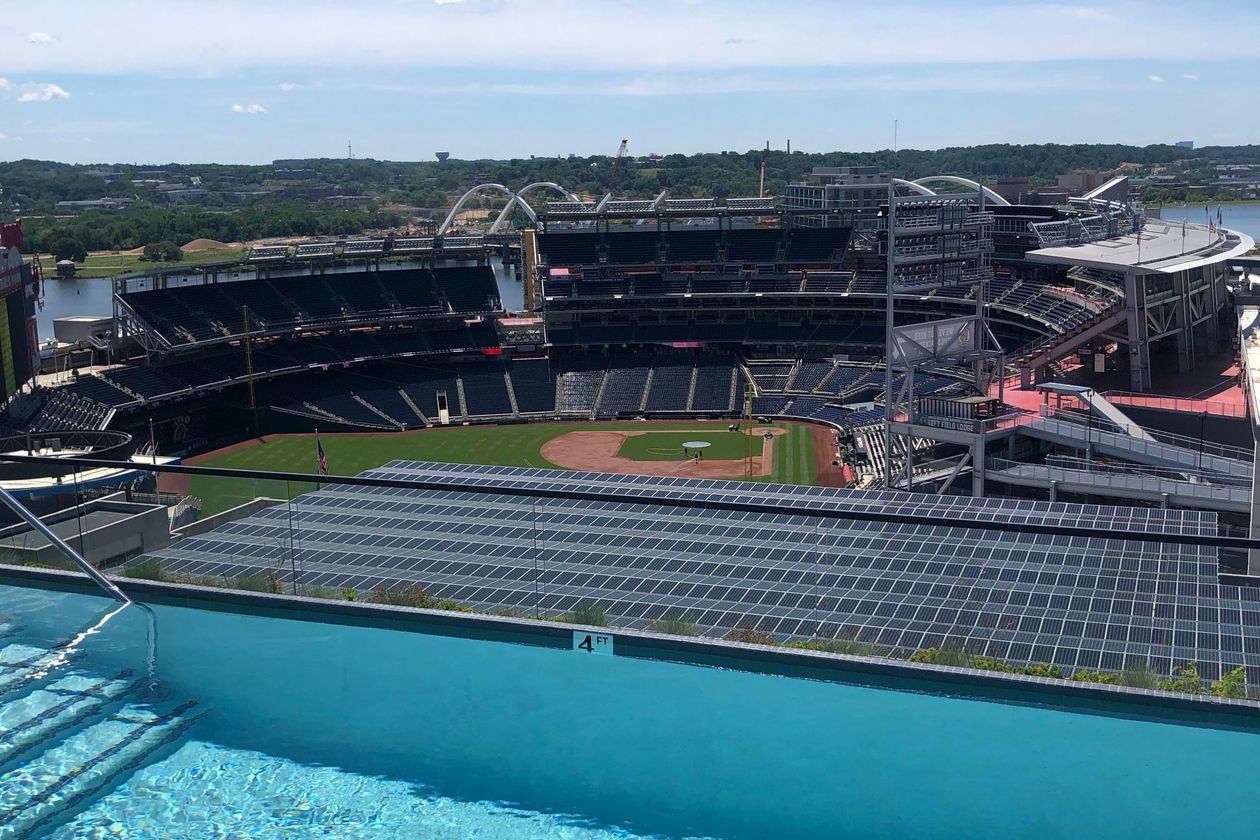 A view of Nationals Park from a shared roof deck. Photo/Nick DiChiara
NL
Nationals Park (Washington, D.C.): Nick DiChiara, 26, watched last year's Nationals World Series run from his apartment building's shared roof deck (above). This year, he'll be one of the few D.C. residents who can even see the field. DiChiara told us he currently has no plans to rent his apartment, partly due to his landlord's "no Airbnb" policy. (How much money would a Nats fan be willing to pay for a three-night/three-game stay? Probably a lot.)
Truist Park (Atlanta): The Braves' stadium is surrounded by a development called "The Battery," which includes an Omni Hotel with views into the park.
Wrigley Field (Chicago): The famed Wrigley Rooftops are still figuring out their plans, representatives told Axios. If they do open up, catching a Cubs game there will undoubtedly be the pinnacle of baseball viewing in 2020.
Busch Stadium (St. Louis): Hilton at the Ballpark has rooms with field views.
Petco Park (San Diego): The Marriott Gaslamp Quarter plans to reopen its rooftop bar this week, per WSJ (subscription). And if you know someone who lives in the Legend Condominiums — like, say, Chip Messenger, who snapped the photo below from his balcony — we recommend inviting yourself over.

Screenshot: @ChipMessenger (Twitter)


AL
Oriole Park at Camden Yards (Baltimore): The Hilton Baltimore Inner Harbor has rooms and a roof deck that look directly into the ballpark through center field.
Progressive Field (Cleveland): Metropolitan At The 9, a luxury hotel, has a private top floor called RSRV that offers rooms "with amazing views into Progressive Field," per their website.
P.S. ... The Toronto Marriott City Centre Hotel is built inside Rogers Centre (as in, you can literally step out your window into the stadium). But hotel staff told us stadium-view rooms will be closed for baseball season. It also sounds like Blue Jays players and staff might live in the hotel.


courtesy of Axios


Know someone that would enjoy receiving d3Playbook?
Send an email to d3Playbook@gmail.com with "subscribe" in the subject line