D3Playbook
JULY 9, 2020 | written by STEVE ULRICH
your must-read briefing on what's driving the day in NCAA Division III

Our goal is to keep you - the influencers in DIII athletics - apprised of what's happening around Division III - the games, polls, news, happenings, awards, calendar of events, and much more. We hope you enjoy d3Playbook and that you'll share this with your friends, colleagues and co-workers.

>> Good Thursday Morning! Yesterday was quite the day.
Expecting more fireworks today


>> Today's Word Count: 1,702. Easy to read. Easy to digest. Getting you ready for the weekend.

>> Thanks for reading D3Playbook. Please recommend us to a friend or co-worker. Or share with your staff and bring them up-to-speed on what's happening in DIII.


1. Centennial Says No
The Centennial Conference became the first NCAA conference
to formally "suspend" athletic competition in the fall semester and announce that football will not be played this fall.
"In response to the unprecedented challenges of the COVID-19 pandemic, the Centennial Conference Presidents Council has been meeting diligently to address the safety and well-being of students, faculty, staff, and their communities. As institutions finalize their plans for the coming year, federal, state, and local health guidance, as well as institutional policies, will guide their independent decisions regarding reopening.
Given health and other related concerns
, the Centennial Conference Presidents Council has decided to suspend any inter-collegiate competition for sports scheduled for the fall semester. The presidents will reevaluate this decision by the end of September, based on work to be done by the Conference to assess sports-specific activities and the experiences on the schools' campuses. The presidents have determined football will not be played in the fall. The Conference will also explore the possibility of shifting certain fall sports, including football, to the spring."
>>
Thought Process
: "While every school in the conference regrets the need to suspend our fall athletics season, this decision was made with the understanding that it is in the best interest of the health, safety, and well-being of our student-athletes, their families, and our broader campus community at this critical juncture," said Gettysburg president
Bob Iuliano
.
>>
Spring Football?
: "The decision not to compete in football this fall semester was not an easy one," said Muhlenberg athletic director
Lynn Tubman.
"However, I am hopeful the Centennial Conference will continue to explore a spring football season, with the potential for competition and a conference championship."
>>
We're Talkin' Practice
: "It's hard for me to say right now what fall sports will look like," Johns Hopkins athletic director
Jen Baker
said. "I would love for our teams to be able to practice. We just don't know."
>>
Be Smart
: The Mid-Atlantic region was hit hard by the virus in the spring. While this decision does not surprise many, it may not set a tone for the rest of Division III to follow.
2. A Spring Smorgasbord
With the Centennial and Ivy League considering a move of their fall sports to the spring, it will not be surprising to see other Division III conferences head in the same direction. But can small colleges handle 15+ sports and their external demands?

NCAA Fall Championships (8): Cross Country (M/W), Field Hockey, Football, Soccer (M/W), Volleyball (W), Water Polo (M).

NCAA Spring Championships (14): Baseball, Golf (M/W), Lacrosse (M/W), Rowing, Softball, Tennis (M/W), Outdoor Track and Field (M/W), Volleyball (M), Beach Volleyball (W), Water Polo (W).

We took a look at two conferences that sponsor football - the Liberty League (LL) and the Southern Athletic Association (SAA). How do their members stack up in staffing and facilities in particular?

The LL is comprised of Bard, Clarkson, Hobart, Ithaca, Rensselaer, Rochester, RIT, Skidmore, St. Lawrence, Union, Vassar and William Smith.

The SAA is comprised of Berry, Birmingham-Southern, Centre, Hendrix, Millsaps, Oglethorpe, Rhodes and Sewanee.

>> Facilities: Every LL school shares its main facility with at least one fall and one spring program, while most have two soccer and two lacrosse teams sharing one field. UR has field hockey, football, M/W soccer and women's lacrosse in one facility.

Six of the eight SAA institutions will share facilities in the spring with the exception of Millsaps and Oglethorpe. The others will split time between football and lacrosse teams. Centre and Sewanee also have shared fields for field hockey and women's lacrosse.

>> Athletic training. Every ATC will tell you that the worst time of year is from mid-September to mid-November. Why? Every team is practicing or competing, whether in the regular season or the nontraditional segment. The only saving grace is that ATC's give some preference to teams "in season." Now what? Can the level of care be maintained when ATC's are stretched to the limit?

As an example, Ithaca College lists eight trainers in its staff directory. Three have responsibility for a fall and a spring sport. Two others have a spring sport in addition to assisting with football. Rhodes College lists three trainers in its directory for 21 sports.

>> Athletic communications: If fans are still not permitted to attend events in the spring, the pressure will fall on SIDs to provide live video streams of events. How many cameras will be needed - as well as operators - to provide the level of service currently provided? Trying to imagine a spring Saturday is mind-boggling. Oh, not to mention the added time commitment for full-time staff that ranges anywhere between one and three people.

>> Scheduling: Putting aside practice, let's look at a possible weekend slate of events. With shared facilities, football almost becomes a Friday night necessity. Do soccer or lacrosse teams play at one site against the same opponent? How many home games can a school adequately handle on a given day at one site? Two? Three?

>> Be Smart: If allowed to compete, the challenges continue.


3. Tracking the Fall
The list of colleges and universities that have completely or partially cancelled their varsity athletic programs for the fall 2020 semester. Is your school / conference not listed? Let us know along with a link to the story at D3Playbook@gmail.com

Capital
Centennial
Liberty
Little East
Midwest
NESCAC
NEWMACNJACNorth CoastSkylineSCIACUniversity Athletic Association
Conference Announcements Regarding Competition
Would you like to sponsor this newsletter? Would you like to advertise an open position in your department for a head coach or administrator? Contact d3playbook@gmail.com to get your job opening in front of decision-makers in small-college athletics.
4. Men in Blades


"UMass Boston men's hockey freshmen Jake Adkins and Andy Walker have been making the most of their time during the COVID-19 pandemic.

The pair, who have dubbed themselves the "Men In Blades," have planned a massive trip to raise money for the American Cancer Society.

Starting on Monday, July 13, the Men In Blades are planning on rollerblading from their on-campus apartment at UMass Boston all the way to Walker's hometown in Mason, Michigan (approximately 875 miles). Their goal is to cover close to 100 miles a day, with the aim to reach Michigan in 10 days.

>> Why It Matters: "Cancer has affected most of us in one way or another. We have both personally seen the struggles close up and couldn't imagine having to fight this horrible disease in the wake of a Pandemic," said Adkins.

>> The Big Picture: "Being collegiate hockey players, we wanted to find a way to help those in need by doing what we know best - skating!! With most ice rinks closed down, we are hitting the pavement and rollerblading from Boston to Michigan this summer to raise money and awareness for all of those who can't get out there and fight for themselves. We are raising money for cancer patients/survivors/families/caregivers who are struggling to get the help they need during the corona virus pandemic. Any donation will help make an impact."

To learn more about the Men In Blades, learn how you can donate and learn more about their journey check out the following links:
You can also check out media coverage of the Men In Blades here:

WLIX News Story (Michigan TV Station)
WLNS News Story (Michigan TV Station)

>> The Final Word: In a time of so much distressing news, here is something we can all get behind. Good luck gentlemen.


6. 1 Triple Crown Thing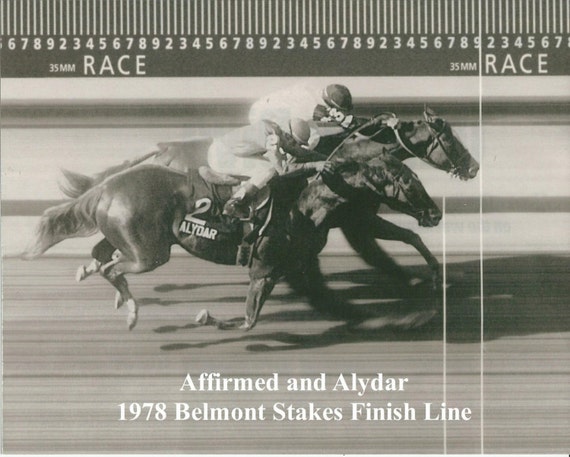 Forty-two years ago tomorrow, I sat mesmerized in front of my TV screen watching one of the greatest horse races I have ever seen - the 1978 Belmont Stakes.

In 1978, Affirmed, ridden by 18-year-old Steve Cauthen, had won the first two jewels of the Triple Crown. His main rival, Alydar, finished second in both the Kentucky Derby and the Preakness. The two grand thoroughbreds ran head-to-head for the final half mile of the 1 1/2 mile "Test of Champions," before Affirmed held off Alydar to become the 11th Triple Crown champion and the last for 37 years.

These days, I don't watch horse racing much at all, save for the Triple Crown races. There are two races I'll watch forever - Secretariat in the 1973 Belmont and this one. Enjoy the beauty, power and grace of Affirmed and Alydar ... and have a great weekend.

>> Watch the race

Know someone that would enjoy receiving d3Playbook?
Send an email to d3Playbook@gmail.com with "subscribe" in the subject line