D3Playbook
JULY 2, 2020 | written by STEVE ULRICH
your must-read briefing on what's driving the day in NCAA Division III

Our goal is to keep you - the influencers in DIII athletics - apprised of what's happening around Division III - the games, polls, news, happenings, awards, calendar of events, and much more. We hope you enjoy d3Playbook and that you'll share this with your friends, colleagues and co-workers.

>> Good Thursday Morning! Although she won't see this ... Happy 85th Birthday, Mom!

>> Today's Word Count: 1,474. Easy to read. Easy to digest. Getting you ready for the weekend.

>> Thanks for reading D3Playbook. Please recommend us to a friend or co-worker. Or share with your staff and bring them up-to-speed on what's happening in DIII.


1. A Most Unusual Day
You can always tell when the July 1 fiscal year begins on Division III campuses - everyone is back from using their use/lose vacation days ... and there is a lot of activity.
Since we last met ...
>>
The list of fall sport cancellations
on Division III campuses continues to grow. Yesterday,
Amherst
cancelled its fall semester sports seasons, while
Claremont-Mudd-Scripps
will not compete in basketball, football, soccer, volleyball, and water polo.
Trinity (Conn.)
announced "it will have significantly fewer, if any, competitions in the fall," while
Chicago
stated "it is very likely that many of our teams will participate in fewer competitive events, play more non-conference opponents, and travel far less."
>>
One school dropped a bombshell,
as
UMass Dartmouth
abruptly announced the discontinuation of eight programs, including women's equestrian, men's golf, men's lacrosse, co-ed sailing, men's and women's swimming and diving, and men's and women's tennis.
>>
New conference members began day one
with their new friends, including
York (Pa.)
in the MAC,
Suffolk
in the Commonwealth Coast, and
Valley Forge
in the CSAC.
>>
And another stated its intention to move on
, as
Louisiana College
announced its formal filing for membership in the NAIA. The Wildcats will play one more year in the American Southwest Conference before departing.
>>
What's In a Name?
The College of Saint Elizabeth became
Saint Elizabeth University
; Messiah College became
Messiah University
; and Elmhurst College became
Elmhurst University
.
>>
What's Next:
Exhale. Today is another day ... and a great day for a news dump before a long, holiday weekend.
2. Tracking the Fall

The list of colleges and universities that have completely or partially cancelled their varsity athletic programs for the fall 2020 semester.

Capital
Centennial
Liberty
Little East
Midwest
NESCAC
NEWMACNJACSkylineSCIAC
The Michigan Intercollegiate Athletic Association has announced plans for a predominantly conference schedule for fall sports.

The Midwest Conference is moving forward with intercollegiate athletic competition barring changes in infection rates in the Midwest.

The Southern California Intercollegiate Athletic Conference presidents
reaffirmed that conference members will make independent institutional decisions (see CMS) regarding if and when it is safe to return to campus, including athletic practice and competition.


3. Statement on Return to Sports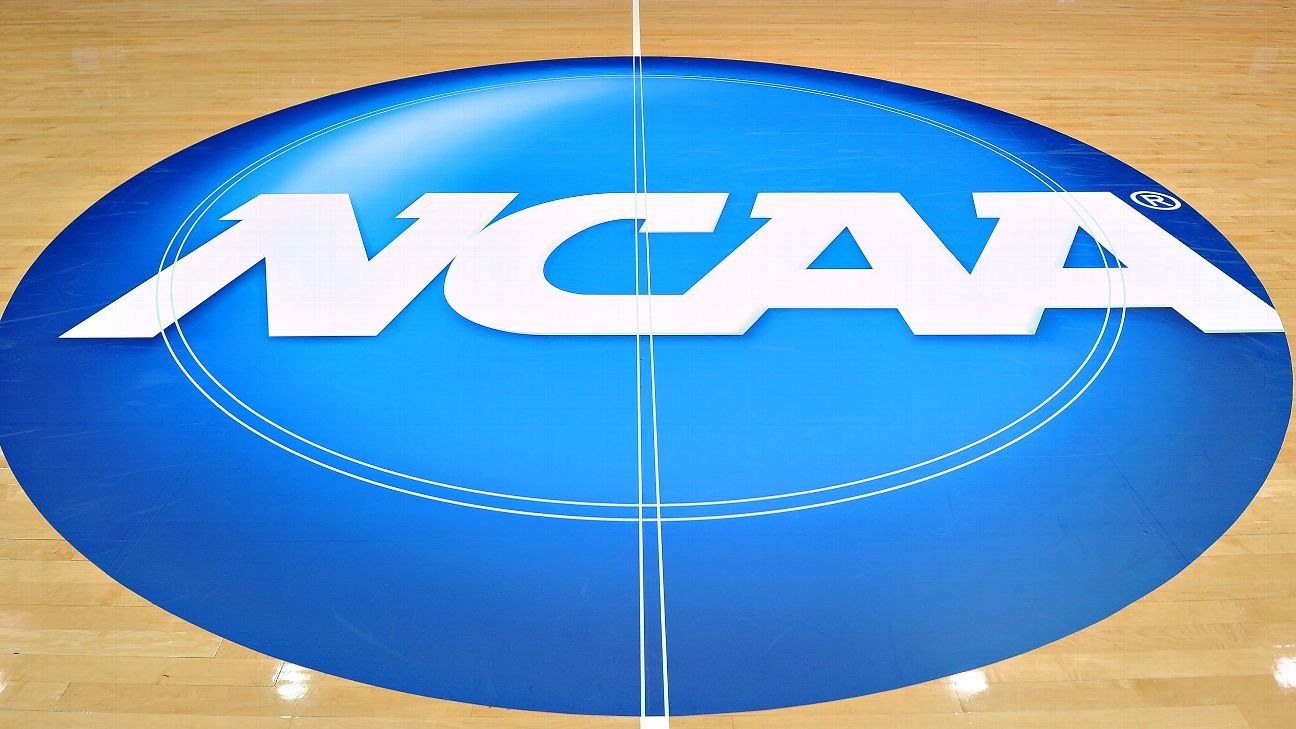 Division III member schools and conferences each face unprecedented challenges in determining the appropriateness of conducting intercollegiate athletics on campus during the 2020-21 academic year. The Division III Membership Committee strongly encourages institutions to make the best decisions for their campus community and the happiness, health and safety of their student-athletes. If an institution does not satisfy one or more membership requirements as a result, it may seek relief through existing waivers. The Division III Membership Committee is committed to providing appropriate flexibility to assist member institutions through this process.


Would you like to sponsor this newsletter? Would you like to advertise an open position in your department for a head coach or administrator? Contact d3playbook@gmail.com to get your job opening in front of decision-makers in small-college athletics.
4. Survey Favors Expanded NIL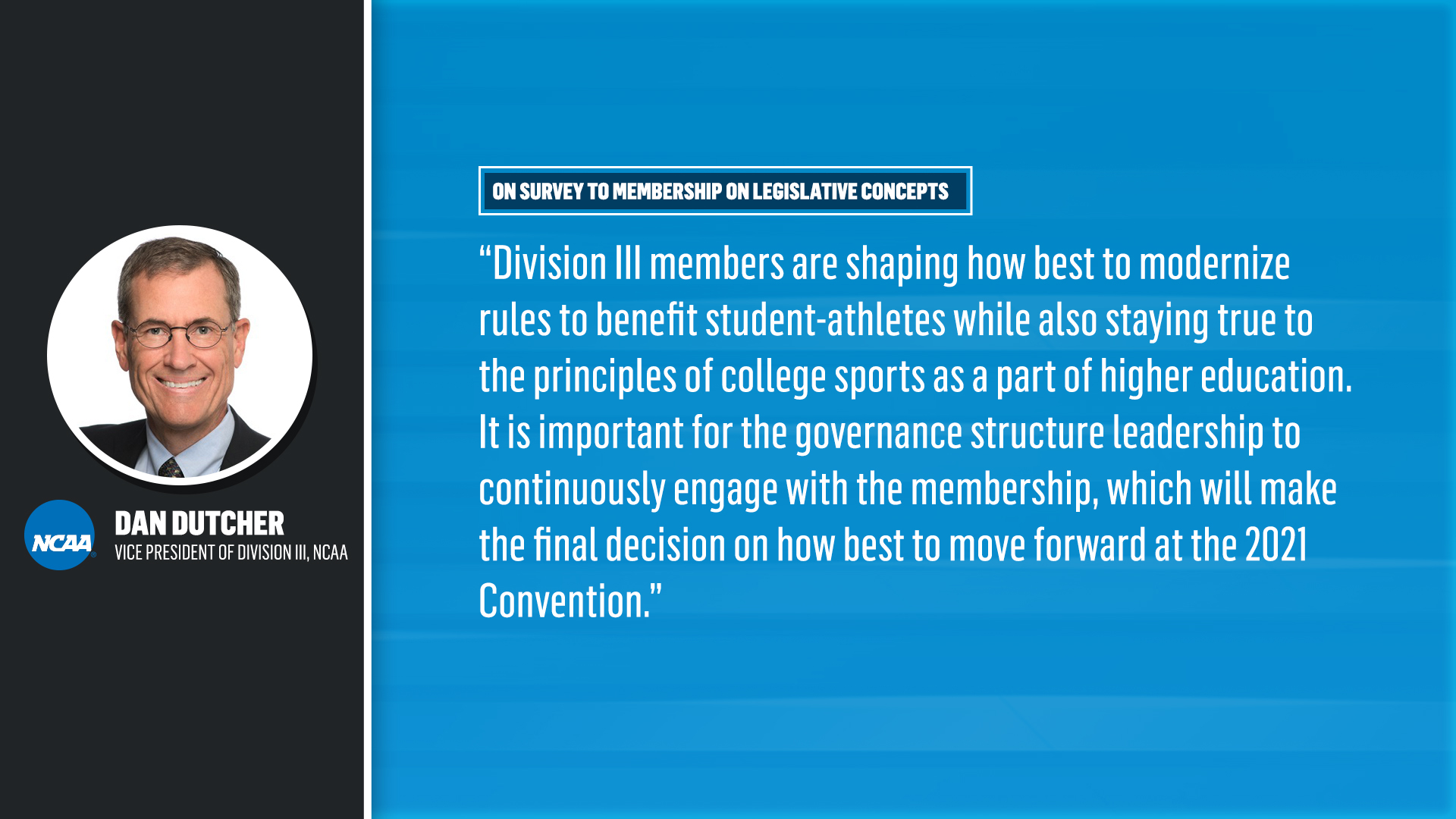 by Jeremy Villanueva, NCAA

"Division III presidents and chancellors, athletics directors, conference commissioners and national Student-Athlete Advisory Committee members shared their opinions through an online survey on potential legislative concepts surrounding name, image and likeness.

The division's governance structure administered the survey in June to seek feedback from members, who are tasked with passing legislation that would allow greater flexibility for student-athletes to use their names, images and likenesses to promote their own business activities and endorse third-party products or services.

The goal is to have new name, image and likeness legislation adopted at the 2021 NCAA Convention and then implemented before the 2021-22 academic year."

>> What They're Saying: "Division III members are shaping how best to modernize rules to benefit student-athletes while also staying true to the principles of college sports as a part of higher education," Dan Dutcher, NCAA vice president of Division III, said.

>> The Survey Says: "Two-thirds or more of survey respondents agreed student-athletes should be able to use their status as athletes to be paid for appearances (66%), promote commercial products through social media platforms (71%), model or promote noninstitutional athletic apparel or equipment (75%), promote third-party products or services through traditional commercials (71%) and provide testimonials for a product or service (74%)."

>> Go Deeper

5. Can Students Behave?
by Elissa Nadworny, NPR
"When asked if he could imagine a college party where everyone is wearing masks, Jacques du Passage, a sophomore at Louisiana State University, laughs.

"No. I don't think they would do that," he says. "I think [students] would just have the party and then face the repercussions."

Around the U.S., coronavirus cases are rising among young people. The spread of the virus has been connected to college-related events such as fraternity parties, drinking at off-campus bars and athletic practices. For colleges planning to bring thousands of students together in the fall, student spread is a real worry. And the stakes are high: If there are outbreaks, campuses may once again be forced to shut down, scattering students and disrupting academics and college finances all over again.

To keep that from happening, schools have created robust guidelines — but those plans rely on a major wild card: students following the rules."

>> The Big Picture: "Changing campus culture and student behavior isn't just about rewards. Anna Song, a professor at UC Merced, found that you can influence behavior if you find the right messaging. She studies smoking habits, and she has found that students who believe that their smoking will harm their friend's health are significantly less likely to start smoking themselves. The challenge for colleges is to figure out what messages will motivate students to adhere to the guidelines."

>> Quotable: "All of our routines are built around social interaction," says University of Virginia senior Ellen Yates. "It's just a totally new set of social conditions that certainly nobody my age has ever been subjected to."

>> Continue Reading
6. Softball Rules Committee Recap

by Greg Johnson, NCAA

"The NCAA Softball Rules Committee recommended that any player who is removed for a concussion evaluation be allowed to return to the game if cleared by medical personnel. This proposal would be effective for the 2020-21 academic year.

Committee members, who met by videoconference last month, supported the proposal, which came from the Committee on Competitive Safeguards and Medical Aspects of Sports.

All rules proposals must be approved the NCAA Playing Rules Oversight Panel, which is scheduled to discuss softball rules changes July 22."

>> Worth Noting: "The committee supported allowing conferences to continue to experiment with video review in regular-season conference games and conference tournament games. Coaches will be allowed two video review challenges during a game. A challenge must be initiated verbally or visually before the next pitch; before the pitcher and all infielders have clearly vacated their normal positions in the field and left fair territory; or before the umpires have left the field of play. Umpires would be allowed to initiate a video review from the sixth inning until the end of the game."

>> Read More


Know someone that would enjoy receiving d3Playbook?
Send an email to d3Playbook@gmail.com with "subscribe" in the subject line