D3Playbook
JUNE 15, 2020 | written by STEVE ULRICH
your must-read briefing on what's driving the day in NCAA Division III

Our goal is to keep you - the influencers in DIII athletics - apprised of what's happening around Division III - the games, polls, news, happenings, awards, calendar of events, and much more. We hope you enjoy d3Playbook and that you'll share this with your friends, colleagues and co-workers.

>> Good Monday Morning


>> Editor's Note: D3Playbook is on its summer schedule, publishing twice per week on Mondays and Thursday (since you're not in the office on Fridays, wink). We will also bring any breaking news when it happens.

>> Today's Word Count: 1,610 words ... a little more than 6 minutes of your valuable time.

>> Thanks for reading D3Playbook. Please recommend us to a friend or co-worker. Or share with your staff and bring them up-to-speed on what's happening in DIII.


1. The Crippling Effect of Cutting Sports
by Ross Dellenger and Pat Forde, Sports Illustrated
"
As universities scramble to cover virus-related financial hardships
, they're sacrificing a piece of unique fabric in the American quilt: Olympic sports. In Division I alone, 30 athletic teams have been eliminated in eight weeks. Four schools have cut at least three sports and a fifth, Brown, discontinued a whopping eight athletic programs. According to
one site tracking the cuts
, more than 80 programs have been eliminated across all levels.
Thousands of advocates have rushed to the sides of coaches and athletes of discontinued sports, challenging school leaders, signing petitions and raising funds. They fear that the cuts are far from over.
"It's clear that the D-I model of intercollegiate athletics has been broken," says
Mike Moyer
, executive director of the National Wrestling Coaches Association, "and COVID-19 is exposing it."
Colleges around the country are bracing
for significant losses in the coming fiscal year. Many programs are projecting at least a 20% reduction in revenue from various sources: cuts in state and federal funding; a decrease in institutional support; loss in ticket sales; and a drop in donations.
Many administrators are following a systematic route to downsizing—salary reductions, staff furloughs and travel cuts—but when more is needed, "Olympic sports are being sacrificed," said Western Michigan athletic director
Kathy Beauregard
. "There's nothing worse you can ever have to do than cut sports."
>>
Under the Gun
: Since 1990, NCAA Division I membership has grown by 58 schools, yet at least eight sports—all men's teams—are sponsored by fewer schools today than they were 30 years ago, including wrestling (37 fewer teams), swimming (25), gymnastics (24) and tennis (22). Proportionally, no sport has taken more of a hit than men's tennis, which is sponsored today by 71.5% of the D-I membership. In 1990, 93.2% schools had men's tennis.
>>
Keep An Eye On
: In 1990, more than half of D-I membership sponsored men's swimming. That number is now at 37%, trailing 19 other sports in sponsorships. In fact, women's swimming, compared with other female sports, is also on the low end: Just over half of D-I schools have a women's swim team.
>>
What They're Saying
: "I'll be darned if I'm going to let COVID take more women's sports," says
Nancy Hogshead-Makar
, herself a former Olympic gold medal winner in swimming. "People say we shouldn't be pushing Title IX right now because it's a pandemic and there's no money. My response is that when you go to fight to save women's sports, it saves the guys, too."
>>
Worth Noting
: "
Donna Lopiano
, a longtime former college administrator now at the Drake Group, sees something else. "I've seen so many college presidents so shortsighted," she says. "They're almost trying to prove that athletics are not above any department, instead of realizing how athletics is tied to enrollment and tuition numbers."
>>
Worth Your Time
2. Fall Preseason Lengthened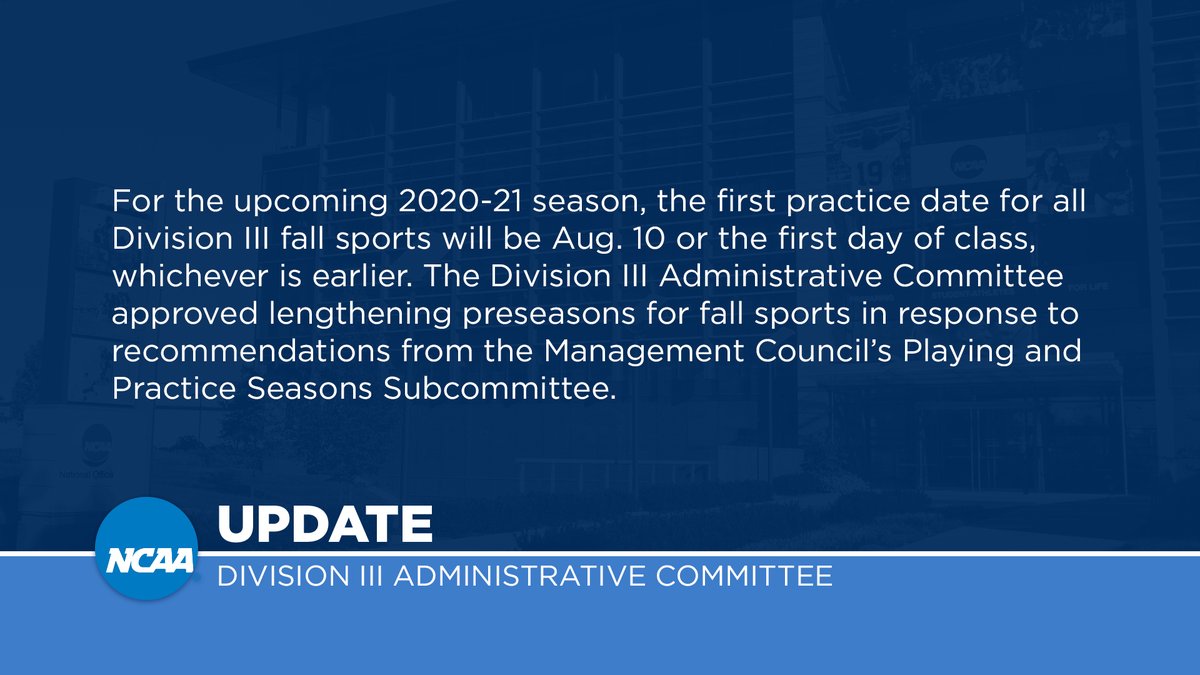 by Rachel Stern, NCAA
"
For the upcoming 2020-21 season
, the first practice date for all Division III fall sports will be Aug. 10 or the first day of class, whichever is earlier.
The Division III Administrative Committee approved lengthening preseasons for fall sports during a videoconference Wednesday, in response to recommendations from the Management Council's Playing and Practice Seasons Subcommittee. There also will be an unlimited number of administrative days for schools to conduct nonathletics-related activities, or days on which schools can provide housing and meal expenses to student-athletes before the start of practice.
The Administrative Committee concluded
that this change gives schools the flexibility to conduct preseasons while putting the health and safety of student-athletes first.
>>
Situational Awareness
: "Before this change, the permissible start date was based on a team's first contest date. Given the uncertainty the COVID-19 pandemic has brought, schools are unsure when that first contest date is going to be."
>>
What They're Saying
: "The NCAA continues to keep the health of students as a top priority," said
Tori Murden McClure
, chair of the committee and the Division III Presidents Council, and Spalding president. "Colleges and universities across the nation need guidelines that will allow students to return to play in a manner that preserves fundamental fairness as much as possible."
>>
Continue Reading
3. NCAA Statement on Social Activism
"President Mark Emmert and the NCAA Board of Governors recognize the important role social engagement has on driving positive societal change. The recent demonstrations following the tragic killing of George Floyd showed the world the power of protest and student-athletes across the country were at the center of that movement. We commend NCAA student-athletes who recognized the need for change and took action through safe and peaceful protest. We encourage students to continue to make their voices heard on these important issues, engage in community activism and exercise their Constitutional rights.

Further, we encourage all member schools to assist students in registering to vote in the upcoming national election and to designate November 3, 2020 as a day off from athletics activity so athletes can vote and participate in their ultimate responsibility as citizens."

4. From DIII to MLB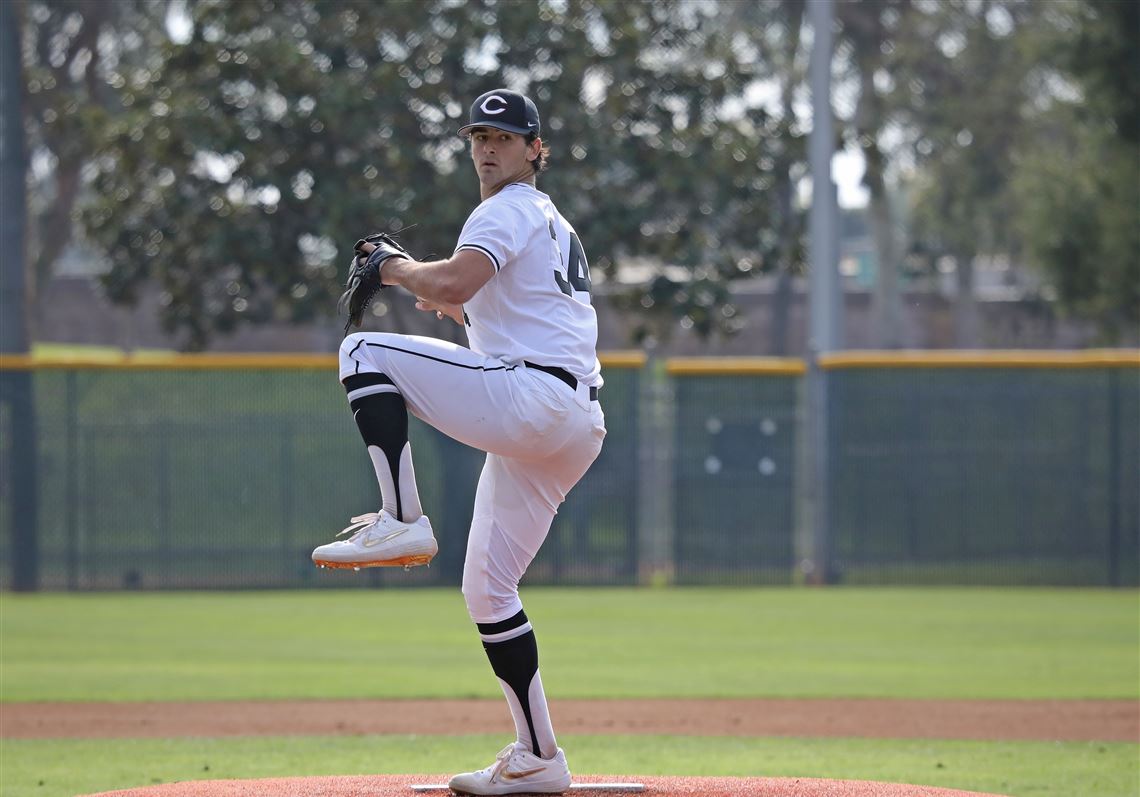 by Mike Persak, Pittsburgh Post-Gazette
"
Nick Garcia
, a right-handed pitcher from Division III Chapman University became a Pirate on Thursday night, selected in the third round of the MLB draft.
Just two years ago, he wasn't even a pitcher.
His freshman year with (Chapman), in 2018, he played mostly third base, hitting .268 with six RBIs in 24 games.
Pitching coach
Dave Edwards
had some success in the past moving position players to the mound and helping morph them into good pitchers. Garcia's arm strength made him a strong candidate for that move, so they pulled the trigger.
The development from there was slow and steady - around 88-90 mph with his fastball at the beginning of the summer of 2018. Playing in a New York summer league, that crept up to 90-91. In the fall, rested and reunited with Edwards, some physical strengthening and tinkering with his mechanics got that up to 92-95.
In 56 innings as a reliever in the spring, Garcia finished with a 0.64 ERA, striking out 82 batters and allowing just four runs. He went 9-0 on the season with 12 saves. He went on to become an American Baseball Coaches Association first-team All-American, a member of the Division III National Championship All-Tournament team and the D-III College World Series' most outstanding player.
Now, he's a fireballer with a mid-to-upper-90s fastball, and a slider, curveball and changeup that are coming around, too."
>>
Between The Lines
: "I knew going (to the Cape Cod League) I was going to fail, but I also knew that it was a chance for me to learn fast and succeed and show that I am who I am as a college pitcher and a professional pitcher now, and that I hope to keep moving and learning each outing that I can and just be great. And I took something out of every time I went out there on the mound."
>>
Keep Reading
D3Playbook is looking for sponsors. NCAA Division III has a desirable demographic that can help your company thrive. Reach more than 700 influencers in NCAA Division III today. Contact d3playbook@gmail.com to get your company in front of decision-makers in small-college athletics.


5. Fall Academic Openings
Colleges and universities are beginning to unveil their plans for reopening for the fall semester. To add your institution to our list, please send a relevant link with the information to
D3Playbook@gmail.com
.
August 10 -
Centenary (La.)
August 17 -
Bluffton
,
Denison
,
Marietta
,
Nazareth
,
Ripon
,
Saint Vincent
August 19
-
Greensboro
,
Guilford
,
RIT
,
Roanoke
August 20 -
Lycoming
,
Ohio Wesleyan
August 24 -
Babson
,
Case Western
,
Claremont Colleges
,
Clark
,
Concordia (Wis.)
,
Drew
,
Mary Washington
,
Moravian
,
Salem
,
St. Norbert
,
Webster
August 26 -
Brandeis
,
Centre
August 31 -
Allegheny
,
Emerson
September 1
-
Rowan
September 2
-
Macalester
September 7
-
Trinity (Conn.)
September 8 -
Bryn Mawr
,
Haverford
October 5 -
Ithaca

>> Be Smart: What does an earlier end to the fall semester - prior to Thanksgiving - mean for those participating in winter sports? Just one more question to add to the ever-growing list.


7. 1 Golf Thing


GolfWeek magazine's annual list of the top campus golf courses has three Division III has representatives.

3. Taconic GC, Williamstown, Mass. (Williams)
11. Orchards GC, South Hadley, Mass. (Mount Holyoke)
17. The Course at Sewanee, Sewanee, Tenn. (U. of the South)

>> Worth Noting: Courses are rated by Golfweek's national group of players, with ratings based on multiple criteria such as memorability of the holes and the "walk-in-the-park-test." The raters then give each course an overall rating.

>> See the Entire List


Know someone that would enjoy receiving d3Playbook?
Send an email to d3Playbook@gmail.com with "subscribe" in the subject line