D3Playbook
MAY 14, 2020 | written by STEVE ULRICH
your must-read briefing on what's driving the day in NCAA Division III

Our goal is to keep you - the influencers in DIII athletics - apprised of what's happening around Division III - the games, polls, news, happenings, awards, calendar of events, and much more. We hope you enjoy d3Playbook and that you'll share this with your friends, colleagues and co-workers.
>> Good Thursday Morning!

>> Today's Word Count: 1,078. Brief, concise. Easy to digest.

>> Thanks for reading D3Playbook. Please recommend us to a friend or co-worker. Or share with your staff and bring them up-to-speed on what's happening in DIII.


1. Students Want to Come Back
Nearly two-thirds
of college students say they would attend in-person classes if colleges reopen in the fall, even if there is no coronavirus vaccine or cure, Axios'
Neal Rothschild
writes
from a new
College Reaction poll
.
Why it matters: This is another sign that Americans' tolerance of social distancing is not going to last forever.
The results could be good news for the financial survival of colleges and universities, but a huge challenge from a public-health perspective.
By the numbers, from the May 8-10 poll of 835 college students, with a margin of error of ±3.4 percentage points:
65% say they would attend in-person classes.
31% say they would only attend virtually.
4% say they would withdraw from school.
Between the lines: The desire to attend classes in person comes as students report that the virtual education experience is full of pitfalls:
45% say they attend class less often, and more than 70% say they're distracted by their phone, computer and things going on at home.
2. Boston College Takes Over Pine Manor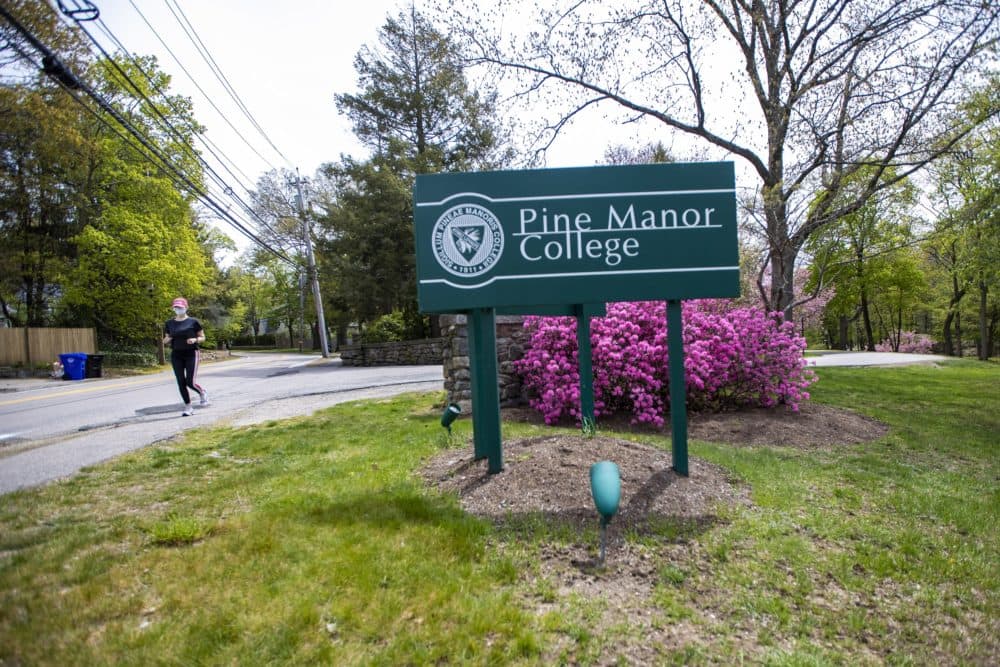 by Max Larkin, WBUR

"Pine Manor College will enter into an "educational partnership" with Boston College, after the pandemic-related closures stretched its finances to a breaking point.

A memorandum of understanding between the two schools paves the way for Boston College to take on all of Pine Manor's assets — including their leafy, 45-acre campus in Chestnut Hill — as well as their liabilities. Boston College will also cover Pine Manor's operating expenses as they "teach out" current students for up to two years.

>> Why It Matters: It's the first such consolidation announced since the pandemic, which is putting a strain on college finances across Massachusetts and worldwide."

>> Reality Check: "The two schools also share a historic commitment to educating underserved communities of students, but their student bodies don't resemble each other. Students of color and international students made up 93% of Pine Manor's enrollment in the fall of 2018 (the latest data available), while only 42% of Boston College's enrollment came from the same communities."

>> Worth Noting: "Pine Manor's campus — complete with a historic mansion and residential halls — is only a mile and a half away from BC's Chestnut Hill hub."

>> Of Note: Pine Manor is a member of the ACAA.



3. Furlough Tracker




"As the coronavirus outbreak erodes financial health and administrative confidence at universities and colleges across the country, some have started to lay off or furlough employees en masse to thwart colossal budget shortfalls. Amid this unprecedented challenge to higher education's business model, The Chronicle is tracking those employment actions to better understand what America's higher-education work force will look like after the pandemic abates."

Drew - approximately 70 (furlough)
Guilford - 133 (furlough)
Ithaca - 167 (temporary layoff)
Keene State - 92 (furlough)
Knox - 55 (permanent layoff)
Neumann - 31 (23 furlough, 8 temporary layoff)
Rensselaer - 280 (furlough)
Rochester - N/A (furlough)
Simmons - 12 (permanent layoff)
Smith - N/A (furlough)
Union - 19 (unspecified)
UW-Oshkosh - 180 (furlough)
UW-River Falls - 65 (furlough)
UW-Stevens Point - approximately 200 (furlough)
UW-Stout - 69 (furlough)
UW-Whitewater - 99 (temporary layoff)
Washington U. - approximately 1,300 (furlough)
Western New England - 60 (furlough)

as of 8 p.m., May 13


4. Fall Plans


From the Chronicle of Higher Education, here's a complete alphabetical list of Division III colleges that have either disclosed their plans, mentioned them in news reports, or set a deadline for deciding. according to the Chronicle, here is a list of DIII institutions that are considering a range of scenarios: Alma, Babson, Carnegie Mellon, Grinnell, Redlands, Rochester, Sarah Lawrence, St. Olaf, Stevens, Tufts, U. of Pittsburgh (campuses), U. of Wisconsin (campuses), Worcester State.

as of May 13, 7:08 p.m. EDT



Would you like to sponsor this newsletter? Would you like to advertise an open position in your department for a head coach or administrator? Contact d3playbook@gmail.com to get your job opening in front of decision-makers in small-college athletics.
5. STUNTastic

The NCAA Committee on Women's Athletics noted the continued growth in high school STUNT sponsorship and participation, steady increase in the number of member institutions sponsoring STUNT, and support from the sport's national governing body as compelling rationale to include STUNT as an emerging sport for women.

The committee further noted the relatively low cost of sponsoring the sport and the opportunity for the sport to enrich sponsoring institutions' enrollment management strategies.

>> What They're Saying: STUNT leadership demonstrated that current STUNT programs are fully integrated into athletics departments as stand-alone programs, the experience of a STUNT student-athlete is comparable to the experience of student-athletes who compete in NCAA sports, and the sport's organizational structure and sport rules are consistent with NCAA values and legislation.


6. The List
Most wins in the NCAA women's lacrosse tournament without a championship.

22 - William Smith
17 - Catholic
16 - Mary Washington
11 - Bowdoin, Colby, Colorado College
10 - Washington and Lee
9 - York (Pa.)
8 - Tufts, Williams


8. 1 Quarantine Cocktail Thing
by Madeline Buiano, The Daily Meal
"Most of America is
staying home
as a way to mitigate
risks of the coronavirus spreading
, so people across the country are trying to get their cocktail fix from their own kitchens. With a little help from search engines, people are looking for everything from frozen daiquiris to martinis, and there are clear trends in each state. From Alabama to Wyoming, these are the uniquely searched cocktails in Google over the past 30 days."
The most-popular
: Old-Fashioned.
District of Columbia, Massachusetts, Nebraska, New Hampshire, New Mexico, Oregon, Virginia, Washington
>>
Caught My Eye
: The people of Mississippi want to know how to make a
Painkiller
, which is one drink that's sure to teleport you to the
most beautiful beaches in the world
. All you'll need to make the drink is rum, pineapple juice, orange juice, cream of coconut and nutmeg.
>>
What Are You Doing After Work Today?
Know someone that would enjoy receiving d3Playbook?
Send an email to d3Playbook@gmail.com with "subscribe" in the subject line