D3Playbook
MAY 27, 2020 | written by STEVE ULRICH
your must-read briefing on what's driving the day in NCAA Division III

Our goal is to keep you - the influencers in DIII athletics - apprised of what's happening around Division III - the games, polls, news, happenings, awards, calendar of events, and much more. We hope you enjoy D3Playbook and that you'll share this with your friends, colleagues and co-workers.

>> Good Wednesday morning!

>> Today's Word Count: 1,023. An easy morning read.

>> Thanks for reading D3Playbook. Please recommend us to a friend or co-worker. Or share with your staff and bring them up-to-speed on what's happening in DIII.


1. Capital Growth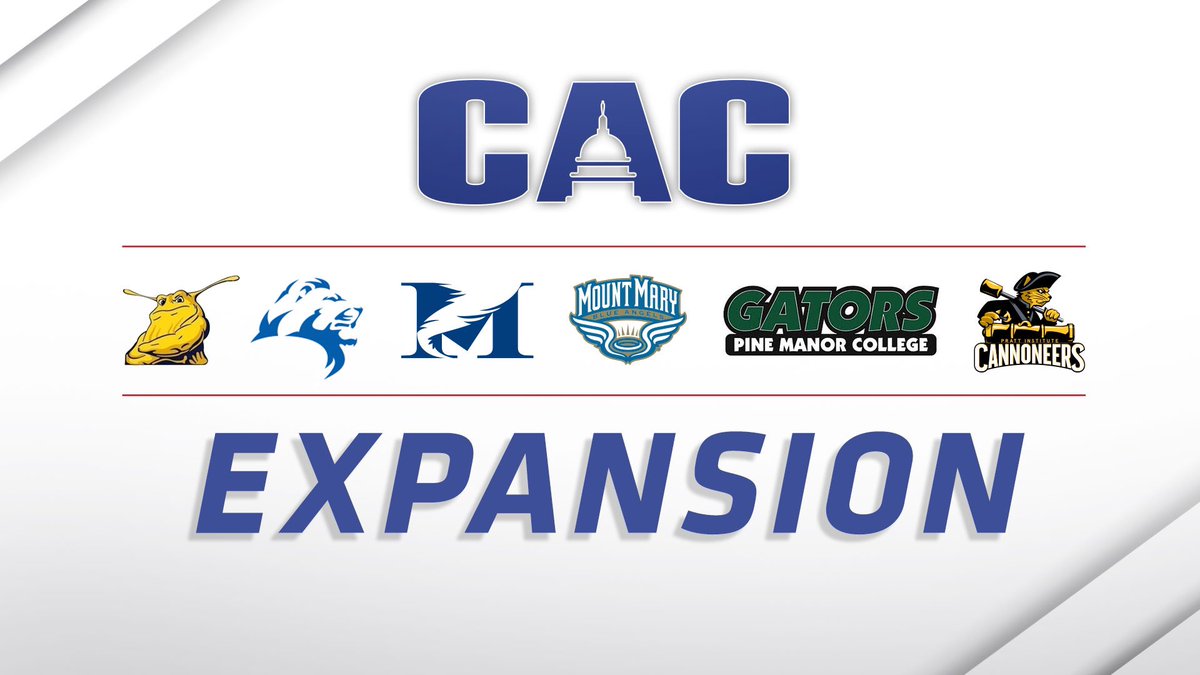 The Capital Athletic Conference (CAC) will expand to 11 member institutions as league officials announced on Tuesday (May 26) that six schools have accepted invitations to join the CAC and will become official members effective June 15, 2020.
The CAC Board of Directors voted unanimously to offer full membership to six members of the American Collegiate Athletic Conference (ACAA), including:
University of California-Santa Cruz
,
Finlandia University
(Mich.),
Mills College
(Calif.),
Mount Mary University
(Wis.),
Pine Manor College
(Mass.) and
Pratt Institute
(N.Y.).
The CAC will consist of 11 full-time members for the 2020-21 academic year. The Conference will reduce to eight in 21-22 when
Southern Virginia University
,
St. Mary's College of Maryland
and Pine Manor College depart.
Christopher Newport University
,
University of Mary Washington
and
Salisbury University
will remain with the Conference along with the incoming members from the ACAA.
The conference is expected to be rebranded with a new name and logo over the coming months.
The CAC conducts conference championships in 18 sports (eight men and ten women). Men's championships include cross country, soccer, basketball, indoor track and field, lacrosse, baseball, outdoor track and field, and tennis. Women's championships include cross country, field hockey, soccer, volleyball, basketball, indoor track and field, lacrosse, softball, outdoor track and field, and tennis.
>>
What They're Saying
: "This is an exciting, new era for the Capital Athletic Conference. The addition of these six schools will provide excellent opportunities for both our institutions and our student-athletes to experience new venues and conference opponents," said Salisbury University Director of Athletics and Campus Recreation
Dr. Gerry DiBartolo
, Chair of the CAC Athletic Council.
>>
Of Note
: "The Capital Athletic Conference will continue to conduct quality championship experiences for our student-athletes and institutions. Our student-athletes will be given the opportunity to travel to and compete against a diverse group of institutions across the nation."
>>
Yes, But:
For the 2020-21 academic year in tournaments where six teams compete, the top four (4) CAC teams as determined by conference standings will qualify for the championship and then Massey Ratings will be used for seeding. Championship host sites will be pre-determined at the start of each year.
>>
Continue Reading
2. NCAA's Financial Contingency
"Before the COVID-19 public health crisis, no one anticipated the NCAA Division I Men's Basketball Championship being canceled, but the Association was prepared for such an unlikely possibility.
The NCAA's long-standing contingency plan has evolved since its creation, but, for the most part, it's always looked the same: robust insurance, leveraging financial reserves, reduction in Division I revenue distributions and NCAA operating budget cuts.
The Association's contingency plan was put into motion March 12, when the NCAA Board of Governors canceled all remaining 2020 winter and spring championships. Between losses from ticket sales and its multimedia agreement with CBS Sports and Turner, the NCAA is projected to lose more than $700 million in revenue from the cancellation of the 2020 Division I men's basketball tournament.
Since March 12, the plan has functioned exactly as it was intended."
>>
Quotable
: "The remediation plan is working as designed. If the NCAA can get through next year without any major problems, we should be back to normal for our fiscal year beginning Sept. 1 of 2021. That's pretty incredible for losing two-thirds of your revenue in one year," said
Kathleen McNeely
, NCAA senior vice president and chief financial officer.
>>
Between the Lines
: "For this year's tournament, the Association held event cancellation insurance between multiple policies totaling $270 million, which includes loss of both ticket and media rights-related revenue. This amount was on the high end of this kind of coverage offered by insurance underwriters compared to cost, McNeely said."
>>
The Key Stat
: "As the NCAA constitution guarantees, Division II and Division III still will receive their 4.37% and 3.18%, respectively, of the Association's actual revenue. Division II projects to receive $13.9 million in revenue this fiscal year, $30 million less than originally budgeted, a nearly 70% drop. Similarly, Division III's projected budget fell from $33 million to $10.7 million. Both divisions have their own reserves policies, however, to help weather the shortfall."
>>
Go Deeper
3.
The Sports Comeback Has Begun
Illustration: Sarah Grillo/Axios
"There is now real momentum
behind the return of American sports. The leagues have decided that games must go on — and that means learning to live with risk," the Wall Street Journal reports
(subscription)
.
Why it matters: While the pro leagues "are proceeding with caution, there has been more progress in the last 10 days than in the previous 10 weeks."
"What their plans have in common is an acceptance that some players may be infected — and a belief that leagues should focus on limiting potential outbreaks."
The NBA announced
that it's in early discussions to resume its season in late July, with all games played at Disney's ESPN Wide World of Sports Complex in Orlando, Kendall Baker writes in his daily newsletter, Axios Sports.
(Sign up here.)
SPONSORED MESSAGE
D3Playbook
is looking for sponsors. NCAA Division III has a desirable demographic that can help your company thrive. Reach more than 700 influencers in NCAA Division III today. Contact
d3playbook@gmail.com
to get your company in front of decision-makers in small-college athletics.
4. Fall Plans




From the Chronicle of Higher Education, here's an alphabetical list of Division III colleges that have either disclosed their plans, mentioned them in news reports, or set a deadline for deciding.

as of May 26, 5:12 p.m. EDT



6. 1 Smile Thing
Know someone that would enjoy receiving d3Playbook?
Send an email to d3Playbook@gmail.com with "subscribe" in the subject line