D3Playbook
APRIL 24, 2020 | written by STEVE ULRICH
your must-read briefing on what's driving the day in NCAA Division III

Our goal is to keep you - the influencers in DIII athletics - apprised of what's happening around Division III - the games, polls, news, happenings, awards, calendar of events, and much more. We hope you enjoy d3Playbook and that you'll share this with your friends, colleagues and co-workers.
>> Good Friday Morning! Are you tired of Zoom yet?

>> Today's Word Count: 1,154. Not wasting your time. Smart, concise. An informative read that's just about 5 minutes.

>> Thanks for reading D3Playbook. We appreciate your kind words of support. Please recommend us to a friend or co-worker. Or share with your staff and bring them up-to-speed on what's happening in DIII.


1. The Gloves Are Off
by Jon Marcus, Washington Post
"Free classes! Free parking! Prime dorm rooms! More cash!
The more they worry about whether students in this year of the
coronavirus
will show up in the fall, the more admissions officers responsible for filling seats at colleges and universities have started sounding like the salesmen on late-night TV infomercials.
"The gloves have come off," said
Angel Pérez
, vice president for enrollment and student success at Trinity College in Connecticut. He laments this trend. "You're talking about a scenario where colleges need to enroll students at any cost."
But wait! There's more!
Put down a deposit and, at some schools, your tuition will never go up. Like to sleep in? Other colleges will give you early registration privileges so you don't get stuck with morning classes. Still others are throwing in free food, free football tickets, even free books autographed by celebrity faculty members in residence.
All of this is driven, of course, by the existential danger that too few students will sign on for college this fall because of the pandemic, which is wrecking family finances and raising fears that campuses will not reopen anyway, forcing a continuation of online teaching."
>>
The Big Picture
: But while such factors as more financial aid and bigger discounts might benefit applicants who know how to get them or have parents or college counselors who do, they're likely to elude those who need them most: low-income, first-generation students. If they even had access to college counselors in their high schools, they do not now, because they're isolated at home.
>>
Game On
: Some institutions, including Franklin & Marshall College in Pennsylvania, have even reopened their application windows. Admitted applicants at Albion College in Michigan are being entered in a sweepstakes once they put down their deposits. Prizes include free room and board for a semester, a $250 credit toward textbooks and free parking for a year.
>>
What They're Saying
: "Summer's going to be especially brutal, because schools are going to be desperate," said
Gregory Eichhorn
, vice president for enrollment and student success at the University of New Haven. "It's going to be survival of the fittest," said
George Wolf
, vice president for enrollment management at Siena Heights (Mich.) University.
>>
Keep Reading
2. State of DIII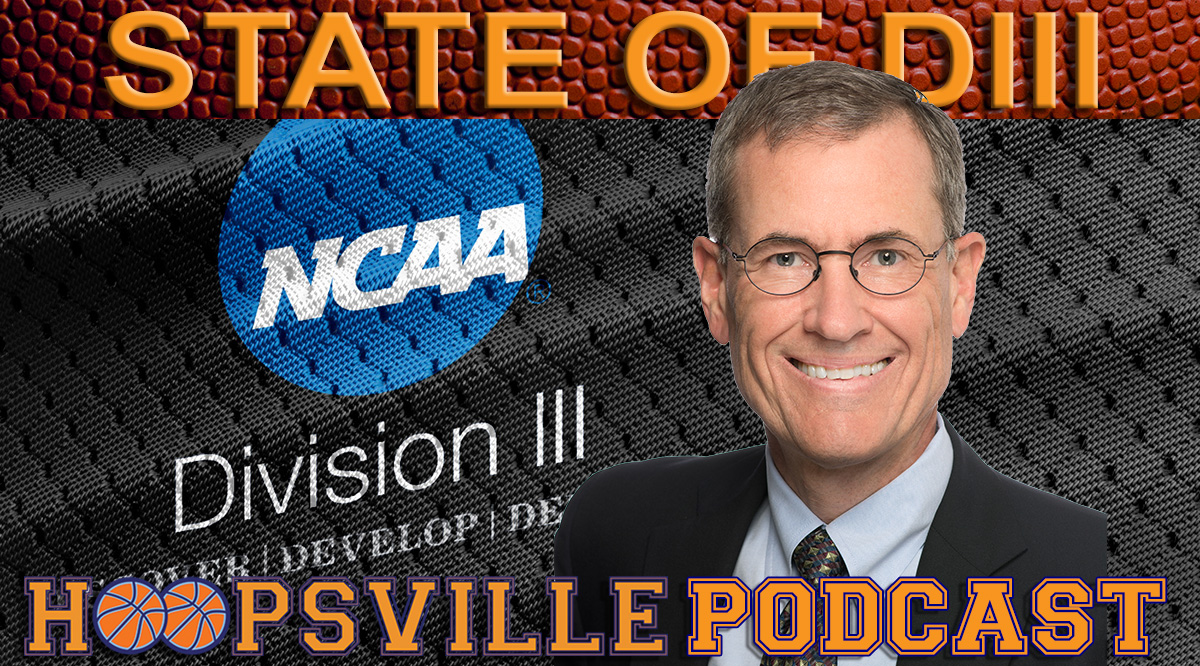 It has been a few years since Division III found itself at a place where so many important decisions needed to be made along with other events needing time and attention. However, never in NCAA history have we found ourselves with winter championships cut short, no spring sports at all, and more questions than answers for what might happen with fall sports and beyond.

Our good friend Dave McHugh interviewed our good friend Dan Dutcher, vice president for NCAA Division III, about how the decisions to shut down winter and spring championships came to be. Plus, how COVID-19 continues to impact the division, NCAA, schools, and conferences around the country. Dutcher explains how this year's DIII budget was impacted and if there will be any impact down the road. And Dutcher discusses how NIL is taking form in DIII along with the latest on Regional Realignment and Expansion.

>> Listen to the podcast


3. Enrollment Flexibility for DIII
Division III student-athletes now can compete during their final season of eligibility while enrolled in school less than full time in the final term of a minor or undergraduate certificate program.
The Division III Management Council approved the change during its meeting this week. Effective immediately, the change allows student-athletes to attend school less than full time if they are completing the necessary credits for a minor or undergraduate certificate program during their final season of eligibility. The new legislation expands the current exception, which allows Division III college-athletes to be enrolled less than full time if they are taking classes toward their degree.
The council supported changes to sport committee rosters to coincide with a new regional alignment model that provides more efficiency in the selection process with fewer teams per region, which will allow regional advisory committees and national sport committee members to more thoroughly evaluate teams in the region. The model will take effect in 2021-22.
>>
Go Deeper



4. #WatchD3

Our campaign to have past Division III athletics contests made available to those quarantined and looking for quality viewing continues.

We are thankful to all of you who have made your games available. A lot of games are not available. #WatchD3 is becoming a thing.

"Rebroadcast rights, or the ability for a network to show a game it originally aired, can be restrictive. Now we're starting to understand at the end of games exactly what 'without the expressed written consent of the league' really means," said David Carter, Southern California associate professor and sports business expert. "The lifeblood for these sports networks is live sports. So now, all the sudden, a league's library of old games has a lot more value."



Today's Feature
2019 Men's Basketball
UMass Boston at Holy Cross
It doesn't happen very often when a Division III school stands toe-to-toe with a Division I opponent. Watch when the Beacons take on the Crusaders.

all we ask is that you add #WatchD3 as a hashtag when you post a video from a past game at your institution.
Would you like to sponsor this newsletter? Would you like to advertise an open position in your department for a head coach or administrator? Contact d3playbook@gmail.com to get your job opening in front of more than 700 decision-makers in small-college athletics.
5. The List


How many Division III football players have been drafted by NFL teams since 2000?

2015 - Ali Marpet, OL, Hobart (Tampa Bay Buccaneers, 2nd round)
2012 - Chris Greenwood, CB, Albion (Detroit Lions, 5th)
2011 - Cecil Shorts, WR, Mount Union (Jacksonville Jaguars, 4th)
2008 - Andy Studebaker, DE/LB, Wheaton, Ill. (Philadelphia Eagles, 6th)
2008 - Pierre Garcon, WR, Mount Union (Indianapolis Colts, 6th)
2007 - Michael Allen, TE, Whitworth (Kansas City Chiefs, 7th)
2007 - Derek Stanley, WR, UW-Whitewater (St. Louis Rams, 7th)
2003 - Ryan Hoag, WR, Gustabus Adolphus (Los Vegas Raiders, 7th)
2002 - Tony Beckham, CB, UW-Stout (Tennessee Titans, 4th)
2002 - Michael Coleman, WR, Widener (Atlanta Falcons, 7th)
2000 - Tim Watson, DE, Rowan, (Seattle Seahawks, 6th)

>> Complete List

>> Saint John's OL Ben Bartch (pictured above with NFL Network's Colleen Wolfe) shows off his formula for gaining 60 pounds, versus the quarantine 15.



Know someone that would enjoy receiving d3Playbook?
Send an email to d3Playbook@gmail.com with "subscribe" in the subject line