D3Playbook
APRIL 20, 2020 | written by STEVE ULRICH
your must-read briefing on what's driving the day in NCAA Division III

Our goal is to keep you - the influencers in DIII athletics - apprised of what's happening around Division III - the games, polls, news, happenings, awards, calendar of events, and much more. We hope you enjoy d3Playbook and that you'll share this with your friends, colleagues and co-workers.
>> Good Monday Morning
Happy Patriot's Day to our friends in Massachusetts.

>> Today's Word Count: 1,050 words ... about 4 minutes of your valuable time.

>> Thanks for reading D3Playbook. Please recommend us to a friend or co-worker. Or share with your staff and bring them up-to-speed on what's happening in DIII.


1. The End for Northern Vermont?
"The leader of Vermont's higher education system plans to close three campuses next fall and eliminate 500 jobs to close "significant" budget gaps caused by the COVID-19 pandemic.
Northern Vermont University, which has campuses in Johnson and Lyndon, and Vermont Technical College's campus in Randolph Center will all close under a plan announced by Vermont State College System Chancellor
Jeb Spaulding
on Friday.
Spaulding told Vermont Public Radio there is no back up plan.
"We don't have a Plan B," he said. "I mean, our Plan B would be, unless there's additional ongoing funding somewhere, we would really be in a position that questioned our ability to continue operations."
NVU programs would fold into Castleton University, and Vermont Technical College would consolidate into its Williston campus and other locations. The consolidation plan will be presented to the system's board of trustees on Monday."
>>
Just the Facts
: NVU-Johnson has an enrollment of 1,549 and sponsors 15 sports. NVU-Lyndon has an enrollment of 1,057 and sponsors 15 sports.
>>
Merger
: NVU will be consolidated into Castleton University, a member of the Little East Conference.
>>
Be Smart
: The NVU campuses at Johnson and Lyndon are members of the North Atlantic Conference. Under this plan, the NAC would be reduced to seven members.
>>
Keep Reading
2. Students Rebel Against Full Tuition
"The coronavirus crisis
is forcing a reckoning over the price and value of higher education," the Washington Post's
Nick Anderson
reports
.
Spoiler: "So far, universities aren't budging."
The context,
per The Post
: "Schools geared toward full-time students ... offer, in normal times, academic programs with a personal touch, including seminars, laboratory classes, office hours and research opportunities with faculty."
"Much of that vanished when campuses shuttered last month."
The bottom line: "Many schools provided partial refunds for room and board after they sent students home. But they have held firm on tuition, arguing that classes are still moving forward and credit will still be awarded toward degrees."
3. What to Do When Your World Changes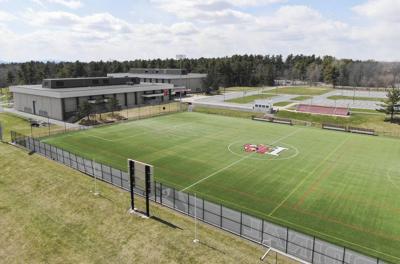 by Joey LaFranca, The Press-Republican (

photo by Kayla Breen)



Thursday, March 12 - a day that will live in infamy for a new generation. The day it all changed.

"For Plattsburgh State's Mike Howard, director of intercollegiate athletics and recreation, this past month has showcased scenarios neither he, nor anyone, would have expected.

While in a meeting with other members of his department, Howard and his team saw news alerts via social media that the NCAA had axed its Division I men's basketball tournament.

"As soon as we saw that, we knew we were done," Howard said. "Minutes later, the NCAA called us, since they were in communication with all the host schools for playoff tournaments, which included us because of women's hockey, and told us the news officially."

And that was it.

Howard as well as everyone involved with Plattsburgh State athletics faced the harsh reality that their seasons ended abruptly.

>> Have You Heard The News?: "I felt it was important they heard from me," Howard said. "I either met with the teams when the coaches initially met with them or after the fact. It was tough news to take, and I wanted to be there for all of them."

>> Reality Check: "I want the focus to be celebrating what we did accomplish and not what we were not able to do. I have heard from a lot of student-athletes since the day things were canceled who have found that perspective, which makes me real happy."

>> Worth Noting: "I talked about how this is something we have never seen so there is no playbook on how to navigate this other than working together and collaborating."

4. #WatchD3


Our campaign to have past Division III athletics contests made available to those quarantined and looking for quality viewing continues.

Today's Feature
2015 Women's Basketball
#11 Hope vs. #14 Calvin
A regular-season matchup that played like a Final Four game. Eight ties. Seven lead changes. Two teams with a combined 27-1 record. A classic that was won on a last-second shot.
https://www.youtube.com/watch?v=sDprHu6nV7c
All we ask is that you add
#WatchD3
as a hashtag when you post a video from a past game at your institution. We would love to include as one of our featured games.
>>
Last Week's Replays
4/13: 2019 WSOC: Carnegie Mellon vs. Messiah
4/14: 2017 MVB: New Paltz vs. Wentworth
4/15: 2013 MLX: RIT vs. Stevenson
4/16: 1974 FB: Franklin & Marshall vs. Widener
4/17: 2020 MBB: Johns Hopkins vs. Swarthmore
4/18: 2019 FB: Saint John's vs. UW-Whitewater
4/19: 2016 FB: DePauw vs. Wabash
D3Playbook is looking for sponsors. NCAA Division III has a desirable demographic that can help your company thrive. Reach more than 700 influencers in NCAA Division III today. Contact d3playbook@gmail.com to get your company in front of decision-makers in small-college athletics.


5. The List
Each day, we'll provide a list of what we think is a fun fact about Division III sports. Hopefully, you'll find the walk down memory lane to be an interesting read.

Most NCAA Team Championship Titles
Kenyon, 60
UW-La Crosse, 43
TCNJ, 39
Williams, 38
Middlebury, 36
North Central, Ill., 33
UW-Oshkosh, 32
Methodist, 28
Emory, 27
Washington U., 23
source: NCAA


7. 1 Global Citizen Thing
Lady Gaga,
Taylor Swift, Paul McCartney, The Rolling Stones, Beyoncé and Oprah headlined "One World: Together At Home," a two-hour broadcast of music, comedy and stories celebrating those on the frontlines of the pandemic, Reuters
reports
.
Contributions, all filmed in their homes, also came from Elton John, J. Lo, Stevie Wonder, David Beckham, Michelle Obama, Laura Bush, Andrea Bocelli, Celine Dion, Billie Eilish, Bill Gates and dozens of others.
Why it matters: It was the biggest celebrity gathering so far during the pandemic.
Know someone that would enjoy receiving d3Playbook?
Send an email to d3Playbook@gmail.com with "subscribe" in the subject line