D3Playbook
APRIL 10, 2020 | written by STEVE ULRICH
your must-read briefing on what's driving the day in NCAA Division III

Our goal is to keep you - the influencers in DIII athletics - apprised of what's happening around Division III - the games, polls, news, happenings, awards, calendar of events, and much more. We hope you enjoy d3Playbook and that you'll share this with your friends, colleagues and co-workers.

>> Good Friday Morning! To those who celebrate, Happy Easter!

>> Today's Word Count: 861. Smart, concise. An informative read that's just about 4 minutes.

>> Thanks for reading D3Playbook. We appreciate your kind words of support. Please recommend us to a friend or co-worker. Or share with your staff and bring them up-to-speed on what's happening in DIII.


1. Back to School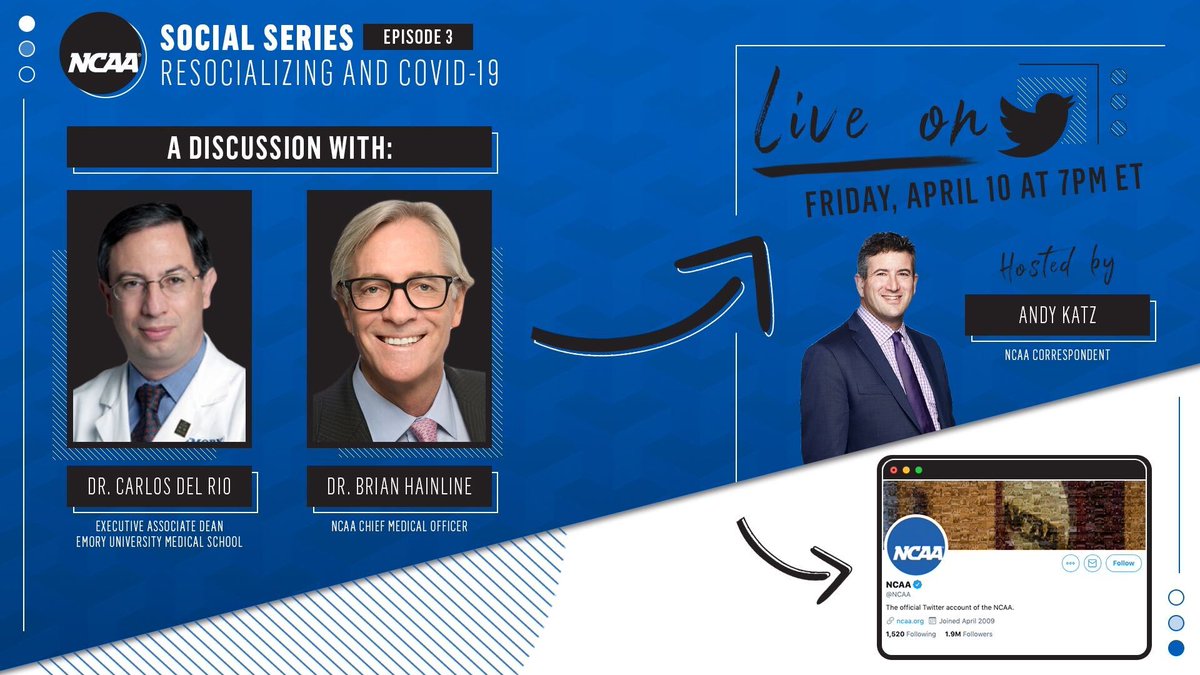 Tonight at 7 p.m. ET, Emory medicine associate dean
Dr. Carlos del Rio
and NCAA chief medical officer
Dr. Brian Hainline
will discuss how college sports can return from a pandemic.
2. Best QB Prospect You've Never Heard Of
by Kevin Fishbain, The Athletic
"With a name like
Broc Rutter
, you'd better be a good athlete.
John Rutter
was coaching football at St. Charles when they played Waubonsie Valley. The opposing quarterback's name?
Broc Kreitz
.
So with that in mind, Rutter told his wife that when their son was born, he wanted to name him Broc, and "she was all about it."
Broc has never met his namesake, but he already had some expectations to live up to with a father who played football and was a longtime athletic director and football and basketball coach in the area.
"People have said, 'You have to be a quarterback with that name,'" Broc said.
Rutter did become a quarterback and he put up four seasons of ridiculous numbers at North Central College in Naperville. In his senior season, he led North Central to the Division III national title and he won the Gagliardi Trophy, given to the most outstanding player in D-III. Now, he is on the NFL radar leading up to the draft."
>>
Luck of the Draw
: "Rutter had April 10 circled on the calendar. That was supposed to be the Bears' local Pro Day at Halas Hall, where prospects who went to college or high school nearby get an extra shot to work out in front of a pro team. But while hundreds of NFL Draft hopefuls who didn't get that exposure and have been scrambling to post videos of workouts, Rutter worked out at Northern Illinois on March 4. Six days later, Rutter threw in front of reps from all 32 teams at Northwestern. The next night, Rudy Gobert tested positive for COVID-19, and the world changed."
>>
Siren Sound
: He redshirted his first year at Indiana State before transferring to his hometown school - North Central. The opportunity to start and win brought him home.
>>
Quotable
: "He's got the physical tools and the ability to throw the ball, but what's between his ears is just different," NCC head coach
Jeff Thorne
said. "Everything's faster. It's going to be a lot different than what he's accustomed to from a physical standpoint. But his ability to learn an offense and understand defense, along with his accuracy, I think it gives him a chance."
>>
Last Word
: "As a competitor, you like to think you're the best," Rutter said. "You like to think if given the right opportunity, you would be able to thrive and have success. I give so much to the game of football that I'm not sure anyone else in the class can say they've given as much as I do. If a team gets me in the facility and gets to know me, I think they'll fall in love with me and realize, wow, this kid can really play the game of football. He understands it and he would be a great addition to our team."
>>
A great #whyD3 read
($)



3. #WatchD3

Our campaign to have past Division III athletics contests made available to those quarantined and looking for quality viewing continues.


Today's Feature
2013 Baseball Elimination GameIthaca vs. Southern Maine
In a game that sent to winner to the finals, the Bombers and the Huskies played a 13-inning classic, complete with clutch hitting, outstanding relief pitching, and controversy.
all we ask is that you add #WatchD3 as a hashtag when you post a video from a past game at your institution.

Would you like to sponsor this newsletter? Would you like to advertise an open position in your department for a head coach or administrator? Contact d3playbook@gmail.com to get your job opening in front of more than 700 decision-makers in small-college athletics.
4. The List
Each day, we'll provide a list of what we think is a fun fact about Division III sports. Hopefully, you'll find the walk down memory lane to be an interesting read.

Most DIII Baseball Tournament Victories Without a Title
Wooster (70)
Salisbury (60)
Carthage (56)
Johns Hopkins (54)
TCNJ (50)
Methodist (48)
Aurora (46)
UW-Stevens Point (46)
Emory (41)
Wheaton, Mass. (41)
6. 1 Egg Thing
Grocery stores
across the U.S. have struggled with a shortage of eggs as quarantined Americans stockpile and "stress-bake" ahead of Passover and Easter, Axios' Rashaan Ayesh
writes
.
Wholesalers saw orders from egg retailers increase up to 600%, and it's been difficult to keep up, USA Today writes.
But after last month's hoarding, the egg market has calmed down over the past two weeks with prices plateauing as availability increased, according to the USDA.
Hard-boiled eggs play a traditional role at the Seder.
Know someone that would enjoy receiving d3Playbook?
Send an email to d3Playbook@gmail.com with "subscribe" in the subject line