D3Playbook
MARCH 20, 2020 | written by STEVE ULRICH
your must-read briefing on what's driving the day in NCAA Division III

Our goal is to keep you - the influencers in DIII athletics - apprised of what's happening around Division III - the games, polls, news, happenings, awards, calendar of events, and much more. We hope you enjoy d3Playbook and that you'll share this with your friends, colleagues and co-workers.

>> Good Friday Morning! It's a good time to take stock of all that's good in your life. We'll get through this. Promise.

>> Today's Word Count: 1,602. Smart, concise. An informative read that's just over 6 minutes.

>> Coming Next Week: A look at endowments at Division III institutions. An important read at an important time.

>> Thanks for reading D3Playbook. Please recommend us to a friend or co-worker. Or share with your staff and bring them up-to-speed on what's happening in DIII.


1. #UnitedAsOne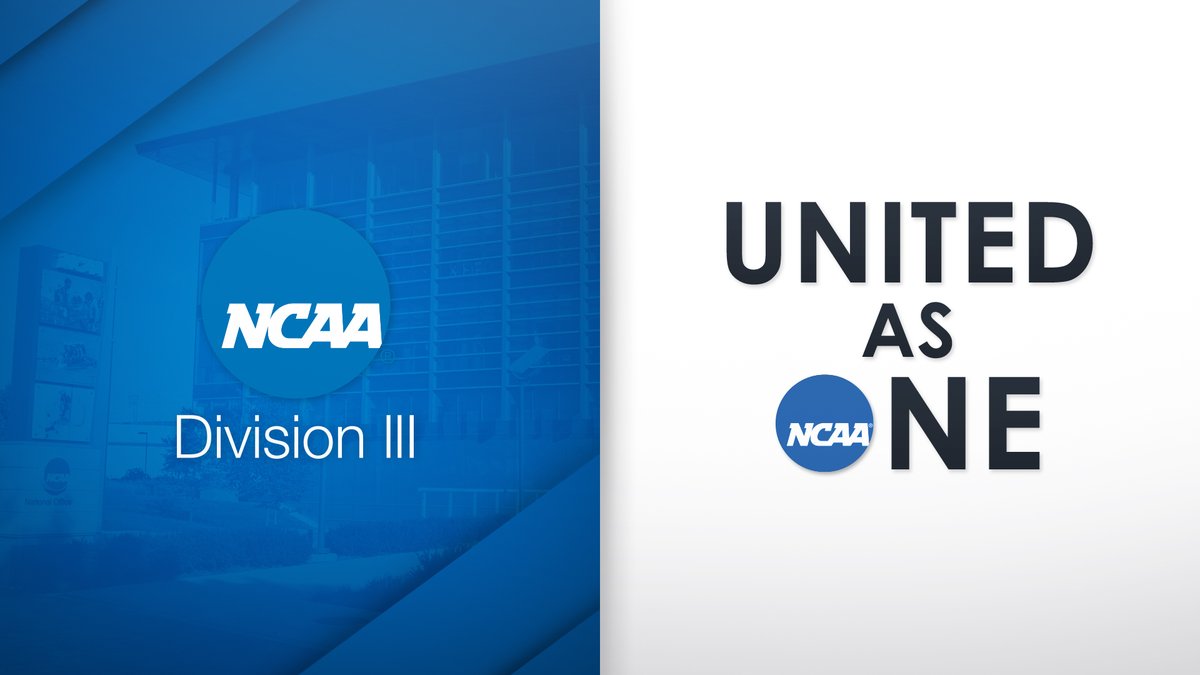 "The #UnitedAsOne campaign, created and led by NCAA member schools, started to form less than 24 hours after the remaining NCAA winter and spring championships were canceled due to the evolving global health threat surrounding COVID-19.
Unity, at an unprecedented time, became a rallying cry among the membership of more than 1,100 schools and nearly 500,000 student-athletes across three divisions. It started small. A group of about 50 digital and social media creatives within different athletics departments began direct messaging each other on Twitter on Friday.
"What's next?"
"What can we do?"
"What should we do?"
Quickly, the consensus became to find a way to come together, to show unity and support within college athletics during a trying time for everyone in the country. That evolved into the #UnitedAsOne campaign, which officially launched at 4:16 p.m. Eastern time Thursday, exactly a week after the announcement of the NCAA canceling the remaining 2019-20 winter and spring championships."
>>
Why It Matters
: ""All of our programs, all of our student-athletes, our coaching staffs, we're all in the same boat here. This is certainly something to show that we're all in this together." -
Brian Wagner, Michigan's digital strategy and creative lead
>>
The Big Picture
: "I'm just happy that everyone is united around this cause and around this opportunity to show that we are arm in arm, ready to see what happens next. Everyone's united and supporting each other and putting rivalries aside, putting their feelings for lost seasons aside and really thinking about the big picture and how we can all support each other." -
Marc Jordan, assistant director of social and digital strategy at Texas
>>
Read More
2. Stress Test

by Rick Seltzer, InsideHigherEd.com

"How hard is the new coronavirus outbreak hitting college and university finances?

It's actually not the most urgent question at the moment for many college leaders who have been scrambling with clearing out campuses, mass migrations to online or remote learning delivery, and various other steps that need to be taken to minimize harm from the spread of COVID-19. They're doing what they have to do in a crisis, and they'll tally up the bill later.

But the question still looms over everything colleges are doing. The U.S. higher education system had already been showing signs of stress, including relatively flat net tuition revenue at many institutions, a lack of growth projected among the high school graduates that make up the bulk of students and anemic growth in lucrative international enrollments in recent years. Now add to the mix the sudden operational jolts and likely global recession being prompted by the pandemic.

Colleges and universities will be paying a set of short-term costs, according to higher education leaders and financial experts interviewed both on the record and on a condition of background. Those experts are divided over the significance of those costs, however."

>> Of Note: "It's not the worst time for these additional expenses to be adding up. Many colleges have already collected the bulk of the money they'll receive for the 2019-20 fiscal year as students paid tuition and fees. And the campus closures come early enough that expenses can be cut if need be. And the spring is packed with costly events at many colleges and universities. Commencement costs money to stage. So do alumni reunions and parties for seniors. The smaller an institution, the higher the relative cost may be."

>> What's Next: "It's hard for institutions to reduce their cost of labor. Yes, staff members and some faculty members might be able to be laid off or furloughed. But that's impossible in some cases without a declaration of financial exigency. And in a high-touch industry like higher education, it can also erode an institution's ability to deliver a quality education for its students -- especially with a mass migration to remote learning under way."

>> Reality Check: The length of the coronavirus disruption means everything - "if large gatherings are banned for only a few more weeks before the economy comes roaring back, it's likely to be good for donations, endowments and family finances. If the pandemic grows and people grow more and more isolated in their homes, the psychological and personal finance aspects grow more and more important."

>> Quotable: "The unknown length of this is very unsettling to everyone, especially to families. You listen to economic experts brazenly say the financial stress is going to be very short-lived, and as soon as the virus is conquered, it's going to come raging back and we're going to have this healthy economy. Maybe, and maybe not." - Beth Paul, president of Capital University and future president of Nazareth College.

>> Coming next week: Our look at endowments around Division III.

>> Go Deeper





3. WBCA All-America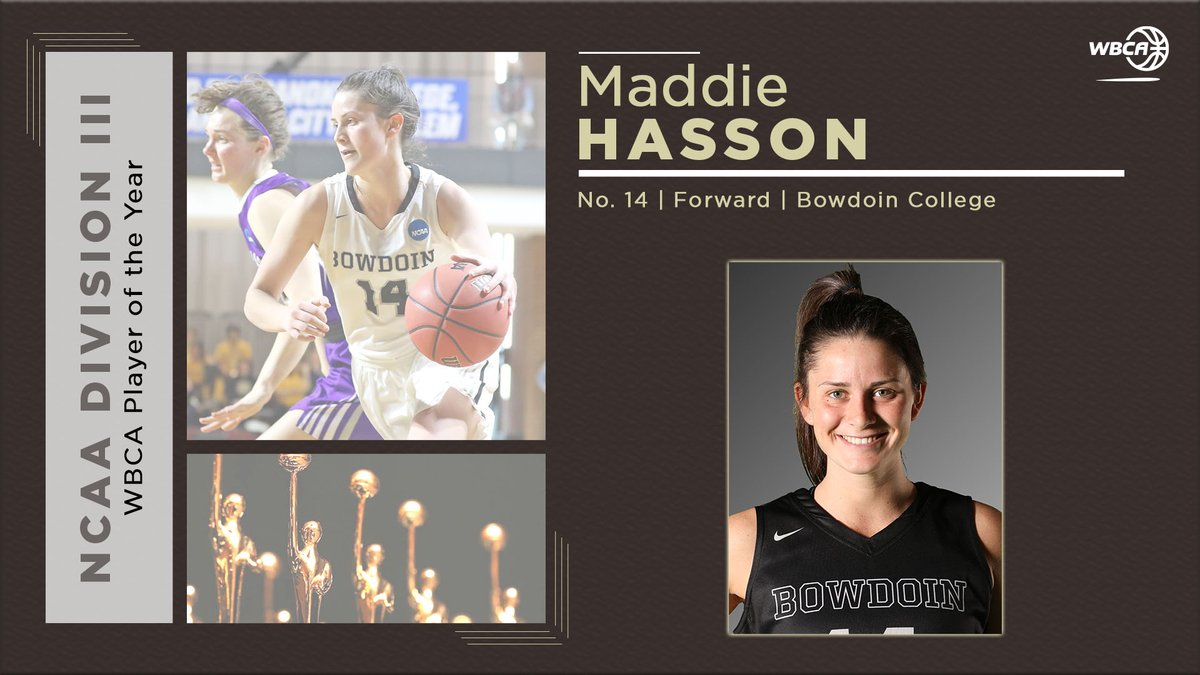 "Maddie Hasson of Bowdoin College is the 2020 WBCA NCAA Division III Player of the Year and headlines the 2020 WBCA NCAA Division III Coaches' All-America team, announced by the Women's Basketball Coaches Association Thursday.

The WBCA presents the Player of the Year award annually to the top player in five of the six WBCA membership divisions (NCAA Divisions II, and III, NAIA, two-year college and high school). The Player of the Year and the 10-member Coaches' All-America team in each division are selected by a committee of WBCA member coaches in that division."

First Team
Taite Anderson, Bethel
Erica DeCandido, Tufts
Hannah Fox, Amherst
Maddie Hasson, Bowdoin
Hallee Hoeppner, UW-Eau Claire
Raenett Hughes, Texas-Dallas
Sydney Kopp, DePauw
Katie McShea, Marymount
Kenedy Schoonveld, Hope
Leah Springer, Messiah

>> Complete Team




Would you like to sponsor this newsletter? Would you like to advertise an open position in your department for a head coach or administrator? Contact d3playbook@gmail.com to get your job opening in front of more than 700 decision-makers in small-college athletics.
4. COVID-19 vs. the Sports Media Business
by Dylan Byers, NBC News
"In the wake of the coronavirus outbreak, the American television industry may soon be forced to reckon with the possibility that its entire business model could collapse due to the indefinite suspension of live sports. This seemingly far-fetched scenario will only become more likely the longer the outbreak lasts.
Television's stranglehold on sports rights is one of the last things keeping it alive as consumers cut the cord and flock to digital services. A long-term absence of live sports, especially the NFL, could lead to a breakdown in the agreements between sports leagues, broadcasters and distributors and shake the industry to its foundation.
Without sports, and especially without football, fewer consumers would pay for television (too expensive, why not sign up for Netflix?). Distributors would pay significantly less for networks like CBS and ESPN (why should they pay hundreds of millions of dollars every month just for SportsCenter?). The entire television business could, over time, collapse."
>>
Reality Check
: "As part of their legal arrangements, sports leagues are contractually obligated to provide broadcasters with a certain number of live sporting events. The broadcasters, in turn, are contractually obligated to provide a certain number of hours of live sports to the distributors. In a world without sports, that becomes impossible."
>>
Be Smart
: "If the sports suspension continues to the point where the parties fall into breach of contract, distributors could renege on agreements with broadcasters, and broadcasters could renege on agreements with the leagues. The parties might also invoke a "force majeure" clause allowing them to void contracts due to uncontrollable circumstances." And where is the NCAA then?
>>
The Final Word
: Does the coronavirus pandemic last so long that it forces the NFL to cancel its 2020-2021 season? If that happens, the television industry should brace for radical change.
>>
Go Deeper
6. 1 Marble Thing
Source: Jelle's Marble Runs (YouTube)

The global sports outage has presented a unique opportunity for Jelle's Marble Runs and its YouTube-based racing league, "Marbula One."
By the numbers: "In just three days, the league has seen its followers on Instagram and Twitter double [and] views on YouTube shoot up by 339%," writes Front Office Sports' Emily Caron.
The backdrop: Jelle's Marble Runs began in 2006 and has blossomed into an astonishingly well-oiled machine, with announcers and home tracks for each team.
This week's race: The 2020 Greenstone GP, the fifth race of the 2020 Marbula One season, has 23 turns and is one of the longest tracks on the calendar.

Screenshot: Jelle's Marble Runs (YouTube)
Know someone that would enjoy receiving d3Playbook?
Send an email to d3Playbook@gmail.com with "subscribe" in the subject line