D3Playbook
MARCH 11, 2020 | written by STEVE ULRICH
your must-read briefing on what's driving the day in NCAA Division III

Our goal is to keep you - the influencers in DIII athletics - apprised of what's happening around Division III - the games, polls, news, happenings, awards, calendar of events, and much more. We hope you enjoy D3Playbook and that you'll share this with your friends, colleagues and co-workers.

>> Good Wednesday morning! That escalated quickly. And more to come.

>> Today's Word Count: 1,101. An easy morning read. About four minutes.

>> Thanks for reading D3Playbook. Please recommend us to a friend or co-worker. Or share with your staff and bring them up-to-speed on what's happening in DIII.


1. Spring Ends Before It Begins

The COVID-19 virus has struck down a number of Division III athletic programs for the spring. The institutions listed below have moved classes online and, in many, cases, suspended athletic competition and practice. Many of these institutions have also advised students to prepare to be away from campus for the remainder of the semester.
Amherst (Mass.)
Babson (Mass.)
Berea (Ky.)
Colorado College
Grinnell (Iowa)
Kenyon (Ohio)
Middlebury (Vt.)
Mount Holyoke (Mass.)
Mount St. Mary (N.Y.)
Skidmore (N.Y.)
Smith (Mass.)
St. Lawrence (N.Y.)
Tufts (Mass.)
>>
Worth Noting
: "Concerns remain over the other resources students have.
Mildred Garcia
, president of the American Association of State Colleges and Universities, pointed out that many students at regional colleges are low income, and while many institutions have policies for loaning laptops, it may not be enough to cover everyone who needs one."
>> Reality Check: "There also could be economic effects, Rebecca Anne Glazier, an associate professor in the School of Public Affairs at the University of Arkansas at Little Rock, said. "Working students might have their shifts cut if people are staying home and not using services. Those in the service industry might get fewer customers and thus fewer tips. "As professors, we just need to recognize how many pressures our students are under," she said. "Maybe just give a little bit of grace."
>>
What They're Saying
: "The NCAA continues to assess how COVID-19 impacts the conduct of our tournaments and events. We are consulting with public health officials and our COVID-19 advisory panel, who are leading experts in epidemiology and public health, and will make decisions in the coming days."
>>
Yes, But
: "With every academic campus that announced a switch to online learning — from USC to Ohio State to Rutgers — it ramped up the pressure on the NCAA to make a decision about what its tournament will look like. The entire day felt like
a tipping point for a drastically altered American sports landscape
amid the confusion and uncertainty of the coronavirus."
>>
Be Smart
: Follow
@D3Playbook
on Twitter for the most up-to-date information on closings. And then tell your friends to subscribe.
2. Hidden Figures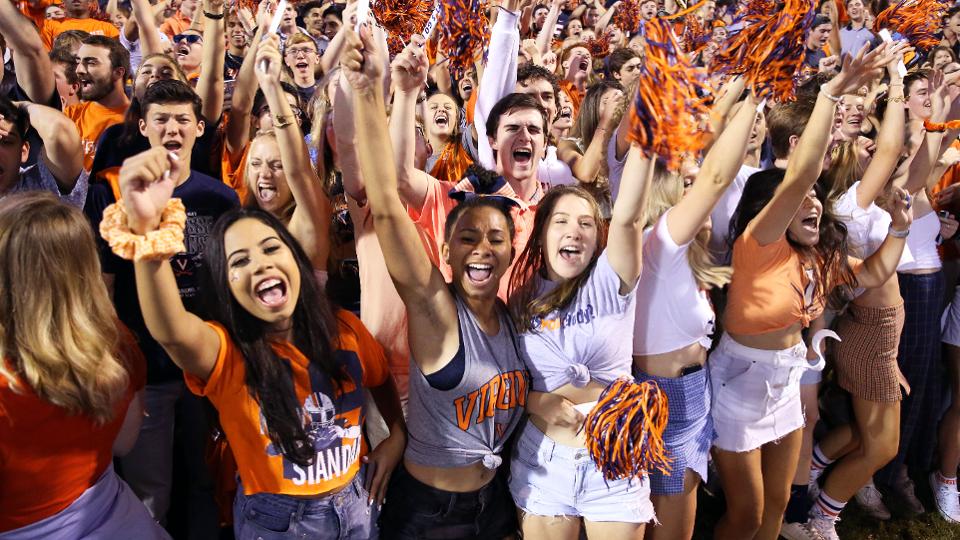 by Merritt Enright, Andrew W. Lehren and Jaime Longoria, NBC News
Katelyn Waltemyer
, a junior at James Madison University in Virginia, was stunned by what she learned during a seemingly simple assignment for the campus newspaper: dissecting the school's
tuition
bill.
Buried in each student's yearly cost of almost $23,000 was a required fee of $2,340 solely to finance the school's sports teams. The money was not for using the gym, or for funding student clubs and activities. It was only for underwriting the costs of athletic teams — and a student could only find out about it by visiting and searching the school's website.
"For someone who doesn't care a whole lot about athletics, it seems a bit much for me to have to contribute," said Waltemyer. "I have two jobs. I'm a full-time student. And I'm paying for athletes' scholarships? To me, that hurt."
>>
Why It Matters
: "Students may not even see the fee on their tuition bill, and would need to visit the university website or, at some institutions, even file a public records request to find out how much they are being charged to support college athletics. And student fees have soared in the past decade, rising even faster than the overall cost of a public university education."
>>
The Bottom Line
: "For Waltemyer, the cost is excessive. She estimates that when she graduates next year,
she will need to repay $20,000 in loans
. Without a fee for sports teams, her loans would be half of that."
>>
Reality Check
: "Students often have little way to know how much they're paying towards athletics. Many schools, despite reporting large revenues from student fees in athletic finance documents, do not list an athletic fee on their website or tuition bills. NBC News examined actual tuition bills received by students from 20 schools in six states that collect athletic fees, and didn't find the fees listed on any of the bills. In more than half of those cases, we were able to determine the fees by looking at a school's financial website. In the rest, however, we had to ask a school official or file a public records request."
>>
Read More
SPONSORED MESSAGE
D3Playbook
is looking for sponsors. NCAA Division III has a desirable demographic that can help your company thrive. Reach more than 700 influencers in NCAA Division III today. Contact
d3playbook@gmail.com
to get your company in front of decision-makers in small-college athletics.
3.
About Last Night
Three
Hood
(6-4) pitchers
combined for a no-hitter
as the Blazers blanked Lancaster Bible, 11-0, in a seven-inning contest.
Jordan Patterson
pitched the first five innings and struck out five for the win.
Tyler Cauley
,
Tyler Post
and
Spencer Brandt
hit back-to-back-to-back home runs
in the second inning of Texas Lutheran's 16-3 win against DeSales.
(M)
#8 Cabrini improved to 4-1
with a 16-6 victory
over Hampden-Sydney as
Kyle Tucker
scored five times.
(M)
#12
Case Western Reserve
whitewashed #14 Carnegie Mellon
, 9-0, in a UAA men's tennis match. The Spartans also topped Division I Lehigh, 6-1.
James Hopper
picked up a couple of wins at #1 singles.
4. Rankings


The latest D3Baseball.com poll is out.

Cal Lutheran (16-1)
Randolph-Macon (14-1)
Chapman (11-3)
Babson (2-1)
Trinity, Texas (8-2)
Washington U. (8-2)
North Central, Ill. (7-0)
Kean (7-2)
Southern Maine (0-1)
Salisbury (6-3)
11-15: Shenandoah, Rhodes, UMass-Boston, Rowan, Marietta.
16-20: UW-Whitewater, Johns Hopkins, Birmingham-Southern, Aurora, Webster.
21-25: Wooster, Concordia (Texas), Emory, Trinity (Conn.), Wheaton (Mass.).


>> Welcome: Concordia (Texas), Emory, Trinity (Conn.), Wheaton (Mass.).
>> Movers and Shakers: Rowan (+9), Marietta (+9), Shenandoah (+7), North Central (+6), Randolph-Macon (+5).

>> What We're Watching (WED-FRI): #10 Salisbury vs. #11 Shenandoah (THU); #8 Kean vs. #15 Marietta (THU); #18 BSC vs. #23 Emory (FRI); #13 UMass-Boston vs. #25 Wheaton (FRI).


---

Here's the latest AVCA men's volleyball ranking.

Springfield
NYU
New Paltz
Vassar
Stevens
Rutgers-Newark
Dominican
Lancaster Bible
St. John Fisher
Wells
11-15: Endicott, Carthage, MIT, Benedictine, MSOE.

>> On The Move: Lancaster Bible (+4)

>> What We're Watching (WED-FRI): #2 NYU vs. #3 New Paltz (WED); #14 Benedictine vs. Concordia-Chicago (WED); #7 Dominican vs. Stevenson (THU); #8 Lancaster Bible vs. #10 Wells (FRI).


5. 1 Count Thing
Tomorrow, the forms will be mailed far and wide.
Know someone that would enjoy receiving d3Playbook?
Send an email to d3Playbook@gmail.com with "subscribe" in the subject line