D3Playbook
MARCH 13, 2020 | written by STEVE ULRICH
your must-read briefing on what's driving the day in NCAA Division III

Our goal is to keep you - the influencers in DIII athletics - apprised of what's happening around Division III - the games, polls, news, happenings, awards, calendar of events, and much more. We hope you enjoy d3Playbook and that you'll share this with your friends, colleagues and co-workers.

>> Good Friday Morning! March 12. A day that will live in college sports infamy.

>> Today's Word Count: 1,115. Smart, concise. An informative read that's less than 5 minutes.

>> Thanks for reading D3Playbook. Please recommend us to a friend or co-worker. Or share with your staff and bring them up-to-speed on what's happening in DIII.


1. Over and Out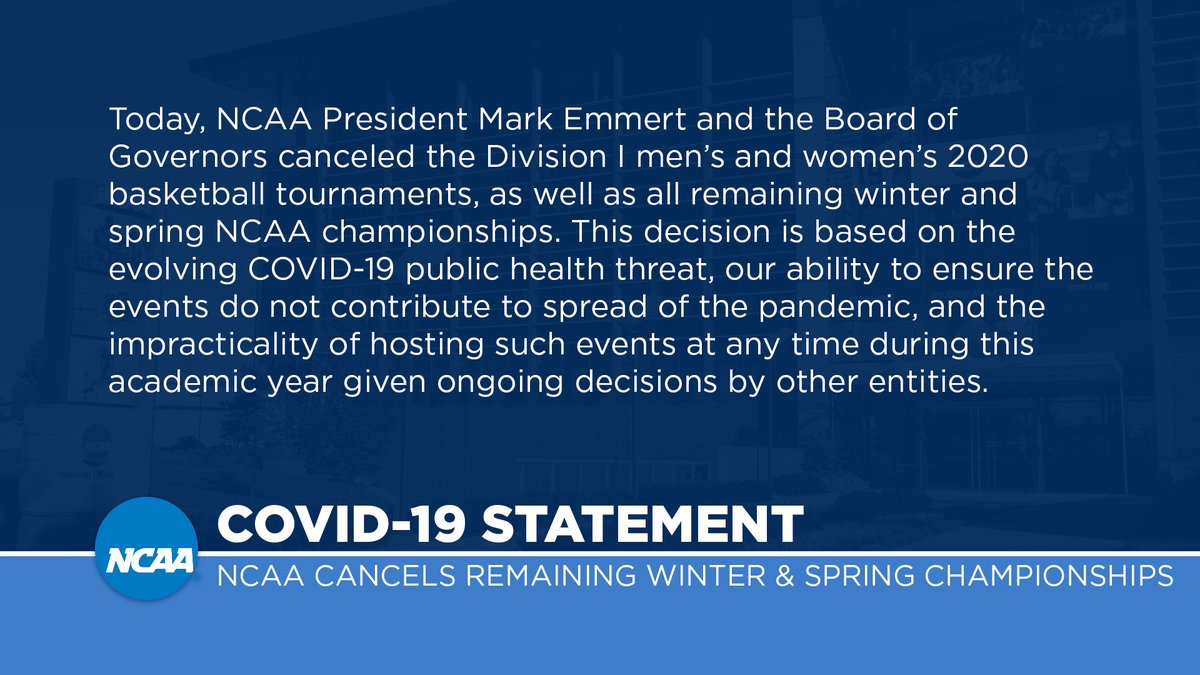 "Today, NCAA President
Mark Emmert
and the Board of Governors canceled the Division I men's and women's 2020 basketball tournaments, as well as all remaining winter and spring NCAA championships. This decision is based on the evolving COVID-19 public health threat, our ability to ensure the events do not contribute to spread of the pandemic, and the impracticality of hosting such events at any time during this academic year given ongoing decisions by other entities."
Never, did I think I would see this in my professional lifetime.
>>
A Father's Thoughts
: "I'm sorry for every other NCAA championship-bound senior in every other winter and spring sport,
all of whom had their college careers ended
Thursday in a completely unimaginable way. I'm sorry for the ones you've heard of, like
Cassius Winston
and
Sabrina Ionescu
, but also for the ones you haven't. I'm sorry for the wrestlers and the runners and the rowers and the softballers, all of whom worked (and worked, and worked) to get to this point. And, yes, for all the senior swimmers we've gotten to know and love and cheer for. You all deserve a better sendoff than this." -
Pat Forde, Sports Illustrated
>>
Fallout
: "I'm surprised we've made a decision in March not to hold baseball and softball events in June.
I'd love to know what went into those decisions
." -
Greg Sankey
(Cortland '87), commissioner, Southeastern Conference
>>
The Final Word
2. Conference Shutdown
Here is a list of Division III conferences that made league-wide decisions over the past two days. Apologies if I missed a conference or school.

Conferences That Canceled Spring Season (5)
Empire 8, NESCAC, NEAC, Ohio, SCIAC.

Additional Schools That Canceled Spring Season (18)
Brandeis, Carleton, Cortland, Covenant, DePauw, Emory, Gallaudet, Grinnell, Fredonia State, Oberlin, Plattsburgh State, Rochester, Rowan, RPI, Skidmore, Southern Maine, William Peace, Wittenberg.

Conferences That Suspended Spring Season (6)
Centennial, Landmark, MASCAC, Middle Atlantic, Northwest, SCAC.




3. What About the Staff?




by Karen Weaver, Forbes
NOTE: filed prior to NCAA postseason announcement

"As a veteran of many NCAA postseason events, I have been wondering about how the NCAA would respond to the coronavirus outbreak. There are a number of postseason events that are going on in March and April.

By my count, that's 15 sport championships times three divisions— equaling up to 45 postseason championships. The decisions to compete at all—or in front of just parents and friends, or to ask fans and others to decide for themselves whether to stay home—is fraught for one specific group of athletic staff employees that, so far, I haven't heard anyone talk about.

When a school bids to host an NCAA event on or near campus, it is saying in effect, "Our athletic department staff are willing to spend the extra hours to staff this event." Staff members who volunteer (or by their very title are "volunteered") to work such an event (sometimes lasting four or five days), are rarely mentioned in the decision-making process, yet they spend the longest amount of time in these arenas, aquatic centers and other venues."

>> The Big Picture: "How is it right, then, that we ask the athletics communications staff, or the athletics training staff or the facilities and housekeeping staff, to stay and risk their own health?"

>> Keep Reading




Would you like to sponsor this newsletter? Would you like to advertise an open position in your department for a head coach or administrator? Contact d3playbook@gmail.com to get your job opening in front of more than 700 decision-makers in small-college athletics.
4. A Refund Quandry
by Emma Whitford, InsideHigherEd.com
"Students across the country are making hurried plans to move out of their dorm rooms as the number of campus closures over coronavirus concerns skyrocketed past 200 Thursday.
Away from their dorms and dining halls, many students and parents are wondering if and
when they'll be refunded
room and board fees.
But for colleges relying on such fees -- called auxiliary fees -- to support their operating revenue, refunds could be devastating.
"Every residential college and university in America relies on that auxiliary revenue stream. It is baked into the budget," W. Joseph King, president of
Lyon College
and co-author of
How to Run a
College
, said in an email. "Significant refunds will cause real problems at many institutions. It will just be worse for those with tighter or deficit budgets."
>>
Situational Awareness
: "Auxiliary services are becoming an increasingly important part of colleges' operating revenue, especially for private, four-year institutions."
>>
What They're Saying
: "Refunds are a sticky business since they are definitely not in the budget. Any significant refunding will create a budget hole," King said. "It just depends on how it is prorated. Most institutions have policies about refunds (or no refunds) if a student withdraws. Few (if any) have closure policies."
>>
Of Note
: "
A wealth gap may be emerging
between colleges that choose to close or cancel in-person classes and those that, so far, will remain open. In Pennsylvania, West Chester University -- with an endowment of $40 million -- decided to end face-to-face instruction Wednesday, while Mansfield University of Pennsylvania -- with a $1 million endowment -- did not."
>>
The Final Word
: "Effectively, the crisis has the potential to create a double whammy -- unexpected [costs] and highly unpredictable future revenue at tuition-driven institutions," said Brian Mitchell, King's co-author on
How to Run a College
and the founder of Brian Mitchell & Associates, a higher education consulting firm.
>>
Go Deeper​
Know someone that would enjoy receiving d3Playbook?
Send an email to d3Playbook@gmail.com with "subscribe" in the subject line