D3Playbook
MARCH 2, 2020 | written by STEVE ULRICH
your must-read briefing on what's driving the day in NCAA Division III

Our goal is to keep you - the influencers in DIII athletics - apprised of what's happening around Division III - the games, polls, news, happenings, awards, calendar of events, and much more. We hope you enjoy d3Playbook and that you'll share this with your friends, colleagues and co-workers.

>> Happy Monday! What a weekend.

>> Tomorrow is Track and Field Tuesday. No, we didn't forget you.

>> Today's Word Count: 1,575. Around six minutes. Well worth your time.
Enjoy another cup of coffee and be informed!

>> Thanks for reading D3Playbook. Please recommend us to a friend or co-worker. Or share with your staff and bring them up-to-speed on what's happening in DIII.

1. Let the Madness Begin

What a way for the month to begin! The last remaining men's unbeaten team in the country (all divisions) lost as Conner Delaney drained a jumper at the buzzer to lift #8 Johns Hopkins past #1 Swarthmore, 73-71, in the Centennial Conference final.




Conner said .... BALLGAME! Hopkins tops #1 @SwatMBasketball 73-71 .. the difference? Delaney's 31st and 32nd points ... at the Buzzer. #GoHop pic.twitter.com/MomlnKnyLr

— Johns Hopkins MBB (@JHU_Basketball) March 1, 2020

#2 also fell by the wayside as St. Thomas (24-3) suffered an 82-63 defeat at the hands of #3 Saint John's (25-2) in the MIAC final. Oh, and #4 also lost, as unranked Wooster (21-7) upended Wittenberg (26-2), 87-63.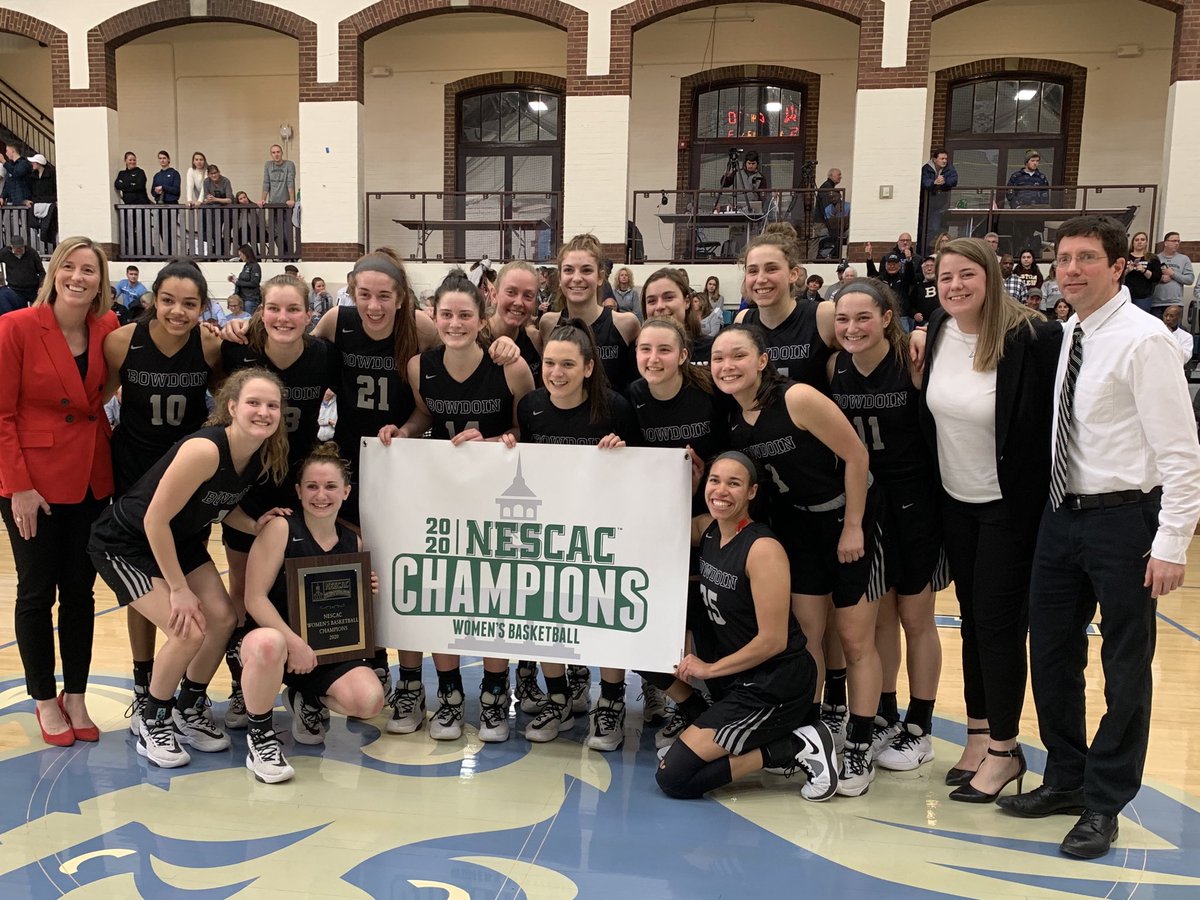 The #1 team on the women's side also suffered its first loss of the season in a conference final, as No. 5 Bowdoin (25-2) avenged a regular-season loss to Tufts with a 70-60 triumph in the NESCAC title tilt. #4 UW-Whitewater (23-3) was ousted in the WIAC semifinals by eventual champ Oshkosh (18-10), 81-65. And Haley Strowbridge's layup with :02 left gave unranked George Fox (21-6) a 57-55 win at #7 Whitman (24-3) in the Northwest Conference title tilt.

>> The 64-team Division III championship tournament brackets will be announced later today. Links to the selection shows can be found below.

Men's Selection Show (12:30 EST) | Women's Selection Show (2:30 EST)

>> Our friends at D3hoops.com have prepared their annual predictions on who the committee might select as the at-large candidates. Take a look.

---
>> Listen to the committee chairs on Hoopsville
Sam Atkinson, Gallaudet (1:43.00) | Karin Harvey, Montclair State (1:10.00)
---

Here's to all the Conference tournament champions


2. Athenas, Goddesses of Tennis


Senior Catherine Allen won a thrilling three-setter at No. 2 singles (7-5, 3-6, 7-5) to provide the decisive point as the Claremont-Mudd-Scripps women's tennis team, ranked No. 2 in the nation, outlasted No. 3 Emory for a 5-4 victory to earn the ITA Indoor Championship on Sunday afternoon at Centre College.

With the win, CMS improves to 10-0 on the year and avenges a 5-3 defeat to Emory in the ITA Indoor Championship last season. The two teams also played for the 2018 Division III National Championship in Claremont, when CMS prevailed 5-4 to win the program's first ever national title.


Final
#2 Claremont-Mudd-Scripps d. #3 Emory, 5-4

Semifinals
#3 Emory d. #5 Pomona-Pitzer, 8-1
#2 Claremont-Mudd-Scripps d. #7 Carnegie Mellon, 9-0

Quarterfinals
#3 Emory d. #10 Brandeis, 8-1
#7 Carnegie Mellon d. #8 Chicago, 6-3
#2 Claremont-Mudd-Scripps d. Centre, 9-0
#5 Pomona-Pitzer d. #9 MIT, 7-2


3.
Hello Cedar Rapids
The NCAA Division III wrestling regional championships are in the books and the field is almost set for the national meet on March 13-14 in Cedar Rapids, Iowa.
Southeast
:
1-Stevens (163.5), 2-Washington and Lee (130).
125-Samuel Braswell, Averett; 133-Kyle Slendorn, Stevens; 141-Troy Stanich, Stevens; 149-Brett Kaliner, Stevens; 157-Ryan Luth, W&L; 165-Dominick Reyes, Johns Hopkins; 174-Hunter Neely, W&J; 184-Rexx Hallyburton, W&L; 197-Michael Dooley, Stevens; 285-Rocky McGeary, Waynesburg.
Central
:
1-Baldwin Wallace (154), 2-Mount Union (146).
125-Andrew Perelka, John Carroll; 133-Seth Transue, Ohio Northern; 141-Jordin James, Mount Union; 149-Stanley Bleich, BW; 157-Ryan Whitten, Otterbein; 165-Kyle Hatch, Wabash; 174-Cornell Beachem, Mount St. Joseph; 184-Dylan Roth, Heidelberg; 197-Zeckary Lehman, BW; 285-Drew Kasper, Otterbein.
Upset: Top-ranked 125 Carlos Champagne (Wabash) lost by a 3-2 decision to Seth Hayes (Mount Union) in the third-place match.
Upper Midwest
:
1-Augsburg (196.5), 2-UW-La Crosse (157.5).
125-Mike Tortorice, UWW; 133-Matt Berlin, UWSP; 141-David Flynn, Augsburg; 149-Aaron Wilson, Augsburg; 157-Grant Zamin, UWL; 165-Mitchell Hertel, UWL; 174-Solomon Nielsen, Augsburg; 184-Tanner Vassar, Augsburg; 197-Isaac Lahr, UWL; 285-Jordan Lemcke, UWO.
Northeast
:
1-Johnson and Wales (168), 2-Coast Guard (122.5).
125-Nicholas Arborio, Western New England; 133-Hayden Brown, JWU; 141-Jordan Robinson, JWU; 149-Da'mani Burns, JWU; 157-Sean Lyons, NYU; 165-Philip Rogers, CGA; 174-Marco Gaita, Wesleyan; 184-Paul Detweiler, CGA; 197-Jonathan Wagner, CGA; 285-Michael DiNardo, JWU.
Mideast
:
T1-Ithaca (144.5), T1-TCNJ (144.5).
125-Matt Caccamise, Brockport; 133-Travis Jones, Ithaca; 141-Eli Sims, Brockport; 149-Ryan Anderson, Centenary; 157-Kaidon Winters, RIT; 165-Dempsey King, RIT; 174-Demitereus Henry, Cortland; 184-Chibueze Chukwuezi, Ithaca; 197-Quinn Haddad, TCNJ; 285-Richard Knapp, Brockport.
Lower Midwest
:
1-Loras (178.5), 2-Coe (163.5).
125-Robbie Precin, North Central; 133-Kristian Rumph, Wartburg; 141-Riley Wright, Coe; 149-Anthony Rink, North Central; 157-Brandon Murray, Loras; 165-Bradan Birt, Millikin; 174-Kyle Briggs, Wartburg; 184-Cody Baldridge, North Central, 197-Taylor Mehmen, Coe; 285-Duncan Lee, Central.
Upsets: Third-ranked 197 Kobe Woods (Wartburg) was pinned by unranked Logan Hagerbaumer (Millikin) in the third-place match. Second-ranked 285 Jerhett Lee (Ozarks) finished sixth.
4. Full-Court Press




Basketball (W) - D3hoops.com
Tufts (d. Williams, 69-63;

lost to #5 Bowdoin, 70-60

)
Hope (d. Calvin, 78-46; d. #24 Trine, 59-55)
DePauw (d. Ohio Wesleyan, 62-38; d. Denison, 66-47)
UW-Whitewater
Bowdoin (d. #6 Amherst, 74-60; d. #1 Tufts, 70-60)
Amherst (

lost vs. #5 Bowdoin, 74-60

)
Whitman (

lost vs. George Fox, 57-55

)
Wartburg (d. #11 Loras, 67-54)
Bethel (d. #16 Augsburg, 72-70)
Baldwin Wallace (d. #25 John Carroll, 80-63)
Fourth-seeded UW-Oshkosh took down the odd-seeds to capture the WIAC tournament. The Titans defeated third-seeded Eau Claire, 52-50, as Emily Miller scored a career-high 15.


Basketball (M) - D3hoops.com
Swarthmore (d. Muhlenberg, 65-62;

lost vs. #8 Johns Hopkins, 73-71

)
St. Thomas (

lost at #3 Saint John's, 82-63

)
Saint John's (d. #2 St. Thomas, 82-63)
Wittenberg (d. Oberlin, 67-47;

lost vs. Wooster, 87-63

)
Randolph-Macon (d. Hampden-Sydney, 80-61; d. Roanoke, 60-59; #16 Virginia Wesleyan)
UW-Platteville
Mount Union (d. John Carroll, 85-74)
Johns Hopkins (d. Haverford, 70-52; d. #1 Swarthmore, 73-71)
North Central (lost vs. #22 Elmhurst, 71-60)
Nebraska Wesleyan (d. Coe, 76-50)
Tip o' the hat to Brooklyn College. The fifth-seeded Bulldogs (13-15) knocked off the Nos. 1-2-4 seeds to win the CUNYAC title, upending top-seeded Baruch, 62-55, in the final.


D3Playbook is looking for sponsors. NCAA Division III has a desirable demographic that can help your company thrive. Reach more than 700 influencers in NCAA Division III today. Contact d3playbook@gmail.com to get your company in front of decision-makers in small-college athletics.


5.
On The Fly


Ice Hockey (M) - USCHO
Norwich (d. Southern Maine, 5-0)
Geneseo (d. Potsdam, 7-0)
Utica (d. Nazareth, 5-2 and 3-2)
UW-Eau Claire (d. UW-Superior, 4-1 and 2-0)
Hobart (d. New England College, 4-2)
Adrian (d. Trine, 4-3)
U. of New England (

lost vs. Wentworth, 2-1

)
Trinity, Conn. (d. Amherst, 5-3)
UW-Stevens Point (d. #15 UW-River Falls, 4-1 and 5-1)
Babson
Nate Chase scored the game-winning goal with 3:02 remaining and Wentworth (9-15-3) hung on to defeat #7 UNE, 2-1, in a CCC semifinal. WIT will face Endicott (21-5) in the final next Saturday.


Wilkes edged Stevenson, 1-0, in a mini-game to advance to the UCHC championship. Tyler Barrow notched the game-winner for the Colonels (19-8) who will face Utica in the final.




Ice Hockey (W) - USCHO
Plattsburgh (d. Cortland, 3-0)
Middlebury (d. Trinity, 4-1)
UW-Eau Claire (d. Stevens Point, 2-1 and 5-0)
Gustavus Adolphus (d. Saint Mary's, 4-1)
Elmira (d. Utica, 5-1)
UW-River Falls (d. Superior, 1-0;

tied Superior, 2-2

)
Norwich (d. Plymouth State, 10-0)
Hamline (

lost vs. Augsburg, 2-1 OT

)
Endicott (d. Salve Regina, 4-0)
Adrian (d. St. Norbert, 3-1 and 5-0)
Mikayla Jones scored her second goal of the contest at the 7:55 mark of OT to lift Augsburg (21-5) past Hamline, 2-1, in a MIAC semifinal. The Auggies will meet Gustavus Adolphus in next Saturday's final.


6. Lax et Lux
Lacrosse (M) - USILA
Salisbury (d. Coast Guard, 22-8)
Amherst (d. Hamilton, 16-8; d. Western New England, 16-8)
Cabrini (d. #15 Dickinson, 16-5)
Williams (d. Trinity, 13-6)
RIT
Tufts (d. Colby, 24-10)
Denison (d. Roanoke, 13-7)
Wesleyan (d. Bates, 13-8)
Ursinus (d. #20 Christopher Newport, 13-9)
York (d. #14 Lynchburg, 14-7)

Lacrosse (W) - IWLCA
Middlebury (d. #13 Bowdoin, 16-12)
Tufts (d. #16 Colby, 19-5)
Gettysburg (d. #21 Denison, 13-6)
Salisbury (

lost vs. #8 Washington and Lee, 10-7

)
Wesleyan (d. Bates, 11-7)
Franklin & Marshall (d. #14 Mary Washington, 11-9)
York
Washington and Lee (d. #4 Salisbury, 10-7)
Amherst (d. Hamilton, 11-2)
Catholic (d. Rowan, 18-5)

>> Washington and Lee (3-1) held #4 Salisbury to just one goal over the final 20:54 to hold off the Gulls, 10-7. Christina Cavallo led the way for the Generals with four goals.


7. Elsewhere
Trish Webb twirled Christopher Newport's second no-hitter of the young season in a 2-1 win against Randolph. She walked one and struck out five, allowing just an unearned run in her gem. Teammate Aubrey Bates fanned 11 in a 5-3 victory over No. 6 Emory earlier in the day.


(M) No. 10 St. John Fisher (13-2) battled back from an 0-2 deficit to defeat No. 1 NYU (12-1), 22-25, 25-27, 27-25, 26-24, 19-17. Josh Bigford had a game-high 25 kills for the Cardinals.


No. 15 Cal Lutheran (12-1-1) took two of three in the SCIAC opener against top-ranked Chapman (10-3), winning 8-3 on Friday and the opener of a Saturday twinbill, 8-3. Alexander Rivas allowed just two earned runs over 7.1 innings on Friday for the win. Tanner Wright was 3-for-5 with three RBI in Saturday's triumph.


Nos. 2 and 3 also fell by the wayside on Saturday, as #6 Babson knocked off Trinity, Texas (8-1) and #24 Rhodes (10-2) took two from Birmingham-Southern (8-4).



Know someone that would enjoy receiving d3Playbook?
Send an email to d3Playbook@gmail.com with "subscribe" in the subject line