D3Playbook
MARCH 5, 2020 | written by STEVE ULRICH
your must-read briefing on what's driving the day in NCAA Division III

Our goal is to keep you - the influencers in DIII athletics - apprised of what's happening around Division III - the games, polls, news, happenings, awards, calendar of events, and much more. We hope you enjoy d3Playbook and that you'll share this with your friends, colleagues and co-workers.

>> Good Thursday Morning! Are you counting down the days to Spring Break? Or enjoying your final days now?

>> Today's Word Count: 1,073. Brief, concise. Easy to digest.

>> Thanks for reading D3Playbook. Please recommend us to a friend or co-worker. Or share with your staff and bring them up-to-speed on what's happening in DIII.


1. Yeshiva: Faith Before Basketball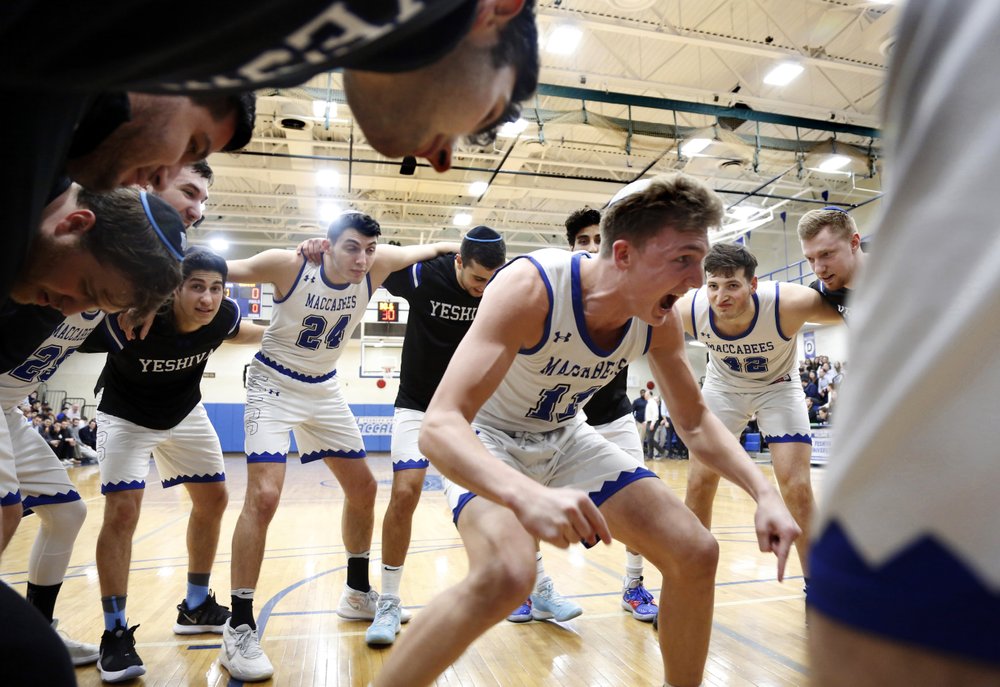 by Luis Andres Henao, Associated Press
"Each of the mighty Maccabees has his role on the men's basketball team.
Gabriel Leifer
sinks three-pointers;
Daniel Katz
is the defense wizard;
Simcha Halpert
makes the perfect alley-oop passes to
Ryan Turell
who soars for dunks.
Kids pretend to be them in pickup games. The home crowd sings in Hebrew and roars when they score. But before tipoff, the team always gathers around
Tyler Hod
, a senior guard and their unofficial rabbi.
Reading passages from the Torah, Hod shares a story, all the while drawing lessons to inspire them on and off the court in a pregame ritual that ends when they huddle and yell: "Amen!"
Yeshiva University's basketball team can't play on the Sabbath, on Jewish Holidays or fast days. They've also faced anti-Semitic taunts and ethnic slurs from opponents and spectators. But they continue to beat their rivals, many proudly wearing the skullcap that identifies them as Jewish."
>>
Why It Matters
:
Elliot Steinmetz '02
is the head coach of Yeshiva. "He sold us all on that dream of bringing Jewish basketball to the forefront and making us relevant," Halpert said. His brother, Eitan, also plays for the Macs. "And we really bought into it."
>>
The Big Picture
: The players come from across the U.S. Some turned down offers at Ivy League and Division I schools to play for Yeshiva. They also vary in their observance of their faith - from Hod who will go to rabbinical school after he graduates this year, to
Ofek Reef
, a 6-foot freshman from Texas who goes on the court without the skullcap, wearing tattoos and a Star of David-shaped earring, and who enthralls the crowds when he defies gravity and dunks over taller rivals. All of them, though, are united by their Jewish identity and their love of basketball.
>>
Reality Check
: The Maccabees have been subjected to anti-Semitism. "There was one time that they were chanting: "Hitler was right!" ... It's the 21st century. There's no room for that kind of hate in any capacity. I try not to harp on it so much, but we've heard a lot of things. I just tell the guys: we're just here to play ball." - Halpert.
>>
The Final Word
: "To be able to follow my religion and to play basketball at the same time at a high level is amazing. It's the best of both worlds." - Turell
Go Deeper
2. Canceling Spring Break
by Bryan Walsh, Axios
"The novel coronavirus outbreak has caught the U.S. and the world off guard, and now threatens to break through all containment efforts. But far from being a surprise,
the potential pandemic was utterly predictable
, as scientists have long warned.
Flashback:
Last October the
Johns Hopkins Center for Health Security
(JHCHS) put on a
high-level pandemic simulation
focusing on a fictional global outbreak caused by a novel coronavirus that spilled over from animals to humans.
Called Event 201, the exercise brought together policymakers and disease experts to debate how they would respond to the simulated pandemic, in an effort to map out how they could combat a real one.
Along with other reporters, I was there to observe the proceedings. What happened during the fictional pandemic eerily presaged the challenges and conundrums the world is facing with COVID-19.
Governments agonized about whether to ban public gatherings and block travel from infected areas.
Misinformation — accidental and deliberate — spread over social media, and participants in the exercise struggled to control messaging.
The economic effects of attempts to control the pandemic were as devastating as the disease itself, a dilemma compounded by the fact that participants had to make vital decisions with imperfect information about the virus—just as officials must do today."

>> Our Take: Decisions made or about to be made by our institutional leaders are hard. Expect to hear the phrase "out of an abundance of caution" a lot over the next few weeks.



3. Polls
>>
Hello
: Aurora, Rowan, Marietta.
>>
Movin' On Up
: Cal Lutheran (+13), Rhodes (+12), Randolph-Macon (+10).
>>
What We're Watching
: #13 North Central vs. #20 Heidelberg (FRI).
>> Welcome: Kean, Ferrum, Wartburg.
>> Climbing: Central (+10), DePauw (+6), TCNJ (+6).

>> What We're Watching: #1 Texas Lutheran vs. #5 Illinois Wesleyan (FRI); #4 East Texas Baptist vs. #8 DePauw (FRI); #2 Christopher Newport vs. #19 Mary Hardin-Baylor (FRI).


Would you like to sponsor this newsletter? Would you like to advertise an open position in your department for a head coach or administrator? Contact d3playbook@gmail.com to get your job opening in front of decision-makers in small-college athletics.
6. 1 Jimmy V Thing
27 years ago yesterday, Jim Valvano delivered one of the most iconic speeches in recent memory - "Don't Give Up, Don't Ever Give Up."
"To me, there are three things we all should do every day. ... No. 1 is laugh. ... No. 2 is think. ... No. 3 is you should have your emotions moved to tears ... That's a full day. That's a heckuva day. You do that seven days a week, you're going to have something special."
"Cancer can take away all my physical abilities. It cannot touch my mind, it cannot touch my heart, and it cannot touch my soul. And those three things are going to carry on forever. I thank you, and God bless you all."
Go deeper:
Know someone that would enjoy receiving d3Playbook?
Send an email to d3Playbook@gmail.com with "subscribe" in the subject line