D3Playbook
MARCH 19, 2020 | written by STEVE ULRICH
your must-read briefing on what's driving the day in NCAA Division III

Our goal is to keep you - the influencers in DIII athletics - apprised of what's happening around Division III - the games, polls, news, happenings, awards, calendar of events, and much more. We hope you enjoy d3Playbook and that you'll share this with your friends, colleagues and co-workers.

>> Good Thursday Morning! Is there good news? Yes. Welcome Spring!

>> Today's Word Count: 1,019. Brief, concise. Easy to digest.

>> Thanks for reading D3Playbook. Please recommend us to a friend or co-worker. Or share with your staff and bring them up-to-speed on what's happening in DIII.


1. Extra Flexibility Granted to DIII Schools
After the NCAA
announced
the cancellation of all remaining winter and spring championships in response to the evolving COVID-19 public health threat, the Division III Administrative Committee approved measures giving schools additional flexibility when it comes to student-athletes, as well as participation and membership requirements.
Along with its decision to cancel the winter and spring championships, the NCAA Board of Governors last week directed all three divisions to enact legislative modifications and waivers to provide relief to student-athletes and schools impacted by COVID-19.
The Division III measures approved on Friday, March 13, include an additional semester and season of eligibility for all student-athletes participating in spring sports, the removal of a minimum threshold of sponsored spring sports, and the flexibility for schools to assist students with travel, lodging and meals as a result of campus displacement.
No actions were taken with regard to additional recruiting restrictions, as Division III does not have specific recruiting periods.
>>
Quotable
: "While these measures won't cover all circumstances, they were taken with the best interest of student-athletes in mind. During these extraordinarily difficult times, conferences and institutions should not focus on the application of NCAA legislation, but rather the health and well-being of student-athletes." -
Tori Murden McClure,
president of Spalding University and chair of the Administrative Committee.
>>
Keep Reading
2. More Trouble Ahead

"Many colleges have responded to the coronavirus by moving online and sending students home, which will immediately impact revenue streams, according to Moody's.
There's great variety among institutions in how they'll be able to weather this storm. However, more than 30 percent of public universities are running with operating deficits, and more than 15 percent have less than 90 days of cash on hand, which puts them in particular risk.
It's quite possible higher education could face disruption in enrollment, state funding, endowment income and research grants. However, if the economy returns to normal after the outbreak is contained and enrollment stays steady in the fall, these predictions could be reversed.
If disruption from the coronavirus continues into the fall, it's possible some colleges would declare fiscal exigency, according to Moody's. This rarely used mechanism lets colleges facing severe financial difficulties quickly address fixed costs, like tenure."

- courtesy of InsideHigherEd.com
3. Cap and Gone?
Division III institutions are beginning to come around to the realization that holding Commencement ceremonies this spring is becoming increasingly unlikely.

Here are some institutions that have already postponed:
Allegheny
Anderson
Benedictine
Berea
Emory
Franklin & Marshall
Grinnell
Guilford
Ithaca
LeTourneau
Lynchburg
Nichols
North Central (Ill.)
Oneonta
RIT
Smith
Sul Ross State
Washington U.

This is not intended to be a complete list.



Would you like to sponsor this newsletter? Would you like to advertise an open position in your department for a head coach or administrator? Contact d3playbook@gmail.com to get your job opening in front of decision-makers in small-college athletics.
4. Hoop, There It Is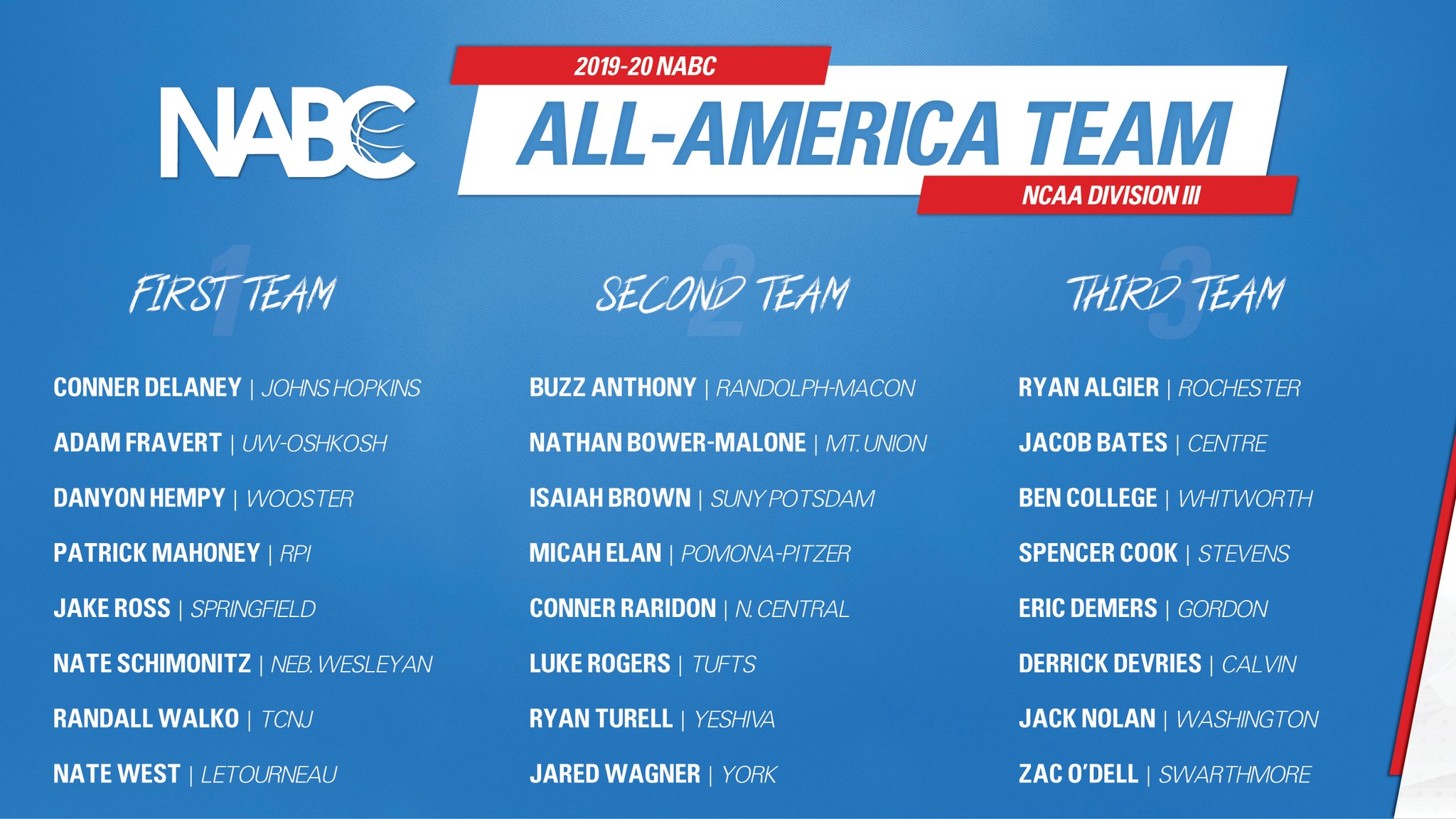 The National Association of Basketball Coaches (NABC) announced today the
2020 NABC Coaches' Division III All-America teams
. Selected and voted on by member coaches of the NABC in NCAA Division III, these student-athletes represent the most outstanding basketball players across America in their division.
5. One Perspective

by Emma Gaston

"The week the coronavirus changed life as we know it was unlike anything I had ever expected. It was then that I learned my sophomore softball season at Salem College—a season I had fought so long and hard to participate in—was over due to concerns surrounding the virus' recent worldwide outbreak.

03/12/20 6:45 p.m. ET: Our coach gathered us for a talk after practice and told us that our season had been postponed until at least April 13. I watched the tears come down the faces of our seniors and I couldn't hold back my own tears, either. No one in a million years could have predicted that something like this would happen, and I only wished there was something I could do to make things better for my teammates.

03/13/20: Shortly after arriving home, I received the news I desperately did not want to hear: Our conference—USA South—had canceled all spring sports. I couldn't imagine the pain my teammates were feeling. We had just tied the program's longest winning streak at nine games. We had faced so much adversity and worked so hard for us to only play 14 games. I was devastated.

>> Situational Awareness: "The NCAA announced that all Division I, II and III spring student-athletes will receive an extra year of eligibility for losing this season. While this is good news for many people, it does not work for everyone, and especially Division III athletes. Since we don't receive athletic scholarships, paying for another year of school is not plausible for all impacted student-athletes."

>> Worth Noting: "While softball has been a huge part of my life for 11 years, it cannot be my entire life. I am a Division III student-athlete who has never been helped financially to play the sport I love, and I'm paying the same loans as everybody else who attends my college. To be honest, I don't know what the coronavirus' impact will mean for the future of my softball career."

>> Read Emma's timeline

7. Pic du Jour
Photo: Mandel Ngan/AFP via Getty Images
The National Cherry Blossom Festival Parade
in D.C. may be
canceled
, but nature isn't.
Peak bloom is expected between Saturday and next Tuesday (March 21–24).
Know someone that would enjoy receiving d3Playbook?
Send an email to d3Playbook@gmail.com with "subscribe" in the subject line