D3Playbook
FEBRUARY 20, 2020 | written by STEVE ULRICH
your must-read briefing on what's driving the day in NCAA Division III

Our goal is to keep you - the influencers in DIII athletics - apprised of what's happening around Division III - the games, polls, news, happenings, awards, calendar of events, and much more. We hope you enjoy d3Playbook and that you'll share this with your friends, colleagues and co-workers.

>> Good Thursday Morning! Let's look at the day in DIII.

>> Today's Word Count: 1,414. Brief, concise. Easy to digest.

>> Thanks for reading D3Playbook. Please recommend us to a friend or co-worker.


1. Pilot Takes New Approach to Sports
by Brian Burnsed, NCAA Champion Magazine
"Not yet 25,
Jennifer Baker
already had achieved the loftiest of her goals. After four years as an aeronautical engineering major at Navy and nearly three more in flight school, she earned the right to fly F/A-18 Hornets, which can cut through the air at more than 1,100 mph. Only months later, though, adventurous dream job in hand, migraines disqualified her from ever flying again. Only a few years removed from college, she would have to find a new path.
Now athletics director at
Johns Hopkins
, Baker has a work life that seems demonstrably different from the time she spent roaring through the sky, but she remains just as fulfilled, perhaps even more so. "The reality is that every job I've had has been me trying something else on that I thought might fit like aviation did," she says. "And it wasn't until I landed in college athletics that I felt like, 'This fits.' And it fits for the same reasons aviation fit and serving in the Navy fit. Because I'm part of something bigger than myself.""
After taking on new roles in the Navy and working as a high school math teacher and lacrosse coach, Baker enrolled at Cornell to pursue an MBA in 2010. She left with far more: While in Ithaca, she tacked on a master's in mechanical engineering, worked as a volunteer assistant lacrosse coach and launched a leadership development program for the team's athletes. That accomplishment earned her a chance to stay on as a full-time athletics administrator and build a comparable program, now called the Big Red Leadership Institute, for the school's 500-plus student-athletes.
Her time around college athletes reminded her of the camaraderie she felt as a pilot. "I'm so passionate about the development that happens between ages 18 and 22 as a result of participation in sport," she says. "It's life-changing."
>>
Keep Reading
2. Regional Rankings
Men's Rankings
Atlantic: 1-Stevens, 2-Yeshiva, 3-TCNJ
Central: 1-UW-Platteville, 2-Washington U., 3-Benedictine
East: 1-Brockport, 2-Rensselaer, 3-Hobart
Great Lakes: 1-Mount Union, 2-Marietta, 3-Wittenberg
Mid-Atlantic: 1-Swarthmore, 2-Johns Hopkins, 3-Christopher Newport
Northeast: 1-Middlebury, 2-Springfield, 3-WPI
South: 1-Emory, 2-Randolph-Macon, 3-Centre
West: 1-St. Thomas, 2-Nebraska Wesleyan, 3-Saint John's
Women's Rankings
Atlantic: 1-Marymount, 2-Rowan, 3-Cabrini
Central: 1-UW-Whitewater, 2-Chicago, 3-Wheaton
East: 1-New Paltz, 2-Ithaca, 3-Cortland
Great Lakes: 1-Hope, 2-Baldwin Wallace, 3-DePauw
Mid-Atlantic: 1-Messiah, 2-Scranton, 3-Widener
Northeast: 1-Tufts, 2-Amherst, 3-Western New England
South: 1-Oglethorpe, 2-Trinity (Texas), 3-William Peace
West: 1-Loras, 2-Wartburg, 3-Bethel

3.

The Elam Ending. Coming Soon?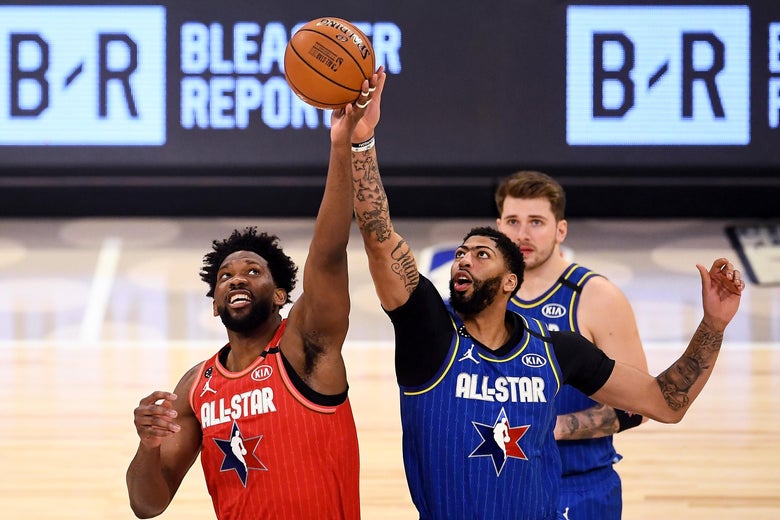 by Nick Greene, Slate.com

If you watched the NBA All-Star Game on Sunday, you would have noticed something different: It was legitimately exciting. These exhibitions aren't usually showcases for effort or defense, but, come the fourth quarter, the world's best basketball players were fighting tooth and nail for every possession, and Team LeBron edged out Team Giannis, 157–155. It was the best All-Star Game in years, and much of the credit goes to Nick Elam, an educational leadership professor at Ball State University. He is the father of the "Elam Ending," a rule that removes the clock at the end of a game and replaces it with a target score. The game ends when one of the teams hits the score.

Elam came up with idea in 2007, but it wasn't incorporated by a professional league until 2017, when he convinced The Basketball Tournament (or TBT)—an annual street ball-inspired league—to give it a shot. Nick Elam's idea has never been featured on a bigger stage than the NBA All-Star Game, and on Monday I called him to discuss his invention's big break.

I absolutely thought that it would make players play harder. If you watch, say, a youth basketball game, and I'm talking like little little kids, like third grade gym class or something, even if it's a timed game, those players aren't worrying about the clock. They're just trying their best to score and defend. But the more you go to higher levels of basketball, then players are conscious of that clock. If you get rid of the clock at the end of the game, it takes away that electronic third party, and now it truly is my team against your team. Let's see who's better.
Someone once told me that it's hard to get 90 percent of Twitter to like free beer and ice cream. For 90 percent of people to speak positively about this concept really says something. As far as ending on a free throw goes, I would much rather see a game end on a high-flying dunk or a crisp 3-pointer, but I think if you over-regulate the format in an effort to prevent games from ending on a free throw, I think you're going to end up with a lot of unintended consequences.
I'm also a big tennis fan, and I get goosebumps when it gets to match point or championship point. I never want to see a match or especially a championship end on a double fault, but it's just one of those things. It's part of the sport.
>> Read the edited for length and clarity interview.



4. Net Generation
The 20th annual
ITA Division III National Men's Team Indoor Championship
will be hosted by Gustavus Adolphus this weekend. The tournament showcases eight of the top teams in a three-day event to crown an indoor national champion.
Friday's Quarterfinals
#1 Emory vs. #20 Gustavus Adolphus
#8 Brandeis vs. #9 Washington U.
#2 Claremont-M-S vs. #12 Case Western
#4 Chicago (defending champion) vs. #11 Kenyon
Would you like to sponsor this newsletter? Would you like to advertise an open position in your department for a head coach or administrator? Contact d3playbook@gmail.com to get your job opening in front of decision-makers in small-college athletics.
5. About Last Night
In a top-10 showdown,
No. 8 Wartburg (21-3) went on the road
and toppled No. 10 Loras (21-3), 79-76, in overtime.
Payton Draper
had 15 including two free throws that forced the extra period.
Hanover (17-6) upset No. 9 Transylvania (22-2)
, 64-57, behind a 26-point effort from
Alexis Nall
. The Panthers and the Pioneers are tied for first place in the HCAC.
Hilbert's
Emily Gawlak
poured in a career-high 40 points
but it was not enough as the Hawks (18-6) fell at Penn State Behrend (15-9), 67-64.
No. 11 Bethel (23-1)
clinched the MIAC regular-season title for the first time since 1994
by defeating No. 14 Augsburg (20-4), 71-55.
Taite Anderson
posted a double-double with 25 points and 12 boards.
Simpson (12-12)
took No. 6 Nebraska Wesleyan (21-3) to the wood shed
, handing the Prairie Wolves an 86-59 loss.
Kyle Wagner
(25) and
Conor Riordan
(23) combined for 48 points.
Jake Ross
scored 32 points and
became just the 19th player in Division III history to surpass the 2,500-point plateau
as No. 15 Springfield (21-3) defeated No. 21 WPI, 80-64.
Westfield State (17-7) senior
Vawn Lord
(pictured)
lit up the scoreboard with 44 points
in an 86-63 victory against Salem State.
6. A Progressive Game


The athletics departments from Oberlin College and John Carroll University announced that the Yeomen and Blue Streaks will play at Progressive Field, home of the Cleveland Indians, on Monday, April 27. First pitch is set for 7 p.m. with gates opening to the public at 6 p.m.

Tickets for the game are free. However, a printed ticket is required for admission and can be obtained here.

The Yeomen last played at Progressive Field (then Jacobs Field) on April 20, 2005 when they beat the Spartans of Case Western Reserve University, 7-3.

This will be the seventh game John Carroll has played at Progressive Field, going 3-3 in its previous six contests. In 2003, JCU's Eric Floriani made history as the first collegiate baseball player to hit a home run at what was then known as Jacobs Field in a 9-2 win over Mount Union.


7. 1 Goodbye Thing
Photo: Jahi Chikwendiu/The Washington Post via Getty Images
Say goodbye to Gate 35X:
Construction has started on replacing the D.C. rite of passage with a new concourse,
DCist reports.
The airport describes "Gate 35X as 'less-than-pleasing' and 'infamously congested.'"
"But any one of the 6,000 daily passengers who journey through the gate—which is really just a claustrophobic bus terminal that funnels passengers to the tarmac—would likely recognize it by these descriptors: a 'crime against humanity,' a dreaded 'hell gate,' 'punishment,' 'the worst gate in the country.'"
- courtesy of Axios