D3Playbook
FEBRUARY 26, 2020 | written by STEVE ULRICH
your must-read briefing on what's driving the day in NCAA Division III
Our goal is to keep you - the influencers in DIII athletics - apprised of what's happening around Division III - the games, polls, news, happenings, awards, calendar of events, and much more. We hope you enjoy D3Playbook and that you'll share this with your friends, colleagues and co-workers.
>> Good Wednesday morning. It's Ash Wednesday, the first day of Lent.

>> Today's Word Count: 1,063. An easy morning read. Less than four minutes.

>> Thanks for reading D3Playbook. Please recommend us to a friend or co-worker.


1. Enrollment Woes
by Scott Carlson, Chronicle of Higher Education
"There's no point in sugar-coating it. Private and public colleges alike are worried about enrollment.
The Chronicle'
s latest enrollment survey, conducted with the Council of Independent Colleges and the American Association of State Colleges and Universities, paints a picture of anxiety, especially at private colleges and regional universities. More than half of those institutions did not meet their enrollment or net-revenue goals last fall, the survey found. About 60 percent of the public and private institutions that responded to the survey missed their enrollment goals. And 67 percent did not meet their net-revenue goals.
There is no magic bullet to fix the underlying problem — declining enrollment — that's driving much of the worry."
>>
The Bottom Line
:
The Chronicle'
s latest enrollment survey of 292 institutions, conducted with the CIC and the American Association of State Colleges and Universities, makes clear that stress, pain, and uncertainty plague the nation's private colleges and regional universities. Fifty-two percent of private institutions missed both enrollment and net-revenue goals, compared with 49 percent of publics.
>>
Of Note
: Private institutions were more active in giving out student aid, often a key factor in attracting students to a college. Forty-six percent of private institutions raised their level of aid, while roughly 30 percent of publics gave more aid last fall. Half of the public institutions gave out the same level of aid as the year before, compared with a third of private colleges.
>>
What They're Saying
: "If there's one trend I'm seeing, it's the rising level of anxiety pushing people into looking for miracle drugs — you know, the magic pill that's going to help me transform overnight what's been otherwise a very difficult job,"
Peter Farrell
of consulting firm, Farrell Day, says.
>>
Reality Check
: Susquehanna University offers an example of how uncertainty can affect an institution. It had a challenging year; the Pennsylvania university missed its enrollment goals by less than 5 percent, but also missed its net-revenue goals by more than 5 percent, even after revising those goals down more than once. Susquehanna also gave out more money in institutional aid and enrolled fewer international students.
>>
The Final Word
: "The University of Minnesota has become really competitive," says provost
Karen Kaivola
, noting that some students come to Augsburg for a year or two, then try to transfer to the state flagship. But she believes that Augsburg has created a niche in the market and a comfortable place for non-white students. "It's a challenging environment for higher education, but I think we occupy — for now — a special space."
>>
Go Deeper
($)
2. 51 Millions Reasons to Give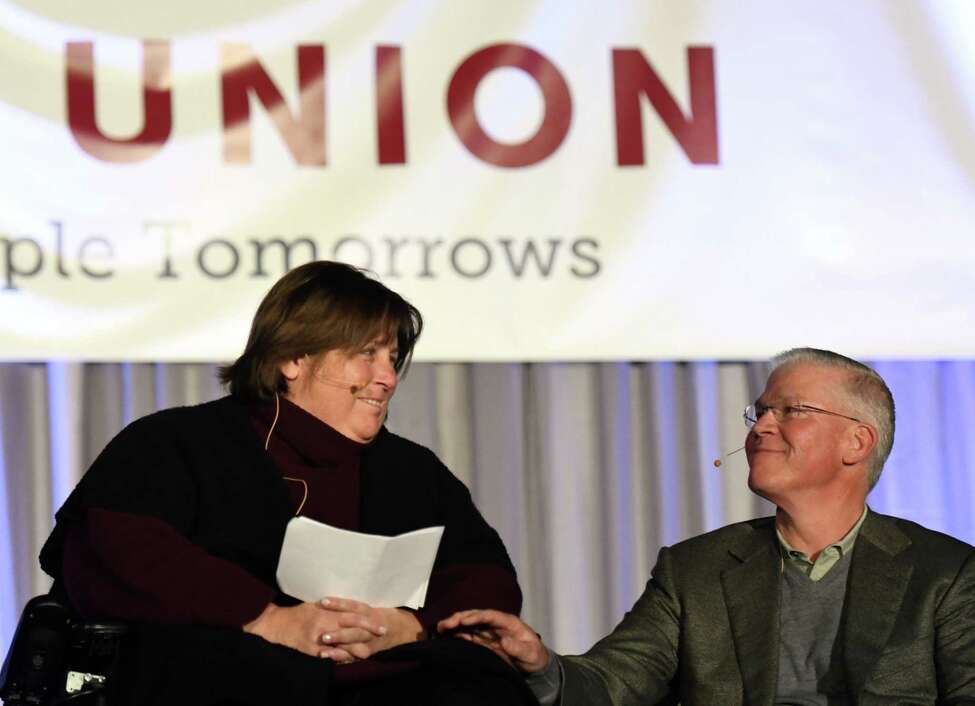 by Chris Churchill, Albany Times-Union
"More than four decades ago, Mary Haanen and Rich Templeton were teenagers and newly arrived at Union College. They met at the Rathskeller dining hall and the rest, as they say, is history.
On Friday, the long-married couple returned to Union (N.Y.) College for a remarkable announcement. In front of an audience of hundreds gathered in the Memorial Fieldhouse for a fundraising event, school President David Harris announced that Mary and Richard Templeton have committed to donating $51 million to the college.
You read that right. $51 million."
>>
Why It Matters
: That's the biggest donation in Union's 225-year history.
>>
Situational Awareness
: The couple, living Dallas, Texas, had three children, and their lives were better than they could have ever dreamed possible, Richard Templeton has said. But in 2013, while on a family beach vacation, Mary had waded out into the water when she was picked up by a massive wave and slammed into the ocean floor. She was instantly paralyzed.
>>
Reality Check
: In a speech that
CNN described
as the "one graduation speech you should watch," Richard talked about the power of his wife's resilience. Mary, in turn, talked about her struggle and determination to overcome, small step by small step. "Small and steady steps can be quite big and spectacular," Mary said. "They move you to a bigger place."
>>
The Final Word
: Mary said her goal is to leave the people and places she touches better than how she found them.
Go Deeper
3. Mat Time
It's regional championship weekend on the mat as teams and individuals strive to qualify for the NCAA Division III meet on March 10-11 in Cedar Rapids. The final dual-meet team ranking is below followed by the regional sites with dates.
Top-Ranked Wrestlers
125: Carlos Champagne (Wabash); 133: Kristian Rumph (Wartburg); 141: Troy Stanich (Stevens); 149: Ryan Anderson (Centenary); 157: Grant Zamin (UW- La Crosse); 165: Kyle Hatch (Wabash); 174: Cornell Beachem (Mount St. Joseph); 184: Tanner Vassar (Augsburg); 197: Guy Patron (Loras); 285: Drew Kasper (Otterbein).
Complete Rankings
Regional Sites / Dates
Central: Merillat Sports Center, Adrian MI (FRI-SAT)
Southeast: Hitchcock Arena, Mechanicsburg, PA (FRI-SAT)
Upper Midwest: Si Melby Hall/Kennedy Center, Minneapolis, MN (FRI-SAT)
Lower Midwest: Five Flags Center, Dubuque, IA (SAT-SUN)
Mideast: Glazer Area, Ithaca, NY (SAT-SUN)
Northeast: The Recreation Center, Providence, RI (SAT-SUN)
SPONSORED MESSAGE
D3Playbook
is looking for sponsors. NCAA Division III has a desirable demographic that can help your company thrive. Reach more than 700 influencers in NCAA Division III today. Contact
d3playbook@gmail.com
to get your company in front of decision-makers in small-college athletics.
5. Rankings

>> Welcome: Messiah
>> Movers and Shakers: Claremont-M-S (+2)
>> What We're Watching: #6 Franklin & Marshall at #7 York (WED); #24 Scranton at #19 Ithaca (WED).




>> Hello: Stevenson.
>> Upward Bound: Ursinus (+3), Dickinson (+3).


Know someone that would enjoy receiving d3Playbook?
Send an email to d3Playbook@gmail.com with "subscribe" in the subject line