D3Playbook
FEBRUARY 21, 2020 | written by STEVE ULRICH
your must-read briefing on what's driving the day in NCAA Division III

Our goal is to keep you - the influencers in DIII athletics - apprised of what's happening around Division III - the games, polls, news, happenings, awards, calendar of events, and much more. We hope you enjoy d3Playbook and that you'll share this with your friends, colleagues and co-workers.
>> Good Friday Morning! 40 years ago tomorrow, Team USA made ice hockey history that we commemorate today.

>> Today's Word Count: 1,472. Smart, concise. An easy Friday morning read (and history lesson) that's less than 6 minutes.

>> Thanks for reading D3Playbook. Please recommend us to a friend or co-worker. Or share with your staff.





1. Do You Believe in Miracles? YES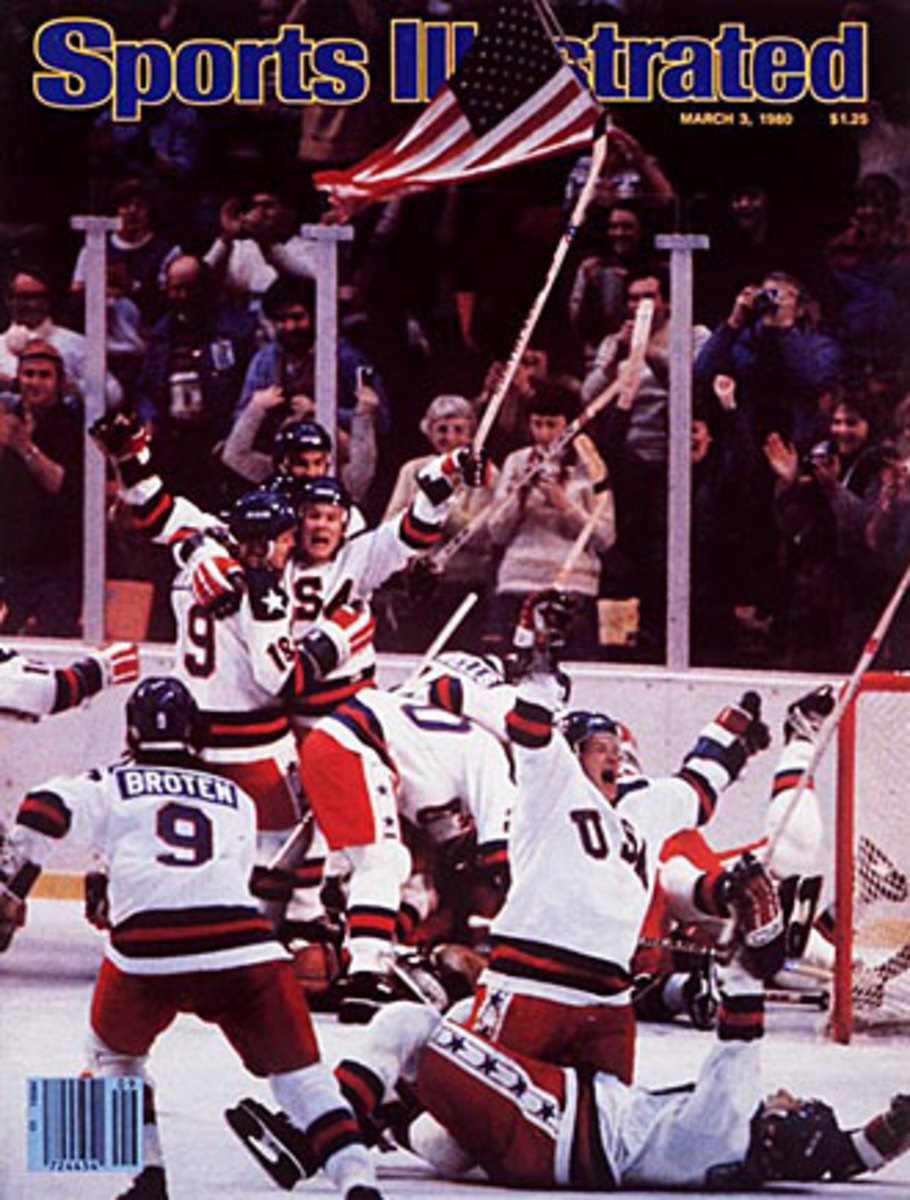 Simply put, it remains the most amazing sporting event I've seen in my six decades on the planet. To those under 45, all you know is the movie, "Miracle." To those above 50, you probably remember where you were when you heard that American collegians defeated the powerful Russian National Team, 4-3, in the 1980 Olympic semifinal on Feb. 22 in Lake Placid, N.Y.
Repeat. American collegians.
Yes, this isn't a story about Division III
. It's a story about perseverance. A story about dedication. It's a story for the ages.
>>
Quotable
: "(Head coach)
Herb (Brooks)
was really quite brilliant. There's always that saying, "I wasn't looking for the best players. I was looking for the right players." He had a character in mind who he wanted, a type of personality, and it had a lot to do with how he was brought up. He had this unique ability to see talent inside people, see an attitude about them and bring them to a level that they weren't even capable of imagining. -
Jim Craig, goaltender
>>
Quotable II
: "He said, "The guys we're going to have on this team have been competing for national championships for years, and they just don't like each other. So the only way I know how to make them a team is for them to really dislike me."" -
Craig Patrick, assistant coach
>>
Situational Awareness
: On Feb. 9, 1980, days before the Olympics begin, Team USA played an exhibition game at Madison Square Garden against the Soviet Union, considered the heavy gold-medal favorite and the world's best hockey team. They crushed the Americans 10-3.
>>
What They're Saying
: "In Texas, California, Arizona, places that weren't hockey hotbeds then, it was more about America and the flag and
The Star-Spangled Banner
and what a great country we have. I think the "USA! USA!" chants that we hear all the time now at sporting events all started in Lake Placid." -
Mike Eruzione, captain
>>
Quotable III
: "I got unbelievably lucky. I'm not thinking about a line, so whatever I said at that point was going to come out of my heart. I've got five seconds to let whatever emotion is in me come out and say the words. I can't believe those words came out and those words live. But that was serendipitous. That's what came out of my heart and not my brain." -
Al Michaels, announcer
>>
Quotable IV
: "So as he was shrieking it out, it was the shiver of the 'Do you believe in miracles?' and then the punctuation of it with the pause and then…Yes! The 'Do you believe in miracles?' is what gets remembered and what comes to stand for that particular moment. But it was the punctuation of it with the 'Yes!' that just was the real, ultimate punchline to it. He got that just right." -
Ken Dryden, color analyst
>>
Be Smart
: "Because the game is played at 5:00, ABC airs it on tape delay, meaning the U.S. players can watch the game they just played hours earlier." (Editor's Note) I remember hearing the news, leaving my brother's basketball game, and returning home to watch.
>>
The Final Word
: "A miracle is a catchy name, and it sounds nice, but it was an accomplishment by a group of guys who believed, who worked hard, who sacrificed a lot and accomplished something that was so amazing." -
Eruzione
>>
Read More
from
Matt Larkin, The Hockey News
>>
The Final 60 Seconds
>>
What if there had been a rebound
on Eruzione's game-winning goal -
John Harrington
(Saint John's HC, 1993-2008)
>>
Listen to Al Michaels
talk about the medal ceremony
>>
The Olympic Experience
as seen by Mark Johnson
>>
ESPN's SportsCentury
2.
Demers' Historic Season
by John Walters, Sports Illustrated
"Five … Six … Seven …
Eric Demers
launches not shots but repeating rainbows, and their arcs overlap, tracing a parabola as pure as a starlit New England winter's evening. Such a night finds college basketball's leading scorer hoisting dozens of three-pointers inside a converted mechanic's garage in Salem, Mass. The fifth-year senior guard at (Division III) Gordon College has conscripted a visitor to rebound, and his new bride,
Lauren
, to feed him. The exercise is rhythmic and, for his aides, relatively effortless.
Eight … Nine … Ten ...
Demers averages 33.3 points per game and has eclipsed 30 in 15 of his last 15 outings, with a season-high 49 back in December, against Nichols College. That scoring average, though? It should be higher. Last November, in an exhibition against Hartford that by NCAA rule counts on the record books for only the Division I side, Demers scored 42 points that are
not
reflected in his average. "They were triple-teaming me," says Demers, who stands 6' 1". "Do they really need three D-I dudes to guard a single D-III guy?"
Has
anyone
outside the idyllic Gordon College campus been watching?
With even 29 points in the Fighting Scots' regular season-ender against Nichols on Saturday (before a Commonwealth Coast Conference tournament game next Tuesday), Demers, a senior, will become only the sixth player this century, at any level, to average 33 or more across a season.
>>
What They're Saying
: "
Peter McLelland
, a Gordon alumnus who chronicles the team's endeavors on his blog, Writing Scots, assesses the nation's leading scorer thusly: "Eric doesn't have a 'range.' Wherever he gets the ball, that's it.""
>>
Continue Reading
about the nation's top scorer
Would you like to sponsor this newsletter? Would you like to advertise an open position in your department for a head coach or administrator? Contact d3playbook@gmail.com to get your job opening in front of decision-makers in small-college athletics.
3.
Weekend Preview
Tufts (Wesleyan)
Hope (#23 Trine)
DePauw (at Wooster)
UW-Whitewater (at UW-Stout)
Bowdoin (Hamilton)
Amherst (Bates)
Whitman (FRI at Linfield)
Wartburg (at Dubuque)
Transylvania (Bluffton)
Loras (at Nebraska Wesleyan)
>> Others to Watch: Vassar at Ithaca (FRI); St. Elizabeth at Keystone; Regis at St. Joseph's (Maine); UW-Superior at Bethany Lutheran.

Swarthmore (at McDaniel)
Randolph-Macon (at Guilford)
St. Thomas (St. Mary's)
Saint John's (at Bethel)
Wittenberg (Hiram)
Nebraska Wesleyan (Loras)
UW-Platteville (at UW-Stevens Point)
Emory (FRI at Carnegie Mellon; SUN at Case Western)
Mount Union (at Capital)
Johns Hopkins (Haverford)
>> Others to Watch: #22 Babson at #15 Springfield; #25 Brockport at Oswego; Wesley at Gwynedd Mercy; Nazareth at St. John Fisher; Middlebury at Trinity (Conn.).


Ice Hockey (M) - USCHO

Norwich (Castleton)
Geneseo (at Brockport)
Utica (FRI vs. King's; SAT vs. #13 Wilkes)
UW-Eau Claire
Hobart (Skdimore)
Adrian (FRI/SAT vs. Aurora)
Trinity (FRI/SAT vs. Wesleyan)
Babson (Southern Maine)
U. of New England (FRI vs. Wentworth; SAT at Becker)
Lake Forest (FRI/SAT vs. Trine)
>> Others to Watch: Elmira at Stevenson (FRI); Endicott at Curry; Amherst at #12 Williams.

Ice Hockey (W) - USCHO

Plattsburgh (FRI/SAT at Morrisville)
Middlebury (FRI/SAT at Bowdoin)
UW-Eau Claire (FRI/SAT vs. UW-River Falls)
Gustavus Adolphus (FRI/SAT vs. Bethel)
Elmira (FRI vs. Utica; SAT vs. Nazareth)
Norwich (vs. Salem State)
UW-River Falls (FRI/SAT vs. UW-Eau Claire)
Hamline (FRI/SAT vs. St. Catherine)
Endicott (FRI/SAT vs. U. of New England)
Adrian
>> Others to Watch: Augsburg vs. St. Thomas (FRI/SAT); Nazareth at William Smith.

all games/matches Saturday unless indicated


5.
Weekend's Best
#3 NYU at #1 Springfield.
Men's games
: #10 Gettysburg at #1 Salisbury; #3 Cabrini at #13 Lynchburg.
Women's game
: #7 Franklin & Marshall at #8 Washington and Lee.
Women's Matches
: #19 NYU vs. #25 Swarthmore (FRI); #18 Trinity (Texas) vs. #32 Linfield; #21 Cal Tech vs. #22 Southwestern (SUN).
Men's Matches
: #15 Mary Washington vs. #22 Sewanee; #13 Trinity (Texas) vs. #16 Pomona-Pitzer (SUN).
#7 Cortland vs. #13 Salisbury.
#13 East Texas Baptist vs. Howard Payne; #11 Linfield vs. La Verne.
6. 1 Inspirational Thing

Truly ... a miracle on ice.
Know someone that would enjoy receiving d3Playbook?
Send an email to d3Playbook@gmail.com with "subscribe" in the subject line