D3Playbook
FEBRUARY 27, 2020 | written by STEVE ULRICH
your must-read briefing on what's driving the day in NCAA Division III

Our goal is to keep you - the influencers in DIII athletics - apprised of what's happening around Division III - the games, polls, news, happenings, awards, calendar of events, and much more. We hope you enjoy d3Playbook and that you'll share this with your friends, colleagues and co-workers.

>> Good Thursday Morning! Here comes the winds ... and the lake-effect snow.
>> Today's Word Count: 1,269. Brief, concise. Easy to digest.

>> Thanks for reading D3Playbook. Please recommend us to a friend or co-worker.


1. Colleges Brace for Covid-19
by Karin Fischer, Chronicle of Higher Education
"With federal health officials sounding the alarm, American colleges are bracing for more-widespread outbreaks of coronavirus within the United States. They are readying communications plans, cautioning students to use preventive health measures, and even preparing for possible college closures.

"It's not so much a question of if this will happen in this country anymore but a question of when this will happen," Nancy Messonnier, director of the National Center for Immunization and Respiratory Diseases, part of the Centers for Disease Control and Prevention, said on Tuesday. "We are asking the American public to prepare for the expectation that this might be bad."

The contagious respiratory illness, now formally known as Covid-19, broke out in China in late 2019, but it has been spreading around the world, upending the stock market, and raising fears of a global pandemic.

With large numbers of students and faculty members who travel internationally to study, teach, and do research, colleges could be vulnerable to outbreaks, said Sarah Van Orman, chief health officer of University of Southern California Student Health. Another risk factor is colleges' relative density, with students studying and living in close quarters. "We're really at the front lines," said Van Orman, a professor of family medicine.
>> Good News: In colleges' favor, however, is that younger people so far have contracted Covid-19 at lower rates than others and have recovered better than those who are older and sick.
>>
Lesson Plan
: Meanwhile, colleges are seeking to minimize students' risk on campus and to educate them in preventive health measures. Much of colleges' advice on coronavirus mirrors that for other infectious respiratory illnesses: Wash your hands frequently. Cover your mouth when you sneeze or cough. Try not to rub your eyes or nose. Stay home if you're sick. Avoid being in close contact with others.
>>
Be Smart
: Because of a lack of transparency in reporting in the early stages of the outbreak, scientists remain unsure of just how fatal the latest coronavirus is. If Covid-19 turns out to be especially infectious, colleges might consider "closing down for a block of time to reduce transmission," U. of Central Florida associate VP
Michael Deichen
said.
>>
Keep Reading
2. Sultans at Swat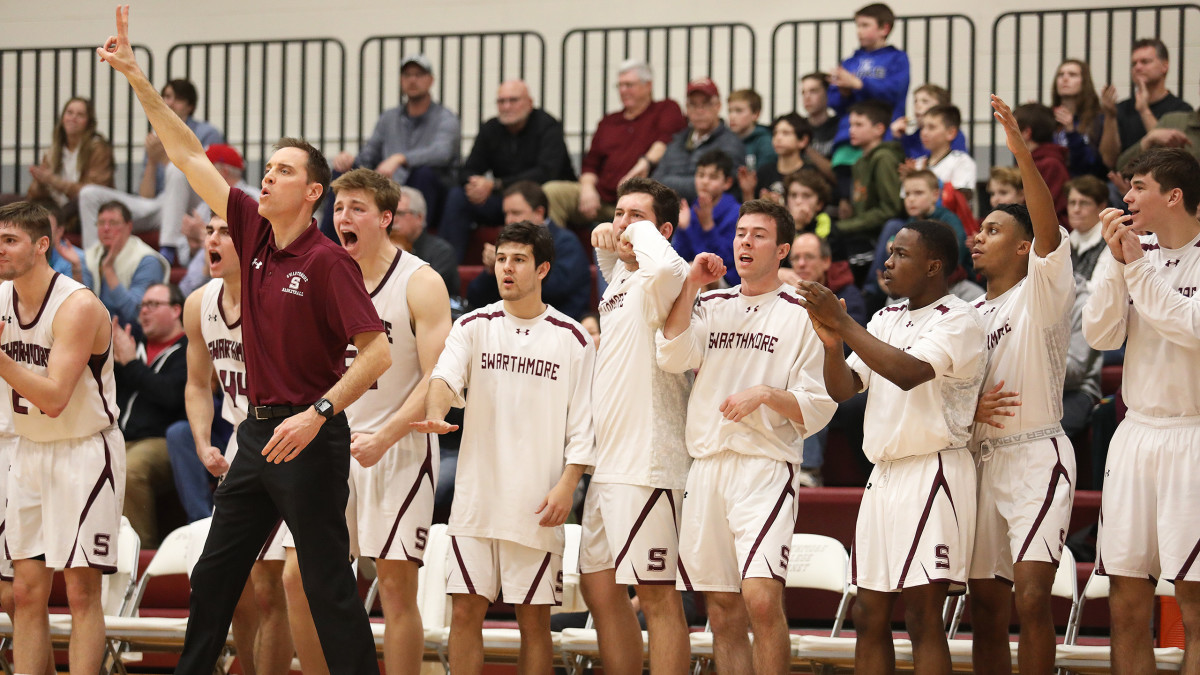 by Ben Pickman, Sports Illustrated
"On Saturday night,
Zac O'Dell
and
Nate Shafer
were in their dorm alongside their teammates on Swarthmore College's campus watching the 76ers-Bucks game when the senior co-captains' phones started blowing up. Shafer looked down to see an ESPN update stating that
San Diego State had lost
at home to UNLV, 66-63. The texts promptly rolled in. "Congrats, you guys are the last undefeated team," many of them read.
Coming into last weekend, there were only two teams throughout the three divisions of NCAA men's basketball that had yet to lose a game: Division I SDSU and Division III Swarthmore. The Garnet—by definition a red silicate mineral—are now the only team still undefeated, the lone men's program to win all of its regular season games.
"It was kind of a weird environment," O'Dell says, reflecting on receiving the news of SDSU's loss. "Another team just lost, nothing really happened for us."
The fact remains that one of America's most rigorous and prestigious academic institutions also now sports the men's basketball team that had the most successful regular season relative to its competition.
Swarthmore, located just 11 miles from Philadelphia, accepts just 9% of potential applicants,
per the school's 2018-19 Common Data set.
It enrolled just 1,647 total students last year and its average SAT score was 1463. It has shaped countless Nobel Prize winners, MacArthur geniuses and Rhodes Scholars."
>>
Reality Check
: O'Dell, a chemistry major, is a member of the American Chemical Society, and has presented some of his research at academic conferences. In the fall, he co-authored a paper entitled, "In Situ Quantification of Silver Nanoparticle Dissolution Kinetics in Simulated Sweat Using Linear Sweep Stripping Voltammetry," becoming likely the only active college basketball player to see his work published in a recent issue of
Environmental Science & Technology
. He is currently applying to PhD programs, focusing on analytical or physical chemistry.
>>
Big Man on Campus
: For the past three years, Shafer has volunteered at a local preschool, located within minutes of the team's gym. As a thank you for his efforts, dozens of kids that he had worked with attended the team's Feb. 8 game against Franklin & Marshall. That afternoon, Tarble Pavilion was filled with six, seven and eight-year-olds all wearing Swarthmore shirts with Shafer's No. 40 on it. "It's definitely a special moment," he says. "Not one you forget."
>>
Go Deeper
3. Regional Rankings
Men's Rankings
Atlantic: 1-Stevens, 2-Yeshiva, 3-Eastern
Central: 1-UW-Platteville, 2-Washington U., 3-Benedictine
East: 1-Brockport, 2-Rensselaer, 3-Hobart
Great Lakes: 1-Mount Union, 2-Wittenberg, 3-Marietta
Mid-Atlantic: 1-Swarthmore, 2-Johns Hopkins, 3-Christopher Newport
Northeast: 1-Springfield, 2-Middlebury, 3-Tufts
South: 1-Emory, 2-Randolph-Macon, 3-Texas-Dallas
West: 1-St. Thomas, 2-Nebraska Wesleyan, 3-Saint John's
Women's Rankings
Atlantic: 1-Marymount, 2-Rowan, 3-DeSales
Central: 1-UW-Whitewater, 2-Chicago, 3-Wheaton
East: 1-New Paltz, 2-Ithaca, 3-Cortland
Great Lakes: 1-Hope, 2-Baldwin Wallace, 3-DePauw
Mid-Atlantic: 1-Messiah, 2-Scranton, 3-Widener
Northeast: 1-Tufts, 2-Amherst, 3-Western New England
South: 1-Trinity (Texas), 2-Oglethorpe, 3-Texas-Dallas
West: 1-Wartburg, 2-Bethel, 3-Loras
4. Net Generation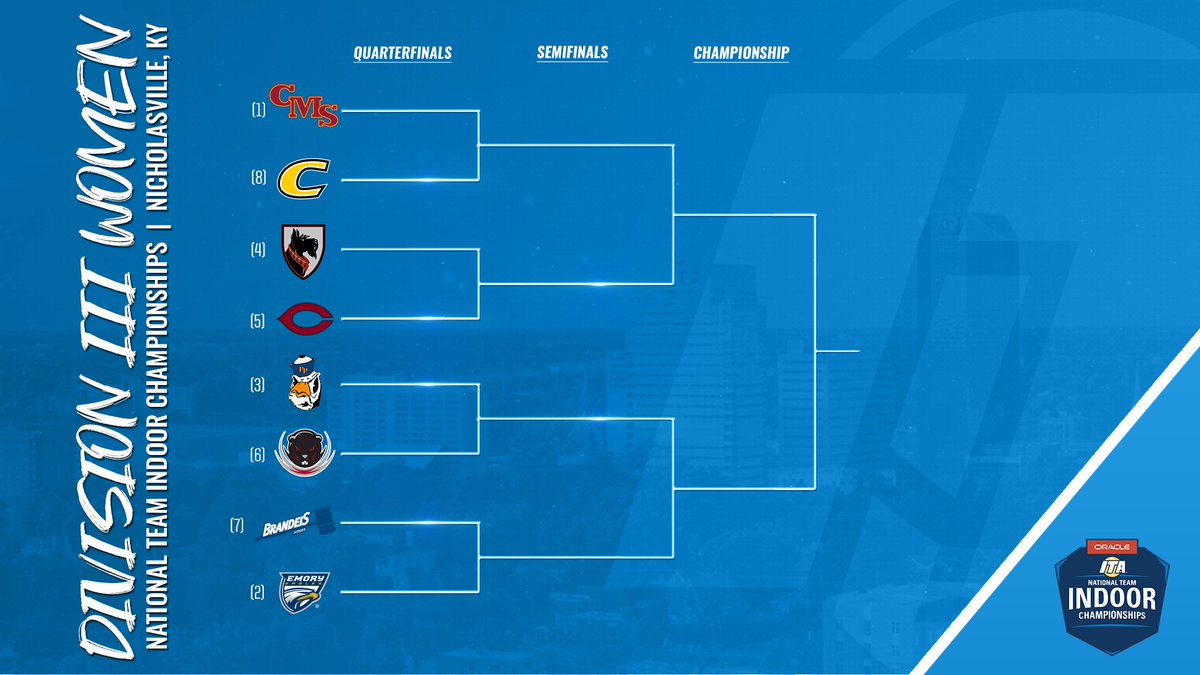 The 12th annual
ITA Division III National Women's Team Indoor Championship
will be hosted by Centre this weekend. The tournament showcases eight of the top teams in a three-day event to crown an indoor national champion.
Friday's Quarterfinals
#2 Claremont-Mudd-Scripps vs. Centre
#3 Emory (defending champion) vs. #10 Brandeis
#5 Pomona-Pitzer vs. #9 MIT
#7 Carnegie Mellon vs. #8 Chicago
Would you like to sponsor this newsletter? Would you like to advertise an open position in your department for a head coach or administrator? Contact d3playbook@gmail.com to get your job opening in front of decision-makers in small-college athletics.
5. About Last Night
Connor Carbo
stopped 51 shots as
sixth-seeded Wentworth (8-15-3) upset #3 Curry, 2-1
, in the quarterfinals of the CCC tournament. He made 56 saves in a 6-3 loss to the Colonels on Jan. 24.
Darius Dangerfield
scored 25 points and handed out six assists as
fourth-seeded Lycoming (19-8) went on the road and upset top-seeded Widener, 90-77
, in the MAC Commonwealth semifinals.
Fourth-seeded St. Scholastica (15-12) took out top-seed Northwestern, 85-82
, in the UMAC semifinals as
Jack Silgen
scored 27 points. It was the first home tournament loss for the Eagles since 2010.
Owen Yake
scored four times while
Scott Nizolak
tied a program record with six assists as
Elizabethtown (2-1) upset No. 15 Dickinson, 16-12
.
Megan Jackson
scored the game-winning goal in double overtime
to lift No. 6 Franklin & Marshall (2-0) past No. 7 York, 10-9.
Margaret Rosaschi
made 12 saves, including a stop on a free-position shot in the closing seconds, as
Geneseo (1-1) held off No. 15 William Smith, 15-14
.
Chris Fisher
went 2-for-5 with three RBI as
Huntingdon (7-1) knocked off No. 3 Birmingham-Southern, 10-5
.
Top-ranked Virginia Wesleyan took a pair of games from No. 9 Salisbury
, winning by identical 10-1 scores.
Julia Sinnett
went 4-for-4 in the opener and
Jessica Goldyn
had three hits and three RBI in the nightcap.
Know someone that would enjoy receiving d3Playbook?
Send an email to d3Playbook@gmail.com with "subscribe" in the subject line