D3Playbook
FEBRUARY 5, 2020 | written by STEVE ULRICH
your must-read briefing on what's driving the day in NCAA Division III

Our goal is to keep you - the influencers in DIII athletics - apprised of what's happening around Division III - the games, polls, news, happenings, awards, calendar of events, and much more. We hope you enjoy D3Playbook and that you'll share this with your friends, colleagues and co-workers.

>> Welcome to Wednesday. Mookie Betts to the Dodgers? Blockbuster!

>> Thanks for reading D3Playbook. Please recommend us to a friend or co-worker.

>> Today's Word Count: 898. An easy morning read. Less than four minutes.


1. A Congressional Issue?
"At first blush it seems like a bad idea whose time has come.
Salaries at the highest level of college football and basketball have grown to levels none of us could have ever anticipated. Not only are top head football coaches making in the range of $7-9 million a year, but the highly-coveted coordinators are now making $2 million plus.
There are two things that are contributing to this explosion of salaries:
1--There is simply more money being poured into college football than ever before.
2—It means that if you're a director of athletics, you can't let a highly-valued coach walk away simply because of money.
So it's an issue. Not going to deny it. It's not a healthy look when a head football coach is making $9 million and the players are still fighting for the scraps they can get from the free market if the Name, Image, and Likeness legislation finally comes to pass.
But dear friends, the answer to this dilemma is not going to be found in the Congress of the United States.
Dennis Dodd
of CBSSports.com reported last week that there is a bill to create the
Congressional Advisory Commission on Intercollegiate Athletics (CACIA)
"to investigate the relationship between institutions of higher education and intercollegiate athletics programs.""
>>
Situational Awareness
: The schools can't help themselves. Their deep-pocketed alumni want to win and if you don't win they quit writing the checks. And they also start firing athletics directors.
>>
Reality Check
: Congress, no matter how well-intentioned, has no more business telling public institutions how much they should pay football coaches than they have telling schools how much they should pay the head of the Chemistry department. Each university, its president and presiding body, determine what its commitment is going to be for each department. And that includes athletics.
>>
The Final Word
: But now that some schools have made a mess of things, don't ask Congress to bail you out. Fix your own mess.
>>
Keep Reading
from
Tony Barnhart

2.

NCAA Board Seeks Independent Member
The NCAA is
seeking nominations
for an independent member of the NCAA Board of Governors. Current member
Mary Sue Coleman
, president of the Association of American Universities, completes her one-year transitional term this fall.
Nominations may be submitted by NCAA members or the public until Feb. 21 via NCAA Program Hub. The Board of Governors Executive Committee, which includes presidents and chancellors from all three divisions and the lead independent member, is the nominating committee for independent board members and will make recommendations to the full board for approval.
NCAA membership voted in January 2019 to include leaders from outside higher education to join college and university presidents on the board, which sets the direction for the future of college sports. The five independent leaders modernize and provide increased objectivity to the Association's highest-ranking governance body.
3. Shave and Taper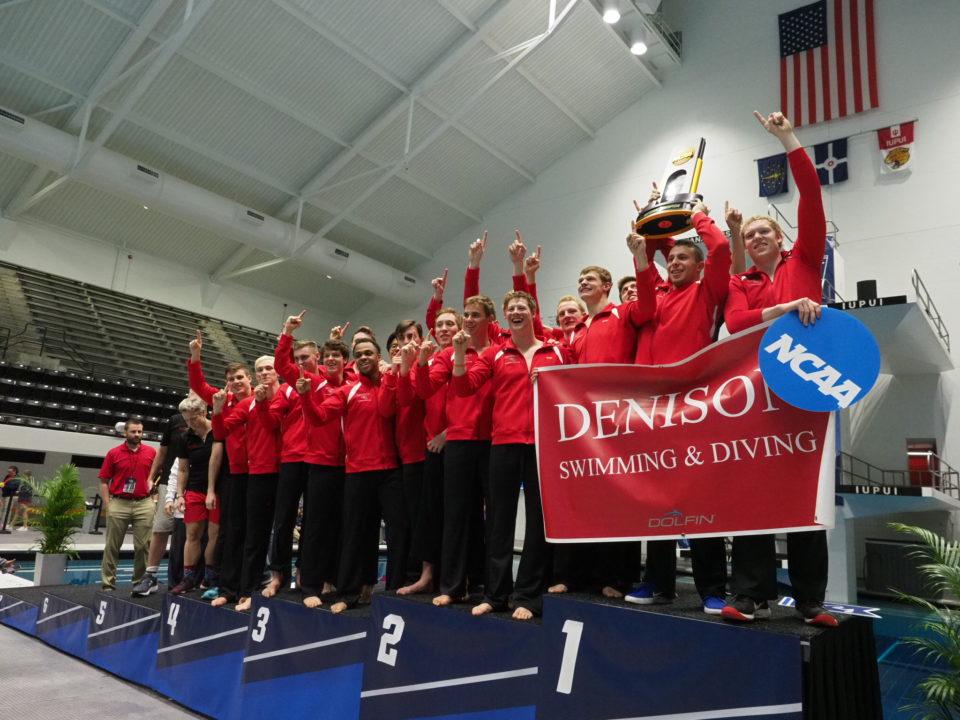 "It's February! Time for the myriad college conference championships. We have put together
a listing of the championship meets in the NCAA's Division III
that take place over the next three weeks. While we've done our best to track them all down, there are many meets going on around the nation this month so if your favorite meet isn't on this list, let us know and we'll add it below." -
Anne Lepesant, SwimSwam
The fun begins on Thursday with the
Old Dominion Athletic Conference
championship meet in Greensboro, N.C.
>>
The Entire List
SPONSORED MESSAGE
Would you like to sponsor this newsletter? Would you like to advertise an open position in your department for a head coach or administrator? Contact d3playbook@gmail.com to get your job opening in front of decision-makers in small-college athletics.
5.
Rankings

>> Welcome: There were two new additions to the top-25 this week: No. 21 Wittenberg and No. 24 Bates. It was an incredible 72-spot jump for the Tigers as they own their best ranking in program history thanks to the efforts of Alexis Gray and Alexis Johnson, who took over the national lead in the 800 and the long jump, respectively.





>> Hello: There were two new additions to the top-25 this week: No. 18 RPI and No. 22 Texas Lutheran. The Engineers had the biggest jump out of any team in the top-25 this week with a 17-spot increase, while the Bulldogs own their second best ranking in the past five years.


7. 1 Strange
Thing