D3Playbook
JANUARY 23, 2020 | written by STEVE ULRICH
your must-read briefing on what's driving the day in NCAA Division III

Our goal is to keep you - the influencers in DIII athletics - apprised of what's happening around Division III - the games, polls, news, happenings, awards, calendar of events, and much more. We hope you enjoy d3Playbook and that you'll share this with your friends, colleagues and co-workers.

>> Good Thursday Morning! Congrats to NJCU's Bob Frederick on winning the NCAA's Theodore Roosevelt Award.

>> Today's Word Count: 938. Brief, concise. Gets you back into the California sun quickly.

>> If this email was forwarded to you, we invite you to sign up for your own in-box delivery below. Also well worth it.


1. Management Council Reports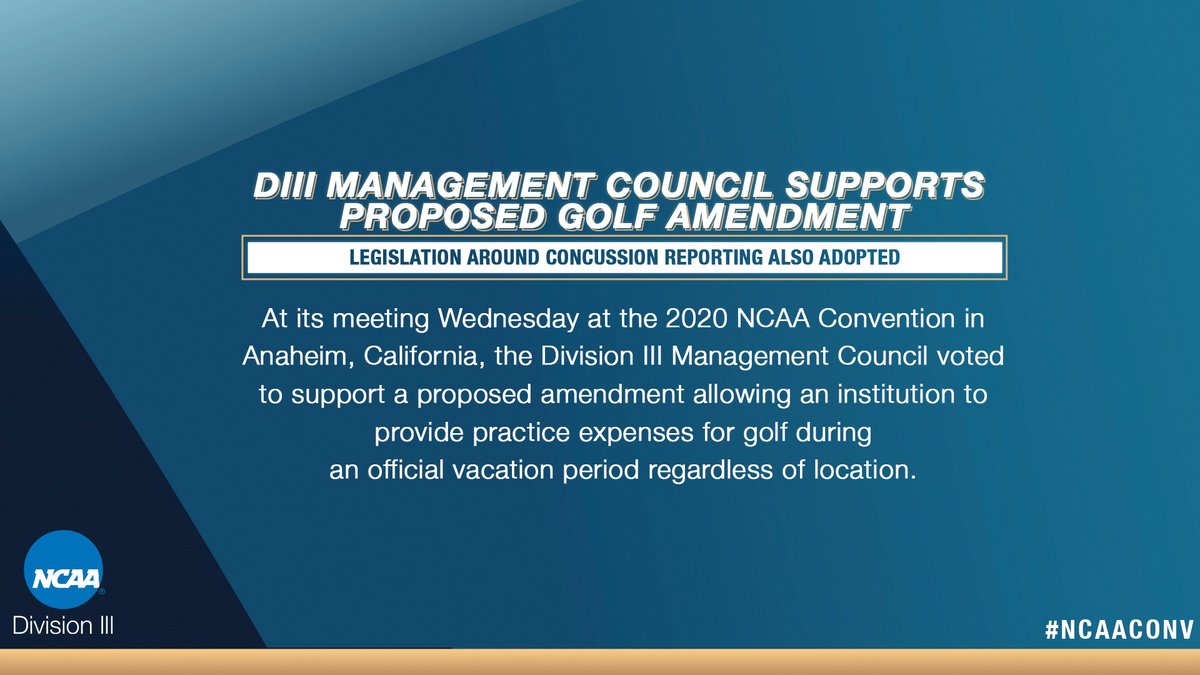 At its meeting Wednesday at the 2020 NCAA Convention in Anaheim, California, the Division III Management Council voted to support a proposed amendment allowing an institution to provide practice expenses for golf during an official vacation period regardless of location.
The latest proposal eliminated swimming and diving from the original amendment proposed in October. The Division III Presidents Council will consider the new recommendation regarding golf practice expenses at its meeting Thursday. Then, the proposal will be voted on at Saturday's Division III Business Session.
The Management Council also voted to take no position on a resolution that asks the Division III Softball and Baseball Committees to work together on a plan to address concerns about timing of those sports' championship tournaments. The council noted that relevant governance committees are considering related changes to championship timing, and any plan should account for additional factors such as budgetary impact. The council agreed to explain the status of the issue during the Division III Business Session on Saturday.
>>
What They're Saying
: "We recognize that practicing golf has specific challenges related to weather. For these student-athletes, practicing indoors doesn't necessarily translate to success in competition," said
Stevie Baker-Watson
, chair of the Management Council and DePauw associate vice president for campus wellness and athletics director. "We agree with the sponsors' rationale that this proposal will allow golf student-athletes to practice in conditions consistent with the competition and remove constraints under the current bylaws."
>>
Of Note
: The Management Council adopted legislation to require schools to report annually all sport-related concussions in student-athletes, including the resolution of those concussions.
>>
Read More
2. Admissions Upheaval in Mass.
"College admissions often thinks of itself as the cliched mix of art and science: Part marketing and data analytics, but still a lot of old-school relationship building.
In recent years though, an industry-wide spike in the number of applications from high school students has complicated the fine-tuned formula for figuring out which students – and how many – will ultimately enroll.
The application surge has sent acceptance rates and yield rates, which measures how many enroll, haywire in the last decade, according to a
Worcester Business Journal
review of federal admissions data for four-year colleges based in Central Massachusetts."
>>
The Big Picture
: High school graduates peaked in Massachusetts in 2013, according to the Western Interstate Commission for Higher Education, which projects a 12% drop in the following two decades from that time.
>>
Of Note
: Nichols College in Dudley – where applications are up 23% for the decade, but first-year enrollment is down 9% – has been working to encourage more students to apply as early-admissions students. Those cases used to account for just one out of 10 applicants but today is half, said
William Boffi
, Nichols' vice president for enrollment. Early-admissions students are more likely to enroll, so Nichols has been working to get more of them.
>>
Worth Noting
: Another factor has been credited for Anna Maria's rise in popularity: football. Anna Maria started playing the sport in 2009, a year when applications doubled. The team has opened the way for more liveliness on campus,
John Hamel
, vice president of enrollment, said. "It creates socialization and fun," Hamel said. "For alumni, they love to come back and reminisce."
>>
Keep Reading
from
Grant Welker, Worcester Business Journal

3. Preseason Top 25
Chapman
Webster
Trinity (Texas)
Birmingham-Southern
Heidelberg
Southern Maine
Cortland
Washington U.
Babson
Wooster
11-15: Kean, Denison, Salisbury, Johns Hopkins, Adrian.
16-20: UMass Boston, UW-Whitewater, Coe, Concordia-Chicago, Washington & Jefferson.
21-25: North Central (Ill.), Texas Lutheran, Concordia (Texas), Rowan, Christopher Newport.
Would you like to sponsor this newsletter? Would you like to advertise an open position in your department for a head coach or administrator? Contact d3playbook@gmail.com to get your job opening in front of decision-makers in small-college athletics.
6. What Analytics Has Wrought
7. 1 Old-School Thing
Do you remember the old "Backyard" computer game series (baseball, basketball, football, etc.)? Who were you?