D3Playbook
JANUARY 9, 2020 | written by STEVE ULRICH
your must-read briefing on what's driving the day in NCAA Division III
Our goal is to keep you - the influencers in DIII athletics - apprised of what's happening around Division III - the games, polls, news, happenings, awards, calendar of events, and much more. We hope you enjoy d3Playbook and that you'll share this with your friends, colleagues and co-workers.

>> Good Thursday Morning!

>> Today's Word Count: 1,222. Just about five minutes and worth your time.

>> If this email was forwarded to you, we invite you to sign up for your own in-box delivery below. Also well worth it.


1. Heads in the Game
photo by Patrick Montero
"If you click on the website for the nonprofit sports-based
Harlem Lacrosse
—where
Joel Censer
(Haverford '08) is now chief program officer after starting out as a coach—you'll notice something quirky. The very last thing on the organization's list of its supports for at-risk students is ... "lacrosse instruction."
That's by design according to Censer, who joined in 2013 as the second of two employees and watched Harlem Lacrosse expand outside of New York City to Boston, Los Angeles, Baltimore, and Philadelphia.
The goal is to have a lacrosse coach in schools all day to help students find success—both academic and in their everyday lives—by using the stick-and-ball team sport based on Native American games as the vehicle for helping kids "reach their full personal potential." Graduates of Harlem Lacrosse have gone on to attend independent and boarding schools, and been accepted to colleges receiving close to 40 million dollars in scholarship offers in the process."
>>
Why It Matters
: Before Censer was hired, he was writing features at USLacrosse Magazine and working with a professor at George Mason who was researching best practices in juvenile justice. "I was becoming interested in social justice issues in lacrosse, where there are real problems around equity and access. I had spent lots of time researching the history of the game and all that time learning and even reading lacrosse message boards helps me with what I do now. I wouldn't have that knowledge if I didn't have an interest in the community."
>>
The Big Picture
: The organization is built around the idea of the unique presence and power of a coach. It was started by a teacher in a New York City middle school who was struggling to connect with his special education class. One day, he brought the students to a nearby handball court and taught them lacrosse. The kids later had the highest test scores of any special education class in the history of the school.
>>
Between The Lines
: The big thing about Harlem Lacrosse is there's no barrier to entry—there are no cuts and no costs to be on the team. Anyone who wants to play can play, and parents don't have to drive their kid to a field. But the requirement is that students have to attend study hall and be invested.
>>
Keep Reading
courtesy of Charles Curtis, Haverford Magazine

2. Crystal Ball




CBS Sports sat down with retired Big Ten commissioner Jim Delany for a wide-ranging discussion on his tenure and what he sees as the future for college sports. And, although not asked directly, his answers foretell upcoming issues for Division III.


"Delany ended a 30-year run as Big Ten commissioner on Wednesday, Jan. 1. During his time atop one of the nation's biggest conferences, he arguably became the most powerful person in college sports. Certainly the most influential given that he oversaw a conference whose members were in states that accounted for a quarter of the nation's population.

Under Delany's watch, instant replay for

college football

was created. His vision for the Big Ten Network has surpassed anyone's wildest dreams. The league pulled in $750 million in revenue in the last financial year, surpassing even the SEC. For his efforts, Delany was rewarded with a

$20 million bonus in 2017

."

>>

The Big Picture

: "College sports is the tail of an institution; it's not the dog. "It can bring people together, but it can also set people against each other."

>>

Reality Check

: "I do think [major conferences] may need more autonomy. You can't have the smallest programs telling the larger programs what they can spend. Once we know the parameters of what comes out of Congress ... the rules of engagement will change. ... This is not about a money grab. It may be about too much money. We will get to a place of balance in postseason play, and I do think we'll get to a place in governance. What are the limits of a collegiate program?"


>> Worth Noting: When asked if he could foresee conferences growing beyond 14 teams ... "There is an outer limit where you're no longer a conference, you're a small association. If you can't play each other in something that resembles a round robin ... We [the Big Ten] addressed it by going to nine [conference football] games. We've addressed it by going to 20 games in basketball."

>> Keep Reading courtesy of Dennis Dodd, CBS Sports



3.

Mat Mayhem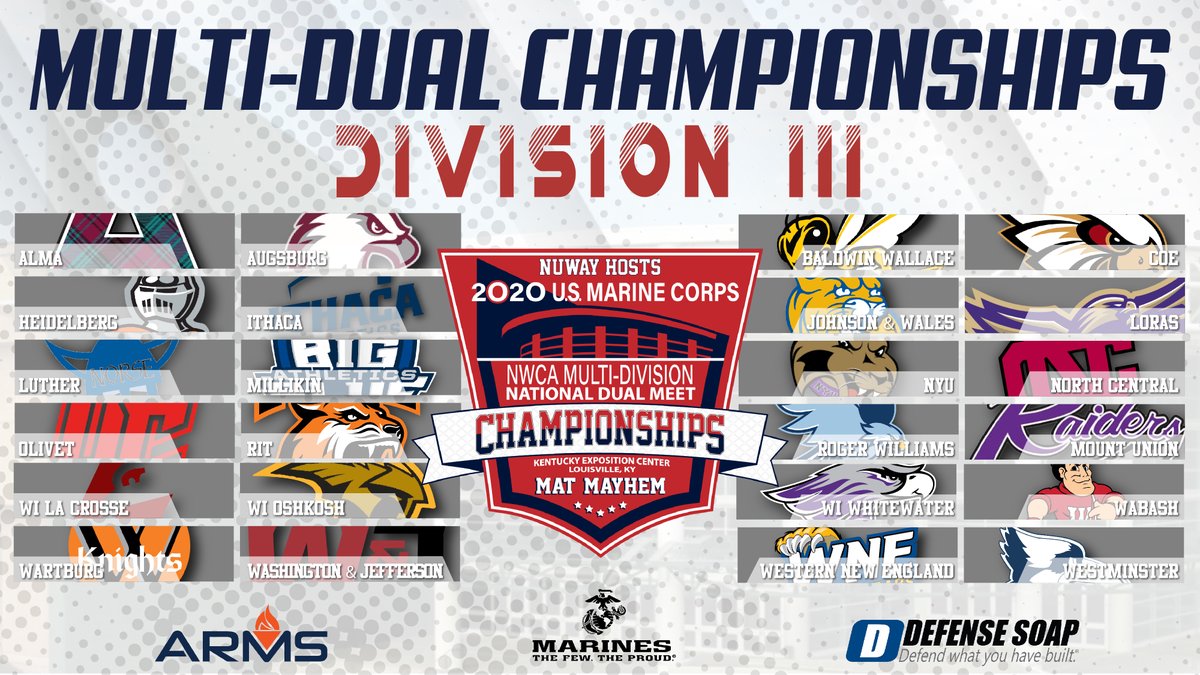 The 2020 National Wrestling Coaches Association National Duals begin tomorrow at the Kentucky Expo Center in Louisville. Here are the 24 Division III teams in the tournament.
Bracket 1
Roger Williams vs. Olivet
winner vs. #1 Augsburg
#9 UW-La Crosse vs. Westminster (Pa.)
winner vs. #8 Johnson & Wales
Bracket 2
Alma vs. #14 New York U.
winner vs. #5 Mount Union
#15 RIT vs. Washington & Jefferson
winner vs. #4 Loras
Bracket 3
Heidelberg vs. #19 UW-Whitewater
winner vs. #3 Wabash
#13 Ithaca vs. Western New England
winner vs. #6 Coe
Bracket 4
Luther vs. #10 North Central
winner vs. #7 Baldwin Wallace
#22 Millikin vs. UW-Oshkosh
winner vs. #2 Wartburg
>>
Video
>>
Live Results
Would you like to sponsor this newsletter? Would you like to advertise an open position in your department for a head coach or administrator? Contact d3playbook@gmail.com to get your job opening in front of decision-makers in small-college athletics.
6. Tweet of the Day


This is exceptional headline writing. Click to see why.


7. 1 Bed Thing
Bed frames
in the Athletes Village at this summer's Tokyo Olympics will be made of cardboard
(above),
AP reports
.
Takashi Kitajima, general manager of the village, said the beds "can stand up to 200 kilograms" — 440 pounds, or more than even the burliest athlete.
"They are stronger than wooden beds," Kitajima added.
The bed frames will be recycled into paper products after the games.
- courtesy of Axios