D3Playbook
JANUARY 28, 2020 | written by STEVE ULRICH
your must-read briefing on what's driving the day in NCAA Division III

Our goal is to keep you - the influencers in DIII athletics - apprised of what's happening around Division III - the games, polls, news, happenings, awards, calendar of events, and much more. We hope you enjoy d3Playbook and that you'll share this with your friends, colleagues and co-workers.

It's Tuesday. Just four days left in January. Is spring right around the corner?

>> Thanks for reading D3Playbook. Please recommend us to a friend or co-worker.

>> Today's Word Count: 1,279. Lots of pictures too. Brief, concise, smart.


1. A Portal to DI?
"Summit League Commissioner Tom Douple said Friday that "very positive progress" was made at the NCAA convention regarding St. Thomas's bid to reclassify to NCAA Division I, setting the stage for a final resolution in April.
The NCAA's Strategic Vision and Planning Committee discussed the matter in a Tuesday meeting. Though Douple will not receive an official briefing until next week, he said the information he has at this point makes him "very optimistic" that the NCAA will create a way for St. Thomas to move directly from Division III to Division I. Current NCAA rules require D-III schools to move up to D-II first and spend five years there as a full member before taking the next step.
Rather than granting an exception for St. Thomas, the NCAA is considering a process that would allow
any qualified school
to make the jump from D-III to D-I. Any rule change must be approved by the NCAA's Division I Council, which meets April 23-24."
>>
Quotable
: "We always thought it was going to come down to that April meeting, and that's where we're headed," Douple said. "The good news is, it looks like we'll have a resolution in April and figure it all out. … I'll say I'm very optimistic."
>>
On Campus
: "Right now we're in a little bit of limbo because we don't know for certain where we're going to be," men's basketball coach
Johnny Tauer
said. "We're spending more time evaluating a wide range of players in preparation for when we know our next direction."
>>
More
from
Rachel Blount, Minneapolis Star-Tribune

>>
Go Deeper on Recruiting Uncertainty
with
Chip Scoggins, Star-Tribune
2. Medical Expenses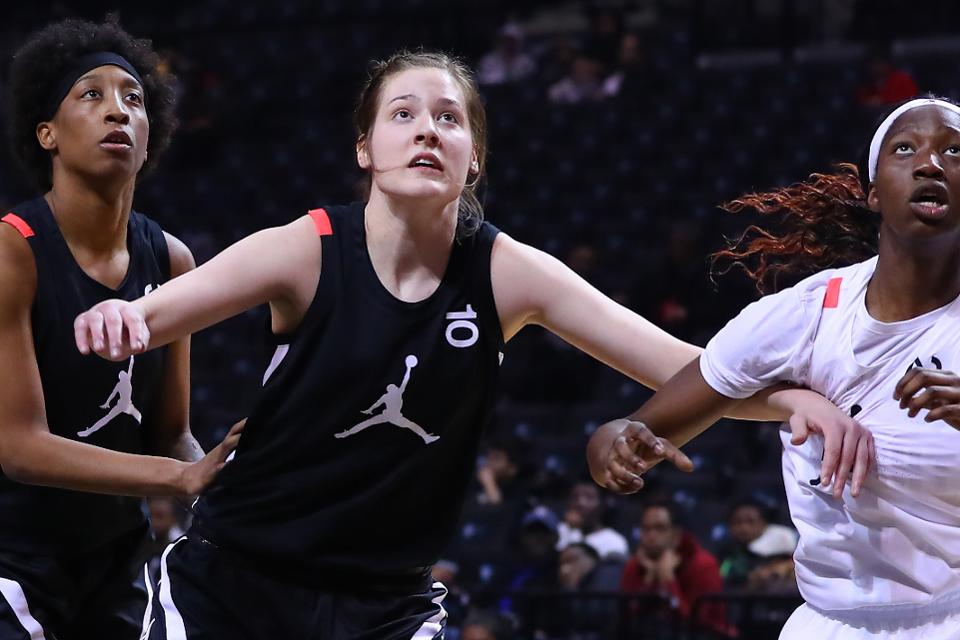 $22,000. That's the total amount of the medical bills that Oregon 6' 7" women's basketball player
Sedona Prince
is left with after a serious injury and post-surgery complications from her time with USA Basketball. It's her responsibility and no GoFundMe page is permitted to help her. If she were a non-athlete....well that's another story.
Prince suffered a broken tibia and fibula in August 2018 while playing in a tournament in Mexico. She felt her care in Mexico City was less than stellar and was quickly moved to surgery upon arrival in Austin, Texas, home of her UT Longhorns. In March, her surgeon recommended a second surgery. She transferred to Oregon during the summer only to suffer more complications when her antibiotics were causing kidney damage.
Prince continues her rehab and is hoping the NCAA grants her a hardship waiver. But she really wishes NCAA rules helped her pay the $22,000 medical debt.
>>
Quotable
: "As a 19-year-old collegiate basketball player, no one should have to go through this. Especially since I was under the care of my institution during the time of the hospital visit. The University I now attend (Oregon) is unable to pay this debt because of NCAA rules, and I am now deeply saddened that I will carry this burden for the rest of my life. No student-athlete should ever have to struggle with this or walk away with debt from playing the sport they love."
>>
For the Record
: The University of Texas, despite Prince's playing for the United States as a member of the national team, and as a full scholarship member of the UTexas women's basketball team, refused to cover all of her medical expenses from the injury, as well as the subsequent surgeries and rehabilitation.
>>
Go Deeper
with
Karen Weaver, Forbes contributor
3.
Preseason All-America
Inside Lacrosse
is proud to announce the 2020 Preseason Men's DIII All-Americans, as first published in the Face-Off Yearbook.
Salisbury
and
Amherst
lead the teams represented on the first team, each with four members.
First Team
A-Josh Melton, Jr., Salisbury
A-Matt Chlastawa, Sr., Bates
A-Colin Minicus, Sr., Amherst
M-Brendan Hoffman, Sr., Williams
M-Matt Solberg, Sr., Amherst
M-Kevin Rogers, Sr., Lynchburg
FO-Brett Malamphy, Sr., Salisbury
SSDM-Jimmy McAfee, Sr., Amherst
LSM-Kevin Murphy, Sr., Salisbury
D-Brad Apgar, Jr., Salisbury
D-Tommy DeLuca, Sr., Cabrini
D-Tamer Sullivan, Jr., Amherst
G-Walker Hare, Sr., RIT
>>
Complete Team

SPONSORED MESSAGE


Would you like to sponsor this newsletter? Would you like to advertise an open position in your department for a head coach or administrator? Contact d3playbook@gmail.com to get your job opening in front of decision-makers in small-college athletics.



4. Calendar

Feb. 4-5: Championships Committee meeting, Indianapolis
Feb. 10-11: Financial Aid Committee meeting, Indianapolis
Feb. 12: First regional basketball rankings
Feb. 17: Presidents Day
Feb. 18: Nominating Committee meeting, Indianapolis
Feb. 18: First regional ice hockey rankings
Feb. 18-19: Membership Committee meeting, Indianapolis
Feb. 20-21: Interpretations and Legislative Committee meeting, Indianapolis



5. Men's Poll


>> On The Move: Centre (+4), North Central (+3).
>> Hello: Mount Union, Yeshiva.

>> Score The Basketball: Eric Demers, Gordon (34.1); Marcus Dempsey, Muskingum (30.2); Brian Cameron, Wesley (28.6).
>> Double The Pleasure: Mike Rapoza, Anna Maria (16); Hakeem Animashuan, Salem State (14); Austin Grunder, Cortland (14).

>> What We're Watching: St. John Fisher at Nazareth (TUE); St. Joseph's (Conn.) at #19 Albertus Magnus (WED); Scranton at Drew (WED); DeSales at Eastern (WED); Westfield State at Massachusetts College (WED); WPI at Springfield (WED); #9 Nebraska Wesleyan at Buena Vista (WED); UW-Oshkosh at #15 UW-Platteville (WED); SUNY Purchase at #24 Yeshiva (THU); Potsdam at Brockport (FRI); #5 Colby at Tufts (SAT); #8 Emory at #11 Washington U. (SUN).



6.
Women's Poll

>> On The Move: Bethel (+5), Whitman (+3).
>> Knocking on the Door: Texas-Dallas, Albright.

>> Score The Basketball: Reilly Boehm, CCNY (25.9); Meghan Foley, Gordon (25.1); Caitlin Navratil, Nebraska Wesleyan (24.2).
>> Double Your Pleasure: Kate Perko, Meredith (13); Yuleska Ramirez-Tejeda, Emmanuel (13).

>> What We're Watching: #3 Hope at Albion (WED); #20 UW-La Crosse at #6 UW-Whitewater (WED); #17 St. Thomas MN at #19 Augsburg (WED); King's at Misericordia (WED): #1 Tufts at #2 Bowdoin (FRI); #11 Trinity TX at St. Thomas TX (FRI); #25 Emory at #15 Chicago (FRI); Monmouth at Ripon (FRI); Maine-Farmington at Husson (FRI); Simpson at #12 Loras (SAT); #13 Mary Hardin-Baylor at Hardin-Simmons (SAT);

7.
Hockey Poll


>> What We're Watching (M): #12 UW-Superior vs. UW-Stevens Point (THU/SAT); #7 Hobart vs. Skidmore (FRI/SAT); #6 Lake Forest at #13 Adrian (FRI/SAT); #1 Norwich at #9 Babson (SAT).

>> Goalie Saves in a Game: Bo Didur, Concordia Wisconsin (62); Blake Carlson, Framingham State (59); Cody Foster, Becker (58).

>> What We're Watching (W): UNE at Colby (TUE); #5 Gustavus Adolphus vs. #9 Hamline (FRI/SAT); #2 Middlebury at Hamilton (FRI/SAT); Lake Forest at #6 Adrian (SAT/SUN)

>> Points in a Game: Nikki Kendrick, Stevenson (7), Madison Nichols, Nazareth (6), Emma Crocker, Elmira (6).


8. Big Macs
The first nationally-televised women's basketball game pitted the University of Maryland against ...
Immaculata
. The Terps and the Mighty Macs squared off on January 26, 1975 at Cole Field House in College Park. Immaculata won by an 80-48 count in front of a TV audience of 100 stations on the Mizlou Network.
>>
What They Said
: "We played a sloppy game, and when people see us do that, they figure other teams must be a lot worse. We represent all of women's basketball, not just Immaculata." -
Cathy Rush
, head coach
>>
History Lesson
>>
Watch the Video