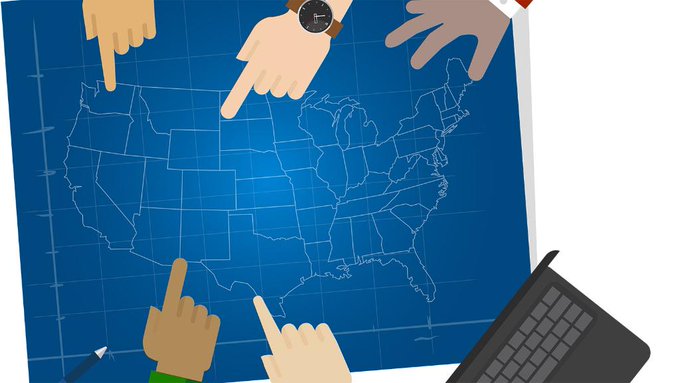 image courtesy of NCAA Champion Magazine
1. Redrawing the Regions?
"After a pair of unsuccessful attempts over the past decade to recalibrate Division III's sport regions, a Division III Commissioners Association subcommittee convened in 2016 to try to succeed where other efforts had fallen short. Its goal? Account for the rapid - and often geographically disproportionate - growth of many Division III sports, balance the number of schools in those regions and try to ensure conference members were placed in the same regions. Unbalanced regions can cause difficulties in the championships selection process and in crafting regional rankings, among other issues."
>>
Quotable
: "We thought from a regional perspective, it had to be geographical, first and foremost, which is even more paramount now than it may have been 10 or 15 years ago. Finances are a concern, and you're being evaluated by people that are in your region, and you want those regional opponents to be as close as possible" -
Brad Bankston, commissioner, Old Dominion Athletic Conference
>>
Huh?
The sport of field hockey has 166 sponsors and six regions, while football has 250 sponsors and four regions. The South Region in football stretches from Pennsylvania to Texas.
>>
Read More
from
NCAA Champion Magazine
2. Three on Three
image courtesy of Washington & Jefferson
It will be D3 on ESPN3 next Saturday as Washington & Jefferson will play host to Wittenberg. The game will be broadcast locally in the Pittsburgh-area on WPNT 22 and will also be
carried live on the ESPN3 platform
. ESPN3 reaches 86 million households through smartphones and tablets via the WatchESPN app and can also be streamed through Roku, Amazon Fire TV, Apple TV, Chromecast, Xbox 360 and Xbox One.
>>
Winning.
Wittenberg, ranked 18th in the preseason, and W&J, ranked 21st, have combined for 1,517 all-time victories. The Tigers have won 773 games, while the Presidents have 744 victories.
3. Preseason Polls: Volleyball | Eagles Fly High
Emory
Calvin
Juniata
Wisconsin-Eau Claire
Claremont-Mudd-Scripps
Wittenberg
Colorado College
Johnson & Wales, R.I.
Chicago
Aurora
11. Ithaca, 12. Wesleyan, 13. Illinois Wesleyan, 14. Washington-St. Louis, 15. Mary Hardin-Baylor, 16. Wisconsin-Whitewater, 17. Trinity, Texas, 18. Gustavus Adolphus, 19. Berry, 20. Babson, 21. Hope, 22. Christopher Newport, T23. Bowdoin, T23. Ohio Northern, 25. Saint Benedict.
Conference Call:
The UAA placed the most teams in the top 25 with three representatives, while the Michigan, Minnesota, NESCAC, Southern Collegiate and Wisconsin conferences each had two teams on the list.
Looking Back:
Emory won its first NCAA title in 10 years with a three-set sweep of Calvin. The eagles had finished second in 2010 and 2014. It was the fourth trip to the national final in seven years for the Knights who won championships in 2010, 2013 and 2016.
Who to Watch:
There are five returning first-team All-Americans to the fold this season.
Maria Coniglio, Sr., OH, Johnson & Wales
Sarah DeVries, Sr., MB/S, Calvin
Kate Isaksen, Sr., L, Clarkson
Phoebe Madsen, Sr., S/RS, Claremont-Mudd-Scripps
Carson VanCampen, Sr., MB, Berry
4. Preseason Polls: Field Hockey | Panthers on the Prowl
Middlebury
Tufts
Rowan
Messiah
Johns Hopkins
College of New Jersey
Salisbury
Vassar
Rochester
Franklin & Marshall
11. Williams, 12. Trinity, Conn., 13. Montclair State, 14. Babson, 15. Bowdoin, 16. Christopher Newport, 17. Washington & Jefferson, 18. Hamilton, 19. Ursinus, 20. Amherst.
Also receiving votes: Lynchburg, Denison, Skidmore, Cortland, Smith
Conference Call:
The NESCAC has seven representatives in the preseason top 20, while the Centennial and NJAC have three teams apiece on the list. The Capital and the Liberty League placed two teams on the preseason chart.
Looking Back:
Middlebury won its second straight title and third in four seasons with a 2-0 shutout of NESCAC rival Tufts. The Panthers have won at three different sites - 2015 (W&L), 2017 (Bellarmine) and 2018 (Spooky Nook, Pa.). The Jumbos placed second for the second time in three years (2016-18).
Who to Watch:
There are four returning first-team All-Americans to the field this season.
Erin Coverdale, Sr., F, Franklin & Marshall
Jillian Hughes, Sr., D, Salisbury
Kristen McCarthy, Sr., F, Endicott
Erin Nicholas, Jr., D, Middlebury
5. Comings ...
6. and Goings ...


Know someone that would enjoy receiving d3P

laybook

, send an email to d3Playbook.com with "subscribe" in the subject line.